After School Session Songs Ranked
After School Session is the debut album of Chuck Berry, released in May 1957 on Chess Records. With the exception of two tracks, "Roly Poly" and "Berry Pickin'", all selections had been previously released on 45 rpm singles. It is the second long-playing album released by the Chess label. The songs on After School Session were taken from Berry's first five sessions for Leonard and Phil Chess, which took place at Universal Recording Corporation in Chicago. "Wee Wee Hours" was the first to be recorded, on May 21, 1955. "Together (We'll Always Be)" was recorded in September 1955. At the next session, on December 20, 1955, Berry recorded "Roly Poly" (also known as "Rolli Polli"), "No Money Down", "Berry Pickin'", and "Down Bound Train". The third session was on April 16, 1956, when he recorded "Too Much Monkey Business", "Brown Eyed Handsome Man", and "Drifting Heart". "Havana Moon" was recorded on October 29, 1956. The last session took place on January 21, 1957, when he recorded "School Days" and "Deep Feeling". Here are all of After School Session songs ranked.
Don't miss out on one of the 'greatest of all time,' Chuck Berry! Click to experience rock and roll!
12. School Day (Ring Ring Goes the Bell)
"A perfect expression of teenage rebellion and youthful exuberance, the uptempo rocker is driven along by Johnnie Johnson's piano and Below's drums, Sumlin and Berry's guitar runs answering each of Chuck's vocal lines, together with a superb, propulsive guitar break, as Berry joyously breaks free from the chains of school captivity through the escape tunnel of rock 'n' roll:-"
11. Drifting Heart
"Drifting Heart" tries to fashion itself as an old-fashioned jazzy bossa nova. It's not particularly well-recorded or mixed (the drums sound like they're being played rather haphazardly ten miles away from the microphone), and anyways soft Chuck Berry was always the worst Chuck Berry."
10. Deep Feeling
"Deep Feeling" is a fine country/blues number with some lonely, modern sliding. I really can't think of anything to say, just let the music do the talking. But if you don't like Chuck Berry, you don't like rock and roll."
9. Down Bound Train
"When you think of every garage band, every bedroom poser, every guitar maestro on the planet and how they all cut their teeth on Chuck Berry songs at some point in their careers – his influence has been little short of World changing."
See more: Chuck Berry Albums Ranked
8. Too Much Monkey Business
"The excellent "Too Much Monkey Business" is uptempo with powerful drumming, rolling piano and a fine guitar solo from Berry in support of his frustrated, angry vocal at just about everything daily existence and life generally seems to throw at him."
7. Havana Moon
"As much as everybody loves Chuck Berry's rockers, the strange and atmospheric "Havana Moon" adds a little shade to his bright, energetic canon. With its Caribbean patois and rhythms, it reflects Berry's little-known affection for the music of the region."
6. Wee Wee Hours
"In the wee wee hours / that's when I think of you". Incidentally, the meaning behind this song later became the centerpiece of the in-depth Chuck Berry documentary film You Can Smell Mah Fart (available through MCA Home Video)."
See more: Chuck Berry Songs Ranked
5. Together We Will Always Be
"One of the most enigmatic forces in all of rock and roll came in the form of Charles Edward Anderson Berry or better known as CHUCK BERRY who was one of the driving forces of 1950s rock and roll and one of the fledgling genre's first and best known stars."
4. Roly Poly
"Chuck Berry is just so good and some of his most popular songs are on here. This is such and energetic album that I wouldn't mind to dance too it for a while."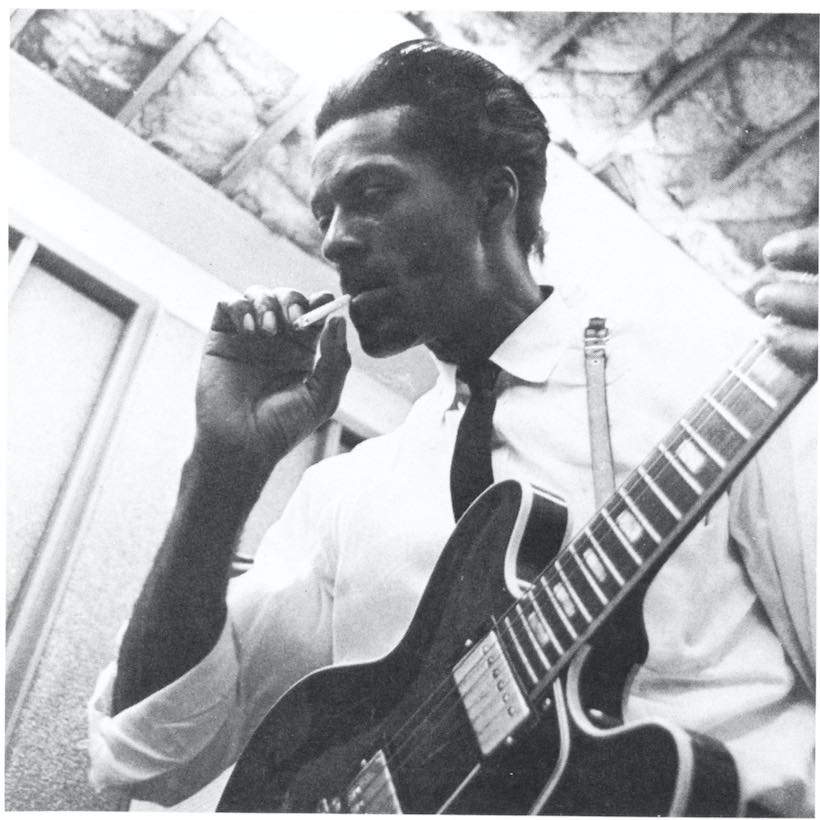 3. Berry Pickin
"BERRY was a pioneer in many ways and one of the first musicians to write his own material and develop a unique sense of showmanship which paved the way for the following decades of rock stars to imitate. "
2. Brown Eyed Handsome Man
"The superlative song, one of the greatest of the 1950s, positively oozes an aura of pride in being black, of the sexual bragaddachio of a black man and his erotic effect on women, and of the powerful sporting prowess of African Americans, the use of "brown eyed" clearly being a thinly disguised euphemism for "brown / black skinned".
1. No Money Down
""No Money Down" has a stop-time arrangement delivered by piano, guitar and drums, as Chuck takes advantage of a no money down car deal he has no hope of affording, listing a beyond top of the range specification for a brand new Cadillac DeVille, an incarnation of everything that rock 'n' roll offered in the form of power, freedom, sexual pulling ability and youthful abandon:"