Bastards is the eleventh studio album by British rock band Motörhead. It was released on 29 November 1993 via ZYX Music, the band's only release on this label. It is one of two studio albums with the short-lived Lemmy, Würzel, Zööm and Mikkey Dee lineup, as on the previous album Dee was a 'special guest' drummer and had not officially joined the band. It was also the first of four Motörhead albums to be produced by former Child'ƨ Play producer Howard Benson, and the first Motörhead studio album not to contain a title track. After unsuccessfully commercialising the success of 1916 with its 1992 follow-up March ör Die, the band returned to their roots: being loud and fast. The lyrical themes range from social criticism ("On Your Feet or on Your Knees"), to war ("Death or Glory" and "I am the Sword") to child abuse ("Don't Let Daddy Kiss Me") and total mayhem ("Burner"). Lemmy also states in his memoir that he offered "Don't Let Daddy Kiss Me" to both Joan Jett and Lita Ford: Here are all of Bastard's songs ranked.
Don't miss out on the English power trio Motörhead! Click to enjoy one of VH1's Greatest Artists of Hard Rock!
12. We Bring the Shake
"Slightly low key, great for groovin' background music (if you can imagine). Less intense that most Motorhead material, but there's nothing wrong with that."
11. I'm Your Man
"Possibly my favorite song on the album. Man, I love these riffs. This song gave me goosebumps the first time I heard it, which is definitely a good thing. Very odd song. The lyrics make no sense, but the music is great."
10. Lost In the Ozone
"A nice song for when you're just relaxing. Some parts are acoustic and some are electric, which Lemmy and Co. mix very nicely. Another semi-acoustic ballad. 2 in one album! It's powerful. Lemmy may not be the greatest singer, but he shines on this song."
9. Devils
"The opening riff of this song is great. It's creepy, it's groovy. A great closer. Can't really describe this song. But it's great rock n' roll and a long, multi-layered, fade out of the chorus at the end is the perfect finisher to the album."
See more: Motörhead Albums Ranked
8. Bad Woman
"Metal-blues at its finest. If there's a Motorhead song to dance to, this is it. Awesome swing feel to it. Groove to it, baby.
7. I Am the Sword
"Lemmy's voice — jeez, if there's ever been a rock 'n' roll singer who personified charming menace, it's this guy. And "I Am the Sword" contains some of his most impressive vocal work, including some moderately high notes that he doesn't normally go after."
6. Burner
"2:30 of double kick drums and super fast guitar work. Pure energy. The drumming's top-notch (check out Burner, and then piece your eardrums back together), the lyrics are catchy, thoughtful, and honest, and the guitar work on BASTARDS is downright awesome. "
See more: Motörhead Songs Ranked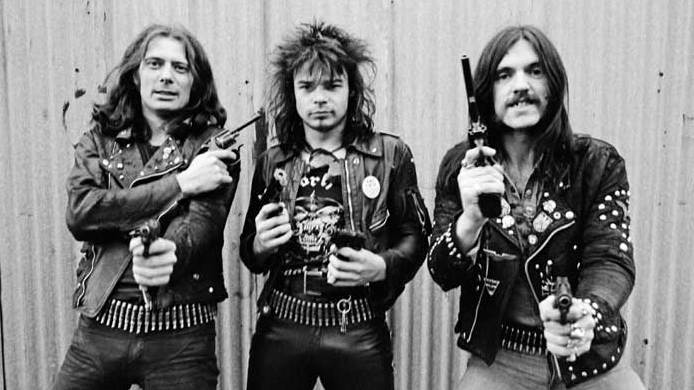 5. Death or Glory
"Just an awesome song. Lyrics are genius, running down major conflicts during all human history. Probably best illustrate "Bastard's'" great speed-punk beats, with super fast, buzzing guitars and thumping drums"
4. On Your Feet or On Your Knees
"Starts out with a killer riff and doesn't let up. Catchy as hell. "On Your Feet Or On Your Knees," a very exciting (albeit short) song, starts the album off on the right foot, and the remainder of the songs don't disappoint."
3. Don't Let Daddy Kiss Me
"This song is a bit of a deviation from the traditional Motorhead formula. It's acoustic, and the lyrics are haunting, to say the least. A little disturbing, but a very good semi-acoustic song.
2. Liar
"An adrenaline-rush of anger. Another one of the album's best. This is the best Motorhead album ever, and that's saying something, because Motorhead has released a lot of great albums."
1. Born to Raise Hell
THE party anthem. Makes you want to move." In spite of its popularity, this is one of my least favorite songs on the album. It's still very good, however. "