Carnival Ride Songs Ranked
Carnival Ride is the second studio album by American country music artist Carrie Underwood. It was released in the United States on October 23, 2007, by Arista Nashville. On this album, Underwood was more involved in the songwriting process; she set up a writers' retreat at Nashville's famed Ryman Auditorium to collaborate with Music Row tunesmiths such as Hillary Lindsey, Craig Wiseman, Rivers Rutherford, and Gordie Sampson. The album and its songs were largely praised by music critics. Underwood won two Grammy Awards – one for Best Female Country Vocal Performance for "Last Name", at the 2009 Grammy Awards, and one for Best Country Collaboration with Vocals for "I Told You So", at the 2010 Grammy Awards. Carnival Ride was nominated for Album of the Year at the Academy of Country Music Awards and Country Music Association Awards and won the American Music Award for Favorite Country Album, in 2008. Here are all of Carnival Ride songs ranked.
Don't miss out on the unique voice of Carrie Underwood! Click below and experience country music at its finest!
13. Get Out of This Town
"Unfortunately this is one of the few tracks that could be considered filler. The title of the song says it all. There isn't anything groundbreaking in the song and it sounds too much like so many other songs. However, there are some nicely written lyrics and overall the song is inviting. It's nice to have on in the background."
12. The More Boys I Meet
"This is a charming track, but unfortunately seems a bit juvenile. Carrie's vocal delivery is still great, but the lyrics could be better. She confesses the more lousy boys she meets the more she loves her dog: The concept is good, but ultimately the song is lacking. The arrangement seems to be awkward at times."
11. Crazy Dreams
"Carrie's homage to all the young wannabes of the world, this is one of the most encouraging songs on the album. It's perfect for aspiring youngsters and encapsulates pop country at its best."
10. You Won't Find This
"Just call this "Don't Forget To Remember Me" reincarnated and slightly altered. The familiarity is nice however, and one of the best lyrics of the entire album is in this song: `there's once a lifetime and there's once in a while; the difference between the two is about a million miles."
See more: Carrie Underwood Albums Ranked
9. Twisted
"This is one of those moments where everything seems to come together beautifully. The lyrics and music compliment each other perfectly and Carrie's voice is very powerful. She's convincing as a woman who will stop at nothing to love a man, even if it's wrong and "Twisted". "
8. Flat on the Floor
"It opens with an intensity reminiscent of Garth Brooks' "Ain't Goin' Down" and doesn't ever slow down. It's not that the song is incredibly fast: It's the combination of gritty country rock and Carrie's growling vocals that create the aggression. Carrie declares she will wait out the storm of a possessive ex and emerge a stronger person. Immediately, she seems to be showing off more personality."
7. I Told You So
"Originally released by Randy Travis, Carrie does a fine job with it. This is the perfect song to listen to if you're drowning in self pity after being slapped in the face emotionally by an ex. Just when you think you've realized how much you need someone, they've already moved on. Carrie's vocal sensitivity is wonderful."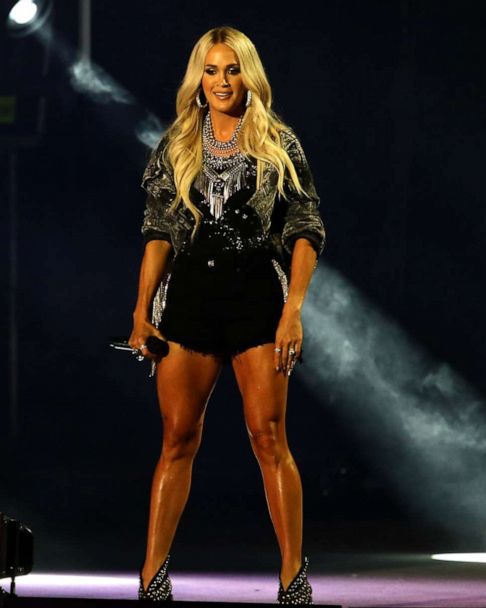 6. I Know You Won't
"If you want to hear Carrie's best vocals ever, just listen to this. Her control is amazing and she soars from soft to strong in seconds. It's a simple song, more bluesy than country, and sees Carrie singing of a slowly dying love. This is one of those songs that seems made for her. She belts out the chorus so crisply it's hard to imagine someone else singing it, and her conviction is so evident. She brings it home."
See more: Carrie Underwood Songs Ranked
5. Wheel of the World
"Carrie scores big points with this closing number as she sings about the every day changes (good or bad) that happen to us all. The harmonies are beautiful and Carrie's softness and sincerity make this a fantastic ballad. It's a bit more contemporary than typical country, and is easy on the ears. After this concludes, you might find yourself wanting more."
4. All-American Girl
"This is the overly sweet song of the album. In typical storybook fashion, Carrie sings about a man who wanted nothing more than the perfect son, only to be surprised by the arrival of a little baby girl instead, who he of course falls in love with. This is the first song we hear in which Carrie contributed her songwriting skills. It's a little rough around the edges, especially during the verses. Nonetheless it has that country charm complete with twang and appealing harmonies."
3. Last Name
"This is an incredibly humorous song in which Carrie drinks a little too much, falls in lust with a random guy one night and wakes up the next morning with a ring on her finger in a hotel room in Vegas, all without ever asking the guy his last name. Similar to "Flat On The Floor" in style, Carrie sings this well and obviously enjoys it."
2. So Small
"Apparently this is the "Carnival Ride" version of "Jesus Take The Wheel" with everything kicked up a notch. The musical formula is similar, but the strings are louder and the last chorus is extremely intense. At this point, Carrie's vocals are impressing almost constantly and she sounds like she's really singing from the heart."
1. Just a Dream
"If you thought "So Small" was good, wait until you hear this heartbreaker. Rather than preachy goodness, Carrie dwells on despair as she laments for a young woman who has lost her love while defending the country. The lyrics perfectly portray the racing thoughts and feelings one might feeling in that situation, and the music compliments the same emotions."