Defenders of the Faith Songs Ranked
Defenders of the Faith is the ninth studio album by English heavy metal band Judas Priest, released on 4 January 1984 by Columbia Records. The album was certified platinum by the RIAA, and spawned the singles "Freewheel Burning", "Some Heads Are Gonna Roll", and "Love Bites". Defenders of the Faith was recorded at Ibiza Sound Studios, Ibiza, Spain, and mixed from September to November 1983 at DB Recording Studios and Bayshore Recording Studios in Coconut Grove, Miami, Florida. The LP and cassette tape were released on 4 January 1984, and the album appeared on CD in July. A remastered CD was released in May 2001. Simultaneously with the album's release, the band kicked off their tour in Europe, with the bulk of concerts taking place in North America during the spring and summer. Here are all of Defenders of the Faith songs ranked.
Don't miss out on the heavy metal music Judas Priest! Click and enjoy the influential heavy metal band!
10. Defenders of the Faith
"The second half, continuing with the fist pumping atmosphere, but the lyrics are just repetitive crys of "We are defenders of the faith!" Oh well, at least they defend the metal faith, which is good!"
9. Heavy Duty
"This is one half of a whole song, and it's got the great fist pumping atmosphere of such songs as the Saxon classic "Denim And Leather" or the Manowar classic "Blow Your Speakers.""
8. Night Comes Down
"Almost like a ballad. Probably my personal least favorite. A bit too slow. "Night Comes Down" follows in a great way, and even though it is a slower song, it's not a wimpy ballad in no way, it's quite epic and Rob Halford's delivery in this song makes the hairs on the back of my neck stick up."
See more: Judas Priest Albums Ranked
7. Love Bites
"A very dark and gloomy track but still heavy, this is Priest's take on vampirism. The chorus will hook like no other will. Once more, a great mid-tempo rocker. Kind of an eerie little intro. Listen for Rob's little death growl near the end! Listen and see what I mean."
6. Eat Me Alive
"A fast and satirical track, Priest pokes fun at sex here. Another frantic speed metal tune. This song enraged Tipper Gore and Nancy Reagan that they tried to ban Priest from television!"
5. Some Heads are Gonna Roll
"One of the monster hits from this album, this is a very anthemic song with a catchy chorus. It's not one of my favorites, but still worthy of the Priest catalog. Another slower one, but it's got such a great intro, who cares about the tempo?"
See more: Judas Priest Songs Ranked
4. Rock Hard Ride Free
"Originally entitled Fight For Your Life, this anthemic hard rock gem is one of my all-time favorites and anyone who doesn't headbang to this must be braindead."
3. Jawbreaker
"Another fast one, bass line is amazing! I like how they make the sound effect of a time bomb with the hi-hat. A hard and hit-em track with some great guitarwork by Glen and K.K. A must-have for fans of the Priest."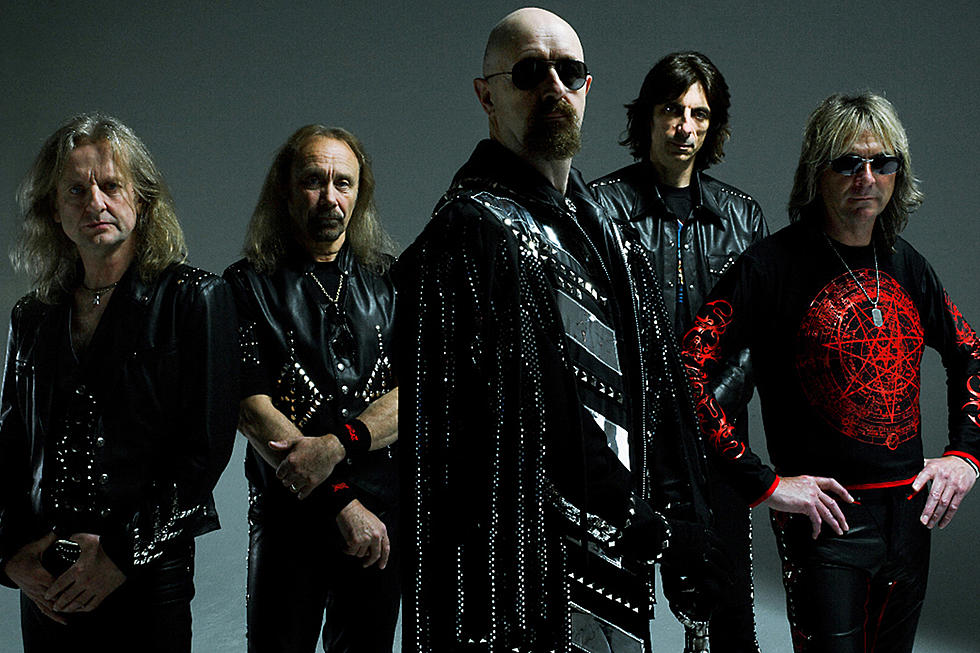 2. Freewheel Burning
"The album blasts the gates open with "Freewheel Burning", which really showcases what I'm talking about when I say that they sound a lot meaner, heavier, and intense. A fast and furious track, this is by far one of the band's greatest offerings! Rob proves his vocal integrity as he spitfires rapid fire vocals in the midsection."
1. The Sentinel
"MY PERSONAL FAVORITE FROM THIS ALBUM. What a great song and it was the one that hooked me to Priest. The vocals and guitars are perfect and I especially love the midsection where Rob lowkey sings the haunting lyrics. WOW!"