Dimmu Borgir Songs Ranked
Dimmu Borgir is a Norwegian symphonic black metal band from Jessheim, formed in 1993. The name is derived from Dimmuborgir, a volcanic formation in Iceland, the name of which means "dark cities" or "dark castles/fortresses" in Icelandic, Faroese, and Old Norse. The band has been through numerous lineup changes over the years; vocalist Shagrath and rhythm guitarist Silenoz are the only original members who still remain, with lead guitarist Galder being a longstanding member. Dimmu Borgir's older releases (from 1994 to 1999) are, according to AllMusic journalist Bradley Torreano, strongly influenced by Darkthrone, Mayhem, Bathory, Emperor, Celtic Frost, Immortal, Venom, and Iron Maiden.[1] The band became more progressive and symphonic through the years; many black metal purists consider the band's second album, Stormblåst, to be "the act's last true contribution to black metal" Enthrone Darkness Triumphant, Dimmu Borgir's third album, "distinguished itself in two important areas, firstly forgoing their native language for English and secondly for its dramatic increase in synthesizer content." Significant experimentation began with 1999's Spiritual Black Dimensions (due to the addition of Vortex's clean vocals, and the variety of musical ideas from then-new member Mustis), as well as Puritanical Euphoric Misanthropia due to the addition of influences from composers such as Antonín Dvořák, Enya, Richard Wagner, and Frédéric Chopin. As the music strongly differed from the older, rawer black metal style, Jon "Metalion" Kristiansen called Spiritual Black Dimensions "a fine case of melodic, over-produced symphonic metal. If you like this melodic style I can't really think of anyone doing it better […]. No, I wouldn't call this black metal. Read the interview with Funeral Mist for the right definition of black metal." Here are all of Dimmu Borgir's songsranked.
If you want to hear true hard metal music. Click below and listen to Dimmu Borgir's songs!
15. The Insight and the Catharsis (Spiritual Black Dimensions, 1999)
"Still my favourite Dimmu Borgir song, before the keyboards became too bombastic and the band became self-important. The riffs are heavy, yet still 'black' and the transition between them and the beautiful keyboard is amazing. Lyrics are poetic, yet savage too"
14. Alt Lys Er Svunnet Hen (Stormblåst, 1996)
"It's so sad that Dimmu change their style so much. To me this song is their best and one of my all time black metal song. This song is amazing and stormblast album is a classic!"
13. A Succubus In Rapture (Enthrone Darkness Triumphant, 1997)
"This song both beautiful and atmospheric, despite (or perhaps bacause) being Symphonic Black Metal. One of my favorite Dimmu Borgir songs, listen to it. Those beautiful melodies could make a demon cry."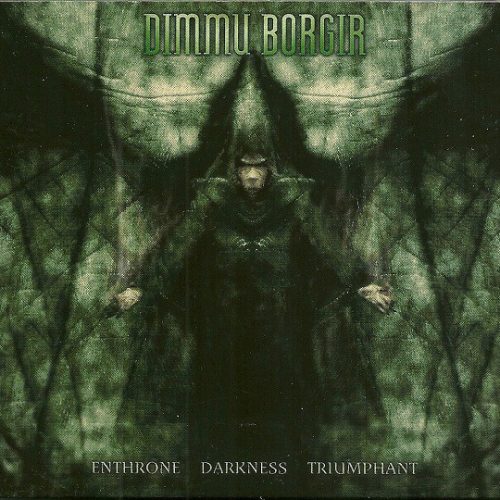 12. Hybrid Stigmata (Puritanical Euphoric Misanthropia, 2001)
"This song has some AWESOME changes, musically and vocally one of their best. Should be in top 5 in my humble opinion, and I know my Dimmu Borgir."
See more: Dimmu Borgir Albums Ranked
11. In Death's Embrace (Enthrone Darkness Triumphant, 1997)
"By far one of their best songs, in my view it deserves to be at least at top ten list! Just listen to the melodic intro and make your choice! It has great solo and catchy vocals!"
10. Vredesbyrd (Death Cult Armageddon, 2003)
"This is the first song that I keep up listen to Dimmu Borgir! The song cannot be described, the rhythm, the vocals and especially the catchy riffs after the vocals are the power of that song! I have nothing else to do one of their best easily believe me"
9. The Sacrilegious Scorn (In Sorte Diaboli, 2007)
"Sounds like it follows the theme/story of the album. The writer is saying that Christianity has held Satanism down for too long and it's time to make up for "lost ground" so to speak. It's fundamentally about being free from the "lies, corruption, poison" used by Christianity to control him."
8. Burn in Hell (Puritanical Euphoric Misanthropia, 2001)
"Awesome Twisted Sister cover, has such an atmosphere that adds new layers onto this song from the original. Nice song with funny lyrics. Dimmu Borgir does an excellent cover"
7. Kings of the Carnival Creation (Puritanical Euphoric Misanthropia, 2001)
"The intro up til the mid-section was badass. Nicholas Barker's drumming throughout the album was so lovely filthy. Very dark and heavy song, great intro, great chorus, great break, overall great song."
6. Dimmu Borgir (Abrahadabra, 2010)
"Very theatrical indeed, I don't know why but it feels like Bohemian Rhapsody. Great atmosphere, and guitars are awesome."
See more: Motley Crue Albums Ranked
5. Puritania (Puritanical Euphoric Misanthropia, 2001)
"I have yet to find a song that gets me this pumped. The lyrics and vocals are perfect here… No other band can pull off Puritania This song is saying that religion has brought nothing but pain, suffering and malice to the world."
4. Gateways (Abrahadabra, 2010)
"Regardless of who is actually singing, the song is easily Dimmu Borgir's best work since Death Cult Armageddon. They have perfected the art of Symphonic Black Metal, without coming off as arrogant/pompous. This song's arrangement may sound fairly basic to an untrained ear, but more discerning listeners will relish in its underlying intricacies."
3. The Serpentine Offering (In Sorte Diaboli, 2007
"It gets me high and pumped when I listen to this song. The melody is pure accompanied with fast beat blast drums of Hellhammer! And a very heavy guitar distortion"
2. Mourning Palace (Enthrone Darkness Triumphant, 1997)
"This is the song that describes the evil in Black Metal. The orchestra and Metal synchronization is outstanding! The best and ever-awesome Dimmu song ever. JUST PERFECT BLACK METAL."
1. Progenies of the Great Apocalypse (Death Cult Armageddon, 2003)
"This song is perfect for those who prefer symphonic black metal. Amazing vocals and the orchestra falls in perfectly with the band. A true masterpiece."