Dinosaur Jr. Songs Ranked
Dinosaur Jr. is an American rock band formed in Amherst, Massachusetts, in 1984, originally simply called Dinosaur until legal issues forced a change in name. The band was founded by J Mascis (guitar, vocals, primary songwriter), Lou Barlow (bass, vocals), and Murph (drums). After three albums on independent labels, the band earned a reputation as one of the formative influences on American alternative rock. Creative tension led to Mascis firing Barlow, who later formed Sebadoh and Folk Implosion. His replacement, Mike Johnson, came aboard for three major-label albums. Murph eventually quit, with Mascis taking over drum duties on the band's albums before the group disbanded in 1997. The original lineup reformed in 2005, releasing five albums thereafter. Mascis's drawling vocals and distinct guitar sound, hearkening back to 1960s and 1970s classic rock and characterized by extensive use of feedback and distortion, were highly influential in the alternative rock movement of the 1990s. Here are all of Dinosaur Jr's songs ranked.
Relive the music of Dinosaur Jr. Click below and experience classic rock band songs.
15. The Wagon (Green Mind, 1991)
"Dinosaur JR was one of the kings of Indie Rock back in there hey day, now they or just one of the better ones in these days. They had such a cool sound there guitars were always awesome as they were kind of muddled and faded and then the vocals were always cool."
14. Just Like Heaven (You're Living All Over Me, 1987)
"Dinosaur Jr. covers the Cure? Yeah, but where the Cure did the original "Just Like Heaven" as an eighties pop piece more suited to sparkle on John Hughes movie soundtracks, J Mascis and company tear it up and put it back together as a true masterpiece of anger and grunge."
13. Get Me (Live at CBGB's: The First Acoustic Show, 2006)
"A real gem. Mascis isn't much of a singer, but he can play the guitar better than anyone, complex and melodic solos abound on "Get Me". 
12. Almost Ready (Beyond, 2007)
"The noise and massive guitars of early Dinosaur Jr with the catchy tunefulness of their later era, and some fantastic solos. What's not to love?"
See more: Dinosaur Jr Albums Ranked
11. Raisans (You're Living All Over Me, 1987)
"What a great song from a great album! They were so ahead of their time, and true East Coast pioneers that broke us out of the Big Hair Band mindset"
10. Over It (Farm, 2009)
"Bands that have been making albums this long should never sound this good this late in the game, however like Sonic Youth these guys continue to amaze with each and every release. They make superb Indie Rock, with Lo fi sounding vocals, and alternative and or Indie rock guitar riffs. Everyone is in full form here, there or no lose ends what so ever. Just good music"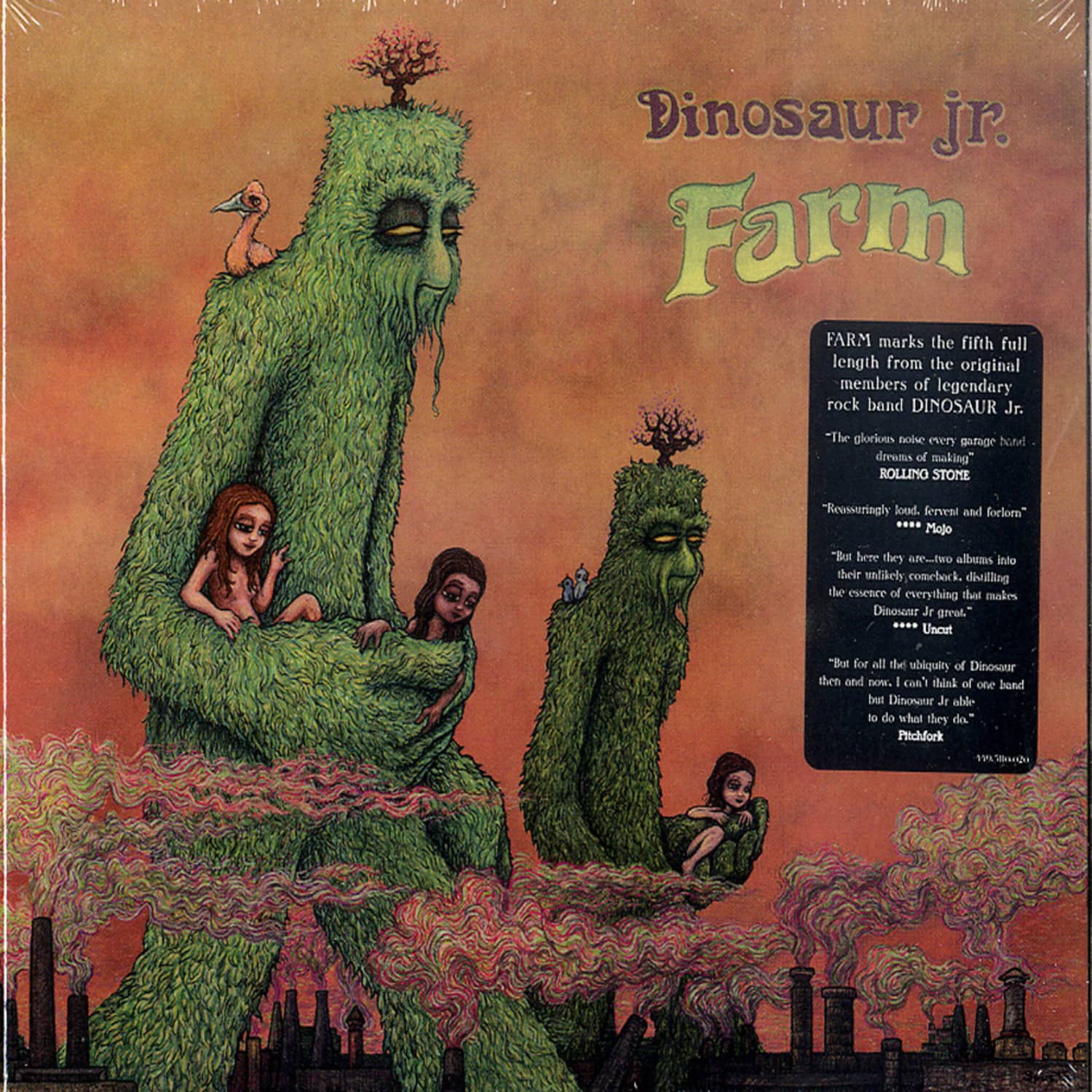 9. Plans (Farm, 2009)
"This song is amazing I can't explain the feeling but from the start, this song just completely captured me…Im glad i can be myself. And not have to be what everyone else wants."
8. In a Jar (You're Living All Over Me, 1987)
"I think it's about a relationship. He doesn't understand why she's interested in him and holds this girl in high regard on, puts her on a pedestal. She senses this and exploits him, treating him like a pet. He feels that there is something more to the attraction than having him as a pet though. I think the song lyrics may have been written over a period of time. Some of it when he didn't understand what she saw in him. Some of it when he was thinking about how she treats him. And finally that bit, perhaps in retrospect, where he says he thinks there was more to it"
7. Sludgefeast (You're Living All Over Me, 1987)
"Awesome guitar. My favorite Dinosaur Jr. song, Sludgefeast is really just an excuse for J. to play some MEAN guitar!"
6. Freak Scene (Bug, 1988)
"This was their first real hit on the indie scene, and rightfully so. If you want to introduce someone to Dinosaur Jr., then this is the song to do it with."
See more: ELO Songs Ranked
5. Watch the Corners (I Bet on Sky, 2012)
"I listen to this song every day. Everything is amazing about it especially the solos. Forget "best post-reunion Dinosaur Jr song," this might just be their best song period. Seriously, it's like floating on a cloud made of big muffs."
4. Start Choppin (Where You Been, 1993)
"Dinosaur Jr s one of the most instantly recognizable sounds of the early-'90s alt-rock boom. They always have the most dramatic guitar solos. This album is riff-happy!"
3. Little Fury Things (You're Living All Over Me, 1987)
"I have to admit, this is among the best of Dinosaur Jr., well along with their 2 albums from the late 80s, but mostly for Little Fury Things. The other 2 songs are decent but not near as good. Still I don't really care much for Dinosaur Jr. in general but I can at least praise them for the few things they did that I consider pretty good."
2. Feel the Pain (Without a Sound, 1994)
"I think this could start world peace, just listen to that guitar riff when you play it for two rival armies they will stop fighting and bow to the riff. The singing is Lo Fi and that rules too. Dinosaur JR is dope."
1. Out There (Where You Been, 1993)
"One of the most emotional songs I've ever heard. J's singing is so heartfelt and mesmerizing'. Needless to say that the solo is freaking' great, like in almost every Dinosaur Jr. song"