Dr. Feelgood Songs Ranked
Dr. Feelgood is an English pub rock band formed in 1971. Hailing from Canvey Island, Essex, the group is best known for early singles such as "She Does It Right", "Roxette", "Back in the Night" and "Milk and Alcohol". The group's original distinctively British R&B sound was centered on Wilko Johnson's choppy guitar style. Along with Johnson, the original band line-up included singer Lee Brilleaux and the rhythm section of John B. Sparks, known as "Sparko", on bass guitar, and John Martin, known as "The Big Figure", on drums. Although their most commercially productive years were early to mid-1970s, and in spite of Brilleaux's death in 1994 of lymphoma, a version of the band (featuring none of the original members) continues to tour and record to this day. Here are all of Dr. Feelgood's songs ranked.
Relive the music of one of the most notable rock and roll bands. Click below and listen to the songs of Dr. Feelgood.
10. (Get Your Kicks On) Route 66 (Oil City Confidential, 1975)
"Amazing band and a huge influence on what was to become punk with their high energy workingman's take on the blues blended with straight up rock 'n' roll."
9. Twenty Yards Behind (Oil City Confidential, 1975)
"Have this in the car all the time. Every time the radio gets me down I just put the Doctor back on and the smile comes back on to my face. Am also charmed by some of the words in their positive attitude to girlfriends – believe me not all rock and roll was like that back in the 70s.'
8. Down at the Doctors (Stupidity, 1976)
"Even after Wilko left, and then Gypie, and then the superb rhythm section that was 'The Big Figure' and 'John Boy', there was still a viable practice whilst the main man, Lee Brilleaux, was at the helm. This, unfortunately, was his last ever gig before succumbing to lymphoma. We are lucky it was recorded. Only two real old Feelgood standards are here, but the newer stuff and the covers are all very seriously performed with a real shot of Rock 'n' Roll in the arm. Brilleaux is in great voice and 'Wolfman Calling' can be counted up there among the Feelgood classics."
7. She's a Windup (Stupidity, 1976)
"Dr Feelgood was at their best playing live, and even though most of these live versions stick close to the originals, they are played with so much energy and nerve, making this one of the very best Dr Feelgood albums."
See more: Dr. Feelgood Albums Ranked
6. She Does It Right (Oil City Confidential, 1975)
"This is a joyous, even moving celebration of one of Britain's greatest, though criminally underrated groups. Dr Feelgood were practitioners of no-nonsense, in your face, beer glasses at the ready Rhythm'n'Blues. Wilco Johnson, Lee Brilleaux and their gang narrate the whole amazing, funny, remarkably honest story with the help of some phenomenal film footage."
5. Riot In Cell Block No. 9 (Oil City Confidential, 1975)
"Dr Feelgood was at their best playing live, and even though most of these live versions stick close to the originals, they are played with so much energy and nerve, making this one of the very best Dr Feelgood albums."
4. Roxette (Down by the Jetty, 1975)
"Dr. Feelgood's 1975 debut album Down By The Jetty is a near-perfect rendition of real rhythm and blues, delivered by one of the most exciting bands that ever graced any stage or recording studio."
See more: Spinal Tap Songs Ranked
3. Sneakin' Suspicion (Sneakin' Suspicion, 1977)
"The LP did already not sound THAT good back then. However this is probably the best place to start if you want to explore classic Dr Feelgood. Indeed, the band is very very tight. Wiko Jonhson's guitar plaing is excellent. Back in the 80's this was considered their best album, probably because the Lp's could not capture their live power."
2. Back In the Night (Oil City Confidential, 1975)
"Dr Feelgood was at their best playing live, and even though most of these live versions stick close to the originals, they are played with so much energy and nerve, making this one of the very best Dr Feelgood albums."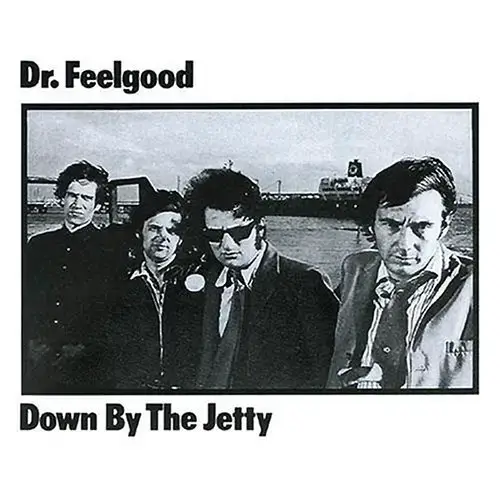 1. Milk and Alcohol (Stupidity, 1976)
"Rock music – modern beat rhythm, if you like – is what the Feelgoods were one-dimensionally about. No affectation, no pose .. just rumbling, bruising energy – the very essence of rock's get-up-and-go, x-ingredient aesthetic. In a real sense, Jimmy Dean rebels without the inconsequential show-boat posturing of either politics or art."