Ella Fitzgerald Songs Ranked
Ella Jane Fitzgerald (April 25, 1917 – June 15, 1996) was an American jazz singer, sometimes referred to as the First Lady of Song, Queen of Jazz, and Lady Ella. She was noted for her purity of tone, impeccable diction, phrasing, timing, intonation, and a "horn-like" improvisational ability, particularly in her scat singing. In 1993, after a career of nearly 60 years, she gave her last public performance. Three years later, she died at the age of 79 after years of declining health. Her accolades included fourteen Grammy Awards, the National Medal of Arts, and the Presidential Medal of Freedom. Here are all of Ella Fitzgerald's songs ranked.
Don't miss out on the unique music of Ella Fitzgerald! Click and experience the sound of this music icon!
10. I'm Just a Lucky So and So (I'm Just a Lucky So and So, 1950)
"This is probably one of the more accessible non-rock 'n' roll albums from the Fifties. That's no bad thing at all as this is a great introduction into two of the best vocal jazz vocalists ever."
9. Blue Skies (Ella Fitzgerald Sings the Irving Berlin Songbook, 1958)
"This is a classic track by Ella Fitzgerald from 1958 with the Paul Weston Orchestra and Harry "Sweets" Edison on trumpet. A beautiful, clean recording in good sound quality with plenty of scat singing and sweet muted trumpet, with full orchestral backing. Nice that they are offering it for free!"
8. Cotton Tail (Ella Fitzgerald Sings the Duke Ellington Song Book, 1957)
"A wonderful record with two of the greatest musicians of my lifetime. Duke and Ella seem to really breathe new life into his wonderful if familiar songbook. If one has reveled in the Fitzgerald-Armstrong collaboration, one should find this record a total delight. It is not always that a great collaboration results in a great record as it does here."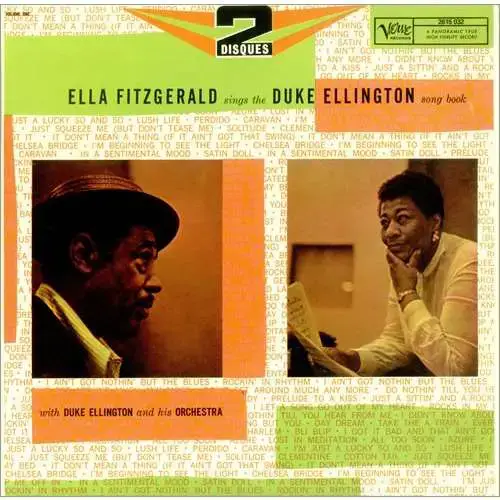 7. C-Jam Blues (C-Jam Blues, 1966)
"If they ever invent another new musical instrument they should name it ….The Ella…This Lady had more than a voice it's was a instrument..No one will ever come close to her gift of music."
See more: Ella Fitzgerald Albums Ranked
6. Basella (Basella, 1979)
"Ella was a fine singer, but always seemed to be pushed to new heights when working with someone of equal stature, listen to her collaborations with Louis Armstrong or Count Basie for example. Here though, she seems to have been pushed to new peaks, rising to the challenge of doing this excellent set of songs justice admirably."
5. A Tisket, a Tasket (Ella and Her Fellas, 1957)
"She so beautiful and the voice of a Angel and a Angel she is. Her voice is timeless and she could lighten any one's heart. In the film she is the beautiful, beautiful and most beautiful cast. To me just Ella singing a tisket a tasket made that film…a beautiful Black woman..whom history should never forget."
4. Duke's Place (Ella at Duke's Place, 1965)
"This 1965 recording is quite different from the 1957 Songbook meeting as it sounds like it was thoroughly rehearsed. This is a paradox, in my opinion, since the typical looseness of Duke's band is absent, resulting in a more rigid and mechanical performance. On the other hand, the band doesn't run over Ella as they often did on the Songbook. This is probably want Norman Granz was looking for the first time around when Duke, according to legend, showed up unprepared. I strongly prefer the Songbook though, in spite of its problems."
See more: Hank Williams Albums Ranked
3. Fine and Mellow (Fine and Mellow, 1978)
"Nothing demonstrates this better than the title track where Ella tackles the song so identified with (and written by) Billie Holiday — "Fine and Mellow". This track alone is worth the purchase price. Ella uses her slightly rough-hewn vocals and wide vibrato (both due to age) to great effect. Her jazz guys are simply superb playing alongside her. A gorgeous song sung and played by Ella and her guys. This track loses nothing to the original so well done by Billie in many different interepretations."
2. Mack the Knife (Ella in Berlin: Mack the Knife, 1960)
"First Ella Fitzgerald album I have bought & no regrets. Good jazz is all about improvisation & the way she improvises after forgetting the words half way through 'Mack the knife' is extraordinary. The rest of the album is very good to listen too as well."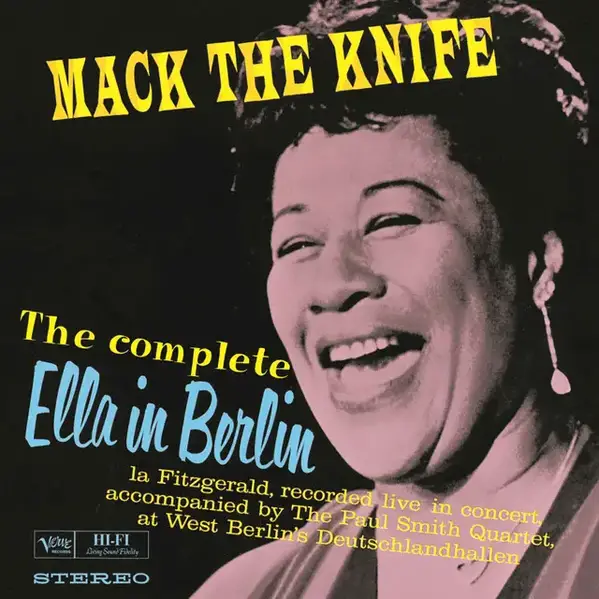 1. All the Things You Are (All the Things You Are, 1965)
"Words can not describe the beauty and value of her voice and talent… When she sang songs like this, she hit the very essence of the lyrics! Ella had legendary talent and her voice one could argue is the greatest ever or at as incredible Nat King Cole."