Epica is a Dutch symphonic metal band, founded by guitarist and vocalist Mark Jansen after his departure from After Forever. Formed as a symphonic metal band with gothic tendencies, later Epica has incorporated into their sound strong death metal influences. Starting from the third album, even progressive metal attitudes have become evident. In addition, the band often uses thrash metal and groove metal riffs, black metal passages (mostly in the drum technique), power metal moments, and references to Arabic music. Some songs also have electronic shades, djent transitions, and folk metal melodies derived from middle eastern, Chinese, and Celtic traditions. Epica is also known for the attention to the vocal lines that, in contrast to the heavy context, weave very catchy, easy to hold, sophisticated, and emotional melodies. The use of mezzo-soprano vocals and growled vocals, performed by Simone Simons and Mark Jansen respectively, is fundamental to the band's sound. They primarily write their own lyrics, which often deal with philosophical, psychological, spiritual, moral, scientific, environmental, socio-political, global and topical, and personal themes. Epica is also known for its wide use of orchestra and opera choirs. Here are all of Epica's songs ranked.
Don't miss out on the talented Epica music below! Click to experience the power of symphonic metal!
20. Facade of Reality (The Phantom Agony, 2003)
"This song is what got me into Epica. The transition between choir and vocals in 0:59 is beautiful. I wonder about the translation of the other language, but I assume it's close to what the chorus means."
19. Divide and Conquer (The Holographic Principle, 2016)
"According to Mark: "It deals with what's really going on in the Middle East. The media only give us one side of the story, but when you dig deeper, you find layers of truth about natural resources, like oil, that are influencing the region. The media report on how the new political regime has brought democracy to the region but maybe the inhabitants were better off before. What the West are really delivering is mainly destruction. They're making people fight each other and when the West conquers, the big companies come in and make money."
18. Mirage of Verity (The Quantum Enigma, 2014)
"I feel this album is one of their best with the biggest mix of heavy and incredible symphonic backings I've heard and I own all their CDs and of listened to them all, but this album I find you can just listen through and enjoy!!! its amazing to hear they still got it and seem to be getting better other than worse unlike most bands I hear today."
17. Unleashed (Design Your Universe, 2009)
"The best song ever from Epica. I started listen to Epica because of this song. Well balanced music, powerful lyrics and the drums… made this song awesome."
See more: Epica Albums Ranked
16. Reverence (Living In the Heart) (The Quantum Enigma, 2014)
"Has the perfect combination of everything that makes Epica great. The orchestra and choir are perfect. I stop breathing at the intense moments. Pure amazingness"
15. Our Destiny (Design Your Universe, 2009)
"I like how the 1st verse begins with a groovy bassline, then builds up into the chorus, which of course has Simone's signature vocals, full of emotion."
14. Beyond the Matrix (The Holographic Principle, 2016)
"This song is truly a masterpiece. Even though the album just came out I think this song will become a classic. The lyrics, the instruments, the vocals…it´s just perfection!
13. Sensorium (The Phantom Agony, 2003)
"This was the first song that i heard from Epica, and i have to say that the meaning behind it is quite simplistic. " Being conscious is a torment, the more we learn is the less we get" The chorus speaks for itself. Why be conscious and know noting, when you could live in the doldrums of you mind searching for your own personal life answers? Even so, being conscious and dealing with all the secrets of life can be a burden."
12. Design Your Universe (Design Your Universe, 2009)
"One of the band's ultimate masterpieces, the intro is perfect, with the sudden transition into a brutal rhythmic section before Simone's calm vocals come in."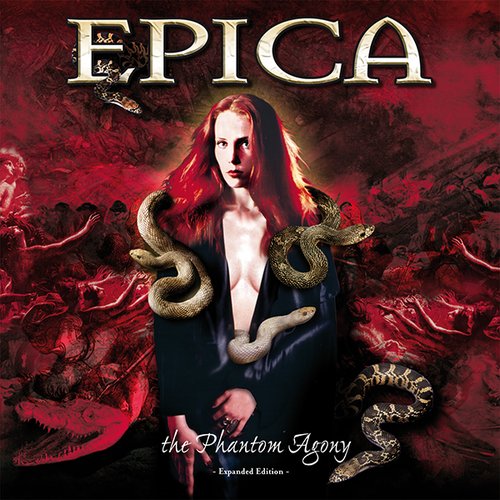 11. The Phantom Agony (The Phantom Agony, 2003)
"I accept that not everyone is into long songs (this one is nine minutes long) but if you listen to it completely, you'll understand this is the most beautiful song of Epica. It is complete and it can be used to introduce someone who has never listened to Epica. Because this is Epica. The lyrical style, the melody…"
10. Sancta Terra (The Divine Conspiracy, 2007)
"Simone's voice in this song sounds really beautiful with the instrumental. I also like the ending when the deep voices sing the chorus together. This song is epic and eloquent.."
9. Blank Infinity (Consign To Oblivion, 2005)
"This is a musical composition which perfectly demonstrates the band's ability to create music without having to rely completely on the vocals. Let the music speak with its own voice!"
8. Storm the Sorrow (Requiem for the Indifferent, 2012)
"This song and official video (available on YouTube) is very therapeutic and helpful for me. It is about being strong and confident when facing criticism from others. Simone Simon's vocals are great. As I said previously Mark Jansen's growls usually bother me, but in this song it is powerful and necessary for fighting this criticism and improving in confidence and believing in yourself. Some symphonic power metal songs are relatable, and this song is a great example of such a song."
7. Cry for the Moon (The Phantom Agony, 2003)
"Above all, its orchestral version beats the normal version by far, I'm just addicted to it and can't stop listening! Simone's voice is epic, so does mark's. I really like the heavy rhythm part where Mark is growling"
See more: Warrant Songs Ranked
6. Chasing the Dragon (The Divine Conspiracy, 2007)
"Epica has signed it's name under many masterpieces, however Chasing the Dragon raises above them all. The combination is just too perfect, the amazing music, touching lyrics, Simones voice that's woven in the song, and of course the powerful build up that incorporates Mark's deep grunting."
5. Tides of Time (Design Your Universe, 2009)
"Hard to imagine how one person could come up with such a beautiful piece to play on the piano. Indeed one of the best ballads ever. I can't help but feel that the song is not long enough, and that it deserves to be the intro to 20 minute epic."
4. Consign to Oblivion (Consign to Oblivion, 2005)
"Its really hard to pick one song from this band, it has a lot of good songs, by the way this an amazing song, you feel so good when you play it on the guitar."
3. Fools of Damnation (The Divine Conspiracy, 2007)
"Again really catchy vocals, and a nice rhythmic section with the guitar & drums in the middle. I really like the contrast in this song… the arabic sounds and a woman who reigns a man in stead of men dominating women. Again a song about organized religion."
2. Kingdom of Heaven (Design Your Universe, 2009)
"This is just more than a normal Song. It's everything positive about Epica and similar Bands put together. And that isn't just a little bit, as especially this Band has almost nothing negative. Long story short, this is more than just a mortal Song-being."
1. Burn to a Cinder (Design Your Universe, 2009)
"This a pretty much perfectly constructed song, with catchy the piano lead-in, the beautiful vocals and the short but sweet guitar solo. This metal masterpiece has a complex structure and is well-composed both musically and lyrical. Epica really know how to express a philosophical and scientific message and connect with their fans."