Evanescence is an American rock band founded in Little Rock, Arkansas, in 1995 by singer and pianist Amy Lee and guitarist Ben Moody.  After recording independent albums, the band released their first full-length album, Fallen, on Wind-up Records in 2003. Fallen sold more than 17 million copies worldwide and helped the band win two Grammy Awards out of six nominations. A year later, Evanescence released their first live album, Anywhere but Home, which sold more than one million copies worldwide. In 2006, the band released their second studio album, The Open Door, which sold more than five million copies.
The lineup of the group changed several times over the course of the first two studio albums productions and promotions: David Hodges left in 2002, co-founder Moody left in 2003 (mid-tour), bassist Will Boyd in 2006, followed by guitarist John LeCompt and drummer Rocky Gray in 2007, and Terry Balsamo in 2015. As a result, none of the band's three studio albums feature the same lineup. The latter two changes led to a hiatus, with temporary band members contributing to tour performances.
In 2015, Evanescence emerged from hiatus and announced they would resume touring; however, they denied that new Evanescence material was being produced, as Lee was focusing on a solo project instead. In addition, Balsamo left the band and was replaced by Jen Majura. Late 2016 saw additional touring from the band and a statement from Lee that Evanescence would continue. In March 2017, Lee stated Evanescence was working on the fourth album for release later in 2017. Synthesis was released worldwide on November 10, 2017, and marked a stylistic change in the band's sound. Here are all of Evanescence's songs ranked.
Don't miss out on the popular songs of Evanescence below! Click to enjoy the music that became one of the anthems of the 2000s!
20. Sweet Sacrifice (The Open Door, 2006)
"Every time I ask someone what their favorite Evanescence song is, they always say it's Bring Me to Life. I'm the only person I know who's favorite Evanescence song is Sweet Sacrifice. I really wish more people would like this song as much as I do."
19. Like You (The Open Door, 2006)
"This song… so beautiful and soft… and then you get to the final chorus. This song is one of the few, if not the only, song that has actually made me cry."
18. Erase This (Evanescence, 2011)
"This song is great and it really demonstrates the range of things that evanescence can do. This came straight from Amy's heart and you can tell as she sings with such passion."
17. Lost in Paradise (Evanescence, 2011)
"This is the best song ever made in the entire world and it is so beautiful and calming too. I love the lyrics and tune and most of all the way Amy sang it and the way the rock guitars play in the background it is truly magical and takes you to places that you can only find in your dreams and that's what's so beautiful"
See more: Evanescence Albums Ranked
16. Good Enough (The Open Door, 2006)
"I like Amy's voice in this song. It's so angelic! Besides, it's a really nice mix between hard rock and soft music. I like also the piano sheet that has been used in the 1st minute. Also the song rhythm it's so amazing. "
15. Snow White Queen (The Open Door, 2006)
"The music and lyrics by themselves are amazing, yet together they are horrifically exquisite! One of the best Evanescence songs and from what I heard she did not write it a stalker wrote it to her."
14. What You Want (Evanescence, 2011)
"This song is real industrial metal, with lots of dimension in the vocals and guitar; should be among the top five. Try to listen to it just once and you can't, you will want to play it over and over again."
13. Whisper (Origin, 2000)
"This song is actually really interesting. Granted, you sometimes can't understand what Amy Lee is saying, but I get it for the most part. Also, I'm a HUGE fan of the Latin at the end! By the way, servatis a periculum means save us from danger and servatis a maleficum means save us from evil"
12. Haunted (Fallen, 2003)
"It's haunting, just like it says, and dark. Very well written, especially the Fallen version. This song is very scary and disturbing, but really good and Amy is amazing!"
11. Imaginary (Origin, 2000)
"Somehow I feel that this song represents the essence of the band, it should be number 1, specially the Origin version. The lyrics, the arrangements, the voice of Amy, everything in this song is perfect."
10. Tourniquet (Fallen, 2003)
"This is seriously the best Evanescence song and it should have a crown on its head. Tourniquet has so many wonderful features and the guitar riffs are amazing. I love the lyrics too and they are so mysterious and emotive and I love the way how Amy lee projects her voice this defines a song worth voting for. Please make this song number one it is definitely the best evanescence song of all time and the lead single of fallen really deserves to be number one I am begging here please take my comment into consideration and boost the tourniquet to number one. Evanescence you are the best and Torniquet is what made you what you are today. "
9. My Last Breath (Fallen, 2003)
"The SADDEST song I've ever listened to… I literally CRASH when I listen to My Last Breath… It just expresses how I feel every day in this world… I keep holding my last breath but I still never let go of it… I'd REALLY LOVE to get a meaningful video of it… I guess that Evanescence didn't make an official video of My Last Breath just because the imagery of it takes a leap of secs but holds too much emotion in it that it may crash most Evanescence fans… Breaks my heart, always did and always will do"
8. Hello (Synthesis, 2017)
"Honestly most underrated, and looked over song on the album, but it is it's simple presentation, haunting lyrics, and literal projection of emotion she gives that makes it my top song of that album. I can listen to it over and over again, and feel different every time."
7. Call Me When You're Sober (The Open Door, 2006)
"There is just one word to describe this song and that word is AWESOME! I've been to 8 of their concerts and I even got to meet Amy Lee the lead vocalist and she was so nice! Also, I like this song because of the video. The part with the wolfs are awesome!"
See more: Halestorm Albums Ranked
6. My Heart is Broken (Synthesis, 2017)
"You can feel it, this is the most passionate song they've made. For me it sounds almost dreamlike. Bring me to life, My immortal, all those song are great but this defiantly shows all the best qualities of this band in one song. Chunky guitars, smashing drums, Amy's vocal range coupled with her amazing piano riffs. This is Evanescence's best song without question."
5. Everybody's Fool (Fallen, 2003)
"I love this song, and the video is really good too. I like this song so much that I just had to do it for this year's talent show. I hope I do good. I am only in seventh grade, but who knows? Evanescence is one of my favorite artists. She is not only brilliant but is also beautiful. Quick shout out.. Your eyes are amazingly beautiful, I wish I had those color eyes, all I have is brown. Anyway, this song shows good tone and powerfulness in your voice, Plus I can use my guitar."
4. Lithium (The Open Door, 2006)
"Lithium is a great song. Really. I listen to it all the time and the vocals are great. The song gets to me. I Listen to it on repeat a lot. The lyrics are amazing and the piano part is beautiful. Amazing song. I love Amy Lee's voice'
3. Going Under (Fallen, 2003)
"Such a great voice! Well the first song I heard by this band. And Amy Lee is just great. Her control over her voice at such high pitch is just amazing! Well Certainly the best song by them. I heard Bring me to Life and this song is still better. The music is so good. Creates a heavenly environment!"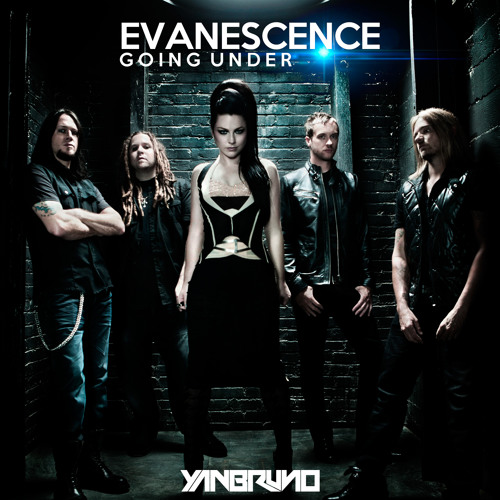 2. My Immortal (Fallen, 2003)
"This song makes me cry. It's a really good idea that throughout the video, notices how she is never touching the ground. She's in a tree, on a car, roof, and walking beside a fountain on a raised surface. Best idea. It gives reason and supports what the song is really about. My immortal, I think, is about how you find someone who makes you not touch the ground. Meaning they never put you down, because you're always there for them. There's just too much that time cannot erase, tell the truth. There is way too much that time cannot undo, but that makes us who we are as a person. Those sort of things shape us, makes us stronger. This song is beautiful, peaceful, and makes you think about those closest to you. I have learned the song on the piano as well. I love it."
1. Bring Me to Life (Fallen, 2003)
"This is the best song ever! I love all of their song and all of the words, but Bring Me To Life is the best one ever. My immortal is good too but not nearly as good as bring me to life. And you know that band We Are The Fallen well one of their songs is total plagiarism of this song DO NOT lozenge to them they are traders to evanescence all of their members are old teammates of Amy Lee. Amy Lee is the best singer time!"