Fistful of Metal Songs Ranked
Fistful of Metal is the debut studio album by American thrash metal band Anthrax, released in January 1984 by Megaforce Records in the US and Music for Nations internationally. It includes a cover of Alice Cooper's "I'm Eighteen". This is the band's only album to feature original frontman Neil Turbin and original bassist Dan Lilker, who were replaced by Matt Fallon (and eventually by third vocalist Joey Belladonna) and Frank Bello, respectively. Former guitarist, Greg Walls, claims that Anthrax "ripped him off" as he claims he wrote the material on this album. Fistful of Metal was released in January 1984. It was released as a double album by Music for Nations in the UK, featuring extra mixes of "Soldiers of Metal" and "Howling Furies", which were not included on the US edition. Megaforce repackaged a compilation of Fistful of Metal and the 1985 extended play Armed and Dangerous in 2005, which featured a different artwork and some liner notes but excluded any new mixes and bonus tracks. Commemorating its 25th anniversary, Megaforce reissued the album on three colored 10-inch LPs, also including Armed and Dangerous. Here are all of Fistful of Metal songs ranked.
Don't miss out on Anthrax music below! Click to experience one of the kings of heavy metal!
10. Across the River
"Instrumental. Thrash, with some intricate and dexterous lead guitar…maybe you could even say that the guitar here is proggy at times? You can make out the bass here and I don't mind it. On the cd with the EP on it, this track seems to end abruptly and then briefly restarts on the next track…perhaps?"
9. Subjugator
"I like the deeper vocal singing bits and the chorus too, perhaps (my notes aren't clear on the latter). Lot of lead guitar on this track…not bad…whimsical. Like the busy drum outro. Overdubbed vocals at times. Like the vocal melody for the bit which goes "The pounding and smashing". "
8. I'm Eighteen
"Not a bad cover of the Alice Cooper song. Not a thrash version. Neil even sounds like Alice at the start! Has backing vocals. Has pops in the audio too."
See more: Anthrax Album Ranked
7. Anthrax
"Don't mind the more menacing sounding intro (deeper). Has whammy effects on the lead guitar, if that is the right word (I'm not a guitarist), then gets faster and changes vibe. Not sure if the vocals are overdubbed at times or someone else features on vocals too. Subtle bass again, at times."
6. Soldiers of Metal
"Don't mind the thrashy intro to this song…has a classic thrash style (not all the big four's early albums make me think they're doing anything distinctive, which thrash is). I think my note indicates that what I find distinctive (and hence 'thrash') about the track is, for example, the riff at 1:48 and when another guitar joins in at 1:50 for emphasis."
5. Howling Furies
"The bit from 0:06+ reminds me of Metallica's classic "Fade to black", as far as the rhythm guitar goes, before the lead guitar squeals into life in that song. This part repeats often. Anthrax' track has some pretty lead guitar parts, e.g. 1:19+. Lead guitar squeals in this song too."
See more: Anthrax Songs Ranked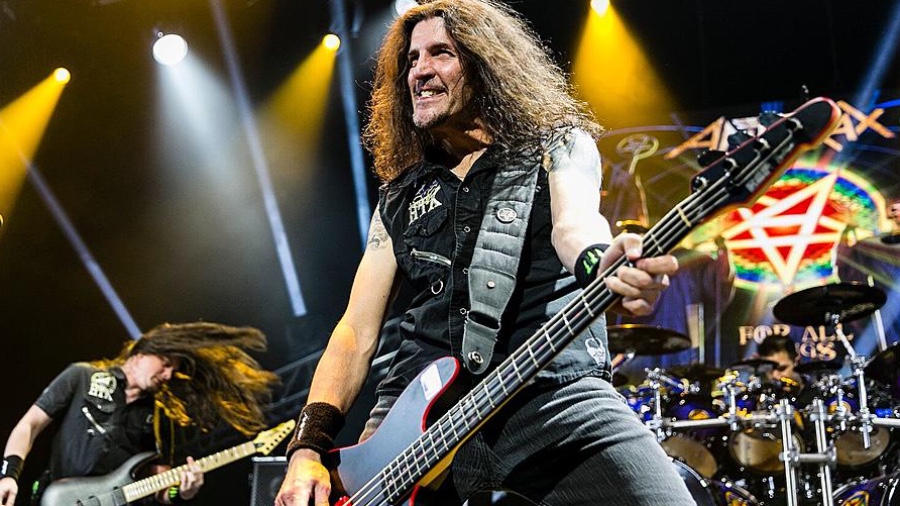 4. Death from Above
"Lot of lead guitar early. Has synth sounding beats at times! Features the lyric "I kill for the fun. No reason. No warning". Sounds to me like a female moan at 4:37!"
3. Panic
"Thrashy track. Feathering strings on lead guitar. It's sort of okay…I don't mind the riff. This track actually has a few more things I don't on it, like: when the drums are more prominent and the drum intro. Outro features "Rawhide" music. There's also a familiar riff which I can't quite place at 0:28+."
2. Deathrider
"Scare quotes indicate running time on lcd inflated by silence. Has an audio effects intro then thrash riffing with bass notes. Bass is in the mix, which is good…i.e. you can actually hear it. When Neil does go into the high range, vocally, he has a touch of Judas Priest's Rob Halford to his style….glassy shrieks and extended squeals."
1. Metal Thrashing Mad
"Maybe a Deep Purple like car song. Halford like shrieks again, probably. Features riffing, lead guitar and bass. Track has pops in it too. Thumping beat at the start."