Louder Than Love Songs Ranked
Louder Than Love is the second studio album and major-label debut by American rock band Soundgarden. It was released on September 5, 1989, by A&M Records. After touring in support of their debut album, Ultramega OK (1988), Soundgarden left SST, signed with A&M and began work on its first album for a major label. The songs on the album featured a metal-leaning grunge sound with some songs featuring unusual or unorthodox time signatures. Due to the nature of some of the lyrics (particularly "Big Dumb Sex"), a Parental Advisory sticker was placed on the album packaging. Louder Than Love would become the band's first album to chart on the Billboard 200, peaking at No. 108. The band supported the album with tours of North America and Europe. It was the last Soundgarden album to feature the band's original bassist, Hiro Yamamoto. It was later reissued on January 25, 2002. Here are all of Louder Than Love's songs ranked.
Don't miss out on the TIMELESS Soundgarden music below! Click to experience one of the pioneers of Grunge!
12. Full On
"I'm not sure if this song was suppose to be pointless filler or not, but ________ it, I love it. Quite an interesting divergence for the band, as it is a slower, almost blues influenced version of the original Full on. Probably not the best song on here, but a really nice and mellow way to end the record."
11. Power Trip
"It sounds sort of flat (listen to those drums and the way they were put on top), but man, does this song absolutely rule. Driven by an awesome, metallic Black Sabbath-Led Zeppelin riff, this song definitely echoes the of classic metal songs like Iron Man, Smoke on the Water, but the difference would be it's delivered as Soundgarden only can: Chris's cynical vocals highlighting the , and Kim Thayil's guitar riffs channel a sense of anger, bitterness, and hatred through mean guitar riffs (aforementioned described) and amazing use of abrasiveness and melody. One of the best songs on the album."
10. Get On the Snake
"Along with Loud Love, the most Led Zeppelin influenced song. However, Kim Thayil's guitar work here has absolutely no trace of blues, and whips his guitar work into a more metallic, mean, and punkish delivery, while still being infectious (and absolutely ripping guitar solos). It has a bit of Sabbath sound (most notably in the progression and melody of the notes), but most of all it's absolutely mean guitar work ala Zep, only Soundgarden. I'm not quite sure what these lyrics are, but they sure make you want to live a life full of danger, maybe that's what the snake is suppose to represent. If you can, listen to the live version on Telephantasm, which absolutely STOMPS, and the music video."
See more: Soundgarden Albums Ranked
9. No Wrong No Right
"Alright, this is probably the worst song on the album. The verses are extremely dull, and the guitar riff is pretty damn generic. It sounds like a really bad Black Sabbath rip off without the doom, and well, it's very easy to forget about. The thin weak production just seals the deal, and the song as a result is the least powerful song on the record, and of all time, in my opinion."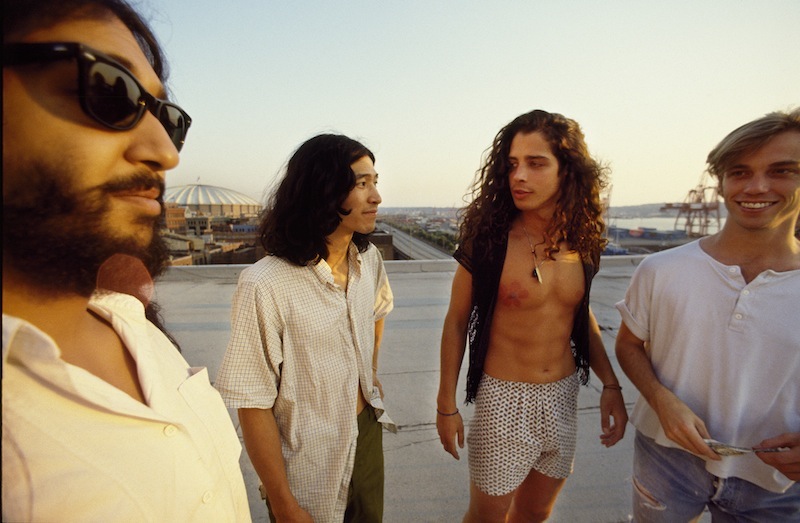 8. Uncovered
"Oh how I love this song, just well crafted in every way. Listen to way the intro almost seems to paint the image of the close realization of the lying two-faced loser finally being exposed. The main itself is great all around, and Kim Thayil shows why he's my favorite guitarist ever with the ability to get down the exact same mood and emotion that the subject matter demands. Great lyrics to match the music itself, dealing with the of discovering somebody who is a pitiful and pathetic liar and watching them be exposed for the sham they are."
7. Full On Kevin's Mom
"Soundgarden' sense of humor is great, and with this song you get both humor and, of course, some amazing music to go with it. This is probably the most punk and energetic song on the album, with Chris's high pitched, wild vocals. Kim Thayil is the highlight here, melding wild punk riffs, abrasive guitar riffs, and a sophisticated sense of craft that the best bands from the 70's had, all into one. His solo is amazing too. In case you were wondering where the song comes from, well it's this, according to Chris Cornell: "Full on Kevin's Mom" is about "a friend of mine who slept with another friend of mine's mom. The guy who did it said to us, 'Yeah, full on Kevin's mom'""
6. I Awake
"Probably the worst song on the album. Yes, it has a really cool intro and I absolutely love the guitar noises that come out, but the rest of the song just stinks. The guitar riffs are completely generic and weak, and the dynamics of the song smack you as hard as an 80 year old grandma. The lyrics are stupid and obnoxiously delivered. Maybe more dynamic and production would make it sound better, but I Awake is one of my least favorite Soundgarden songs."
5. Ugly Truth
"So Louder Than Love starts, and it begins with two wicked, crashing lead guitars that go into the patented Black Sabbath-Ritchie Blackmore guitar riffs that Soundgarden is known for doing so well. There's enough changes in the guitars through the whole song, from awesome guitar riffs, to the guitar sheen and textures used in the song, and it's dual guitar interplay. Chris's vocals here are also brooding, and it's one his absolute best early Soundgarden performances, along with Beyond the Wheel, Entering, Big Dumb $#%, and Fopp. Great lyrics about, well, the ugly truth underneath the lie."
4. Big Dumb Sex
"Aside from parodying those terrible hair metal bands of the 80's, the music itself is excellent as well. Kim Thayil's riffs, guitar solos, and fills are catchy, biting, and almost fit the song's material, and Cameron's drumming is very good. I do love Chris's exaggerated vocals, and while they may potentially annoy others, it's perfect for this, and the song itself is VERY catchy. I see this song not in a pure mocking sense of hair metal bands (just deliberately sing the lyrics of any hair metal band wrong, and problem solved), but a song that seems to say "Let's just be direct and write a song as to how it should really sound".
3. Gun
"Soundgarden really isn't quite a heavy metal band, but they have a metal influence, and they let their Black Sabbath roots shine through here. Gun twists and turns through a lot in it's run time without not much of a typical structure, but the riffs here hit hard, and the drumming lurches around with an almost menacing glee. The way it also picks up through the song to the middle guitar solo is almost, and the guitar solo here is typical Thayil brilliance. Lyrically, Chris's sarcasm here comes through in the songs, and the lyrics are as oblique yet anthemic, perfect for the cathartic experience Soundgarden provides."
2. Loud Love
"Ah, the title track, and possibly the best song on the album. From the feedback intro, to Chris Cornell's amazing vocals, to that absolutely friggin' iconic guitar riff (dare I say it, one of the coolest I've ever heard? YES!), and there's much more here. I love the interlude, that alternates between more heavy guitar riffs and light twinkling guitars. Just listen. Masterpiece."
1. Hands All Over
"One of the singles on the album, this is another iconic Soundgarden song, and for good reason. Just from the absolutely washing and buildup of the intro alone, and you will know where the song is going from. The song also has a prominent world influence to it's sound, which definitely melds with the lyrics about the destruction of man have done to their own society. Close your eyes, and you can almost let the music take your on a journey of ugly, grim, and haunting images of teh damage we as a human race have inflicted upon wildlife. Not sure if this song is promoting it, but merely commenting on it."