Miley Cyrus Albums Ranked
Miley Ray Cyrus (born Destiny Hope Cyrus, November 23, 1992) is an American singer, songwriter, and actress. Noted for her distinctive raspy voice, her music incorporates elements of varied styles and genres, including pop, country pop, hip hop, experimental, and rock. Cyrus has attained the most US Billboard 200 top-five albums in the 21st century by a female artist, with a total of thirteen entries. Her personal life, public image, and performances have often sparked controversy and received widespread media coverage. Cyrus's career accolades include entries on the Time 100 list in 2008 and 2014, MTV's Best Artist of 2013 Award, and placement on Billboard's Greatest of All Time Artists Chart in 2019. She is often regarded as one of the few examples of successful child actors-turned-singers. As an actress, Cyrus has made appearances in the animated film Bolt (2008) and the feature films Hannah Montana: The Movie (2009) and The Last Song (2010). On television, Cyrus served as a coach on the singing competition series The Voice across two seasons and starred in the episode "Rachel, Jack, and Ashley Too" of the Netflix series Black Mirror (2019). Cyrus is an advocate for animal rights and adopted a vegan lifestyle in 2014; she founded the non-profit Happy Hippie Foundation in 2014, which focuses on youth homelessness and the LGBT community. Here are all of Miley Cyrus' albums ranked.
Don't miss out on the music of Miley Cyrus! Click below and listen to the songs enjoyed by many countries!
10. Hannah Montana, 2006
"The songs on this record can be catchy at times, but do fall for various pop tropes that many other more conventional pop records fall for. Sometimes the repetitive nature of songs on this record was frustrating, and production was somewhat underwhelming on some tracks, especially on the first half. With that being said, this album definitely tries to have fun, and has no reason not to; it's an album for a kid's TV show. This record is by no means unlistenable; I don't hate it now and I didn't hate it when I was younger when HM was the talk of the town. The production is tasteful in places, though not taking many risks or going far out ambition-wise. Miley Cyrus as a singer is pretty decent as well."
9. Can't Be Tamed, 2010
"Even better than I expected. Lots of fun and catchy tunes ("Who Owns My Heart", "Can't Be Tamed") but also some emotional ballads ("Every Rose Has Its Thorn", my favorite track of this record). I also like the lyrics. Her voice isn't amazing but it's not unpleasant neither (and I also think it sounds like Miley Cyrus and no one else) so this album sounds really good."
8. Hannah Montana 2: Meet Miley Cyrus, 2007
"Miley is constantly hassled & criticized, just as Britney Spears was upon her debut. It's "cool" to hate Miley Cyrus. Fortunately for unbias people such as myself, we can look past the facades and opinions of others and see that this girl has talent. She may not have the strongest voice, but it is a good voice, it's unique, and she has good range. The songs are all fun and upbeat, very catchy. And what's most impressive is that at the age of 14, she wrote 8 out of the 10 songs on the Meet Miley disc, while Britney can't even write more than 3 songs on her past few albums. So props for her."
See more: Bowling for Soup Albums Ranked
7. Younger Now, 2017
"Younger Now continues on Miley's evolution from Dead Petz with the singer making this latest project her most personal one yet. Credit must be given for penning all of the album's songs and continuing her work with Oren Yoel who produced the sublime Adore You on Bangerz. While, she has room to grow as a lyricist, the effort is stellar and sincere. Her voice sounds more beautiful than it ever has."
6. Breakout, 2008
"This CD really places Miley as America's Rock Star. It is well-done with a lot of attention to detail on Miley's part. Her rewrite and re-make of "Girls Just Wanna Have Fun" is absolutely GREAT! "Wake Up America" ushers Miley into the world of Green very well. It is a new avenue and endeavor by Miley to contribute. "Bottom Of The Ocean" is a great Ambient Rock breakthrough and her remix of "See You Again" is outstanding. All of her songs on this album have a different but simple and deeply indulging message for people of all ages. It is NOT just one of those girl-boy relationship sets, though it may sound like that at times. The messages are well thought-out and play to/from the heart in many ways, you just have to listen! It does not set Miley apart from Hannah though it does enhance their relationship and public image."
5. Plastic Hearts, 2020
"It is an undeniable advance for Miley compared to the disaster that was Younger Now . The pop rock sound is really her musical home, and the songs finally sound as strong and mature as they should have been long ago. It is a pity that the second half of the album loses its strength compared to the first, with some songs displaced from the main proposal of the disc, such as Never Be Me . Still, Plastic Hearts brings Miley's best career repertoire, a return to what the singer knows how to do best. And shining more than Billy Idol in a song is not for everyone, so points for it."
4. The Time Of Our Lives, 2009
"Sure enough, this album doesn't disappoint. Miley starts us off by telling an ex what he'll be missing with "Kicking And Screaming", then it's everybody's favorite "Party In The USA" where she tells us what it was like when she first went to Hollywood."
See more: All American Rejects Albums Ranked
3. She Is Coming, 2019
"I have been a fan of Miley Cyrus since she covered Bob Dylan's "You're Gonna Make Me Lonesome When You Go" and a big fan since Bangerz and the collaborations she did since then. This EP is more Bangerz and Pop than Younger Now, which I also love, yet it finds a sweet spot that leaves us with some great tracks for the summer and the various sentiments that Miley is so good at expressing: party time vibes and a sweetness that is impossible to fake. This is Miley Cyrus for real fans . As she sings in the last song, The Most, I still believe in Miley and this EP should make you believe that there is a lot to expect from Miley Cyrus in the future because she is here and I know why I still believe in her. She has it and, with She is Coming, she has brought it."
2. Bangerz, 2013
"Really great soundtrack, has a mixture of different beats and songs which i like about this album, some albums singers release normally put tracks on there albums that sound the same, but Miley Cyrus has done a fantastic job on this album really like the songs! highly suggest for any Miley fan or if you just want to listen to something different for a change."
1. Miley Cyrus & Her Dead Petz, 2015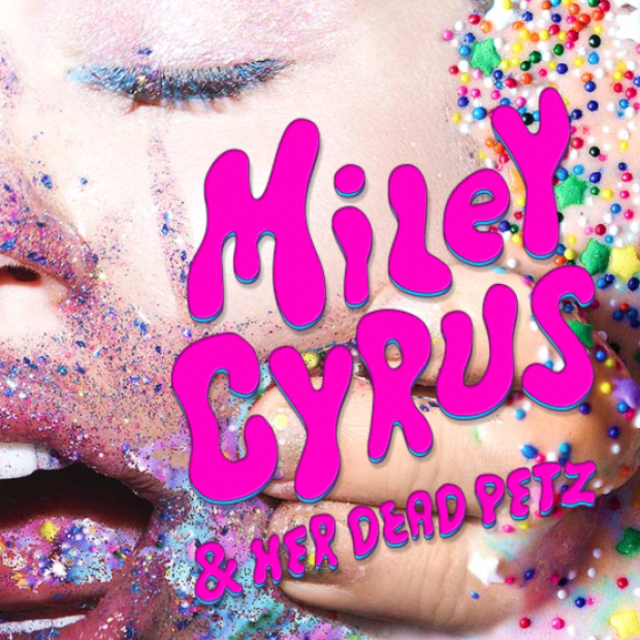 "This album is only hated by most people because it was done by Miley Cyrus. It has some of her best songs ( Cyrus Skies, I Get So Scared, Lighter, Karen Don't be Sad, Space Boots), you can hear Miley put her heart out in this project and honestly is refreshing to see pop stars experimenting with new sounds, writing and doing music just because they can. Also her vocals are amazing."