Murphy's Law Songs Ranked
Murphy's Law is an American hardcore punk band from New York City, formed in 1982. While vocalist Jimmy Gestapo remains the only founding member of the band, the line-up has consisted of numerous musicians who have performed with a diverse selection of musical acts across multiple genres, such as Skinnerbox, Danzig, The Bouncing Souls, Mucky Pup, Dog Eat Dog, Hanoi Rocks, Agnostic Front, Warzone, Cro-Mags, D Generation, New York Dolls, Joan Jett & the Blackhearts, The Slackers, Thursday, Skavoovie and the Epitones, and Glen Campbell. Over the course of their career, Murphy's Law has released five albums, the last of which was released in 2001. Here are all of Murphy's Law songs ranked.
Don't miss out on the songs of this great band. Click below and listen to their music.
8. A Day in the Life (Murphy's Law, 1986)
"One of the best songs to ever come out of the New York scene. First time I made it to New York you can bet your ass I had this playing as I explored the city. Saw these guys in LA a few years back and Jimmy Gestapo was as cool as you'd expect him to be, very cool dude."
7. I Got a Right (Murphy's Law, 1986)
"This is the sound of a band working in perfect harmony. Every member is having an absolute stormer. Each song seems like a unified vision with every instrument having its part to play. It meshes together beautifully."
6. What Will the Neighbors Think? (Dedicated, 1996)
"I discovered this band by accident and I must say, a pleasing accident at that! Love this song. Very soothing and a wonderful harmony. There hasn't been a song of theirs that I haven't liked!"
5. Care Bear (Murphy's Law, 1986)
"This is literally my favorite song. it's been my favorite song for as long as I remember, the first song I remember hearing as a kid. it never gets old. I literally love it so much I can't explain"
See more: Murphy's Law Albums Ranked
4. Panty Raid (Back with a Bong!, 1989)
"This song never gets old. It's a very timeless and magnificent song. They lyrics and melody complement each other really well. This song is just one of those songs that is perfect. Plus awesome album cover, just saying."
3. Skinhead Rebel (Murphy's Law, 1986)
"If I could choose one song to listen to on a long road trip, it would be this one. This song is so catchy and is not one that you can get sick of quickly, great verses, great chorus, great music, love it Classic."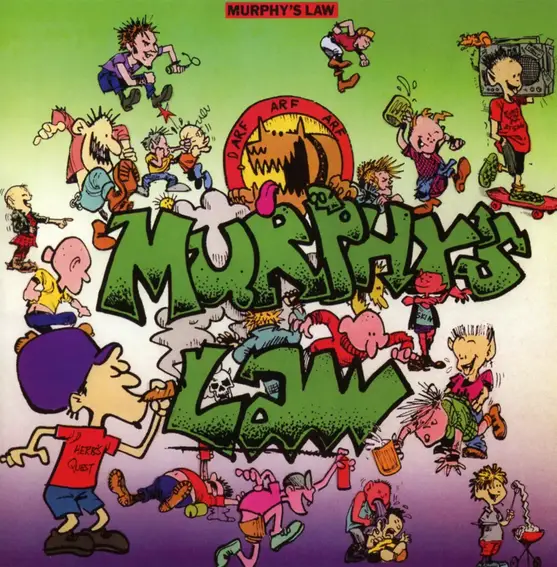 2. Vicky Crown (The Party's Over, 2001)
"Upon first listen this may not impress you that much, but with some patience you'll be turning back to this one in no time. Great record in terms of message"
1. Harder Than Who (The Best of Times, 1991)
"These guys have never had a great reputation but I can say this is good if not basic beatdown hardcore. Every song sounds the same and has a breakdown in it but this kind of music is designed to pump you up and get you moving in the pit."