Physical Graffiti Songs Ranked
Physical Graffiti is the sixth studio album by the English rock band Led Zeppelin. It was released as a double album on 24 February 1975 by the group's new record label, Swan Song Records. Physical Graffiti was commercially and critically successful upon its release and debuted at number one on album charts in the UK and number three in the US. It was promoted by a successful US tour and a five-night residency at Earl's Court, London, and has since been viewed as one of the group's strongest albums and the artistic peak of their career. The album has been reissued on CD several times, including an expansive 40th-anniversary edition in 2015. Physical Graffiti was later certified 16x platinum in the United States by the Recording Industry Association of America (RIAA) in 2006, signifying shipments of over eight million copies. Here are all of the Physical Graffiti songs ranked.
Don't miss out on the TIMELESS Led Zeppelin music! Click to experience the power of Jimmy Page!
15. Night Flight
"Night Flight' was recorded at the sessions for the fourth album and also has the feel of that album. Once again Jones takes the majority of the writing credit, so much so that he was actually listed first in the composer credits. It has a similar feel to 'Misty Mountain Hop' for me and that could be the resason why it was left off the fourth album."
14. Black Country Woman
"Black Country Woman" is one of those weird Side 4 songs off of PG, culled from earlier sessions. The song was apparantly recorded in Mick Jagger's garden. at least they say it was, and is a acoustic piece that sounds like it could've come from Led Zeppelin III."
13. Bron-Yr-Aur
"Note how the "Bron-Yr-Aur" instrumental – though not exactly made up of Jansch-level phrasing, more like Page found a purty chord progression one day and decided to arpeggiate it – is just short enough to work, like a wistful passing breeze that lets you know that you'll be content for a while longer."
12. The Wanton Song
"Inspired by an aggressive jam and lyrically spent on sex, "The Wanton Song" packs a raw, in-your-face riff and Bonham's fierce assault of the drum kit"
See More: Led Zeppelin Songs Ranked
11. Boogie with Stu
"Boogie With Stu." What an interesting track. The experimental production and percussion give it the sound of a flashforward to a Tom Waits track. Or maybe a splice between The Basement Tapes and… something else? It's quite the unique Led Zeppelin tune, and I dig it for the most part. Obviously some nice piano work from Ian Stewart."
10. Sick Again
"The album closes with 'Sick Again' which is like the album opener a thundering stomp of a rock song. It is let down a little for me though because Plant is far too low in the mix and the lyrics are pretty much undecipherable."
9. Down by the Seaside
"This is gentle and the closest they came to establishing an atmosphere song, and it's innocent enough that it's hard to actually be mad at this. One of the most enjoyable songs here because it's genuinely pleasant, if nothing else."
8. Custard Pie
"The album kicks off with the thundering 'Custard Pie', a classic heavy opener that is packed with more sexual innuendo than a David Coverdale/Frankie Howerd double act. Pages's wah-wah solo, which was played through an ARP synthesizer, is as good as any heavy solo he's ever played and Jones uses an electric clavinet to good effect."
7. In the Light
"The second half of the album is not quite a good as the first half but it still has more than its fair share of highlights. One of those is 'In the Light' which despite starting with Page's violin bow technique is all about John Paul Jones."
6. The Rover
"'The Rover' is the first of the older tracks and was originally written as an acoustic track as early as 1970. It works perfectly as a heavier track and it is a credit to the production team that it is not obviously from a different session."
5. Houses of the Holy
"A reasonably good rock song with a great melody that kicks the album off with energy. Its greatness is limited, but it's fun and warm enough (still no valid reason why it couldn't have been on the album that spawned it, however)"
See More: Led Zeppelin Albums Ranked
4. Trampled Under Foot
"Trampled Underfoot" has always been my favorite track on Physical Graffiti, because I like the funky vibe the song has. Zeppelin was never afraid to experiment, and this song shows it, with a riff sounding strikingly similar to Stevie Wonder's "Superstition", but it is not exactly the same as many say. Not to mention the humerous lyrics, plus it is an awesome driving song."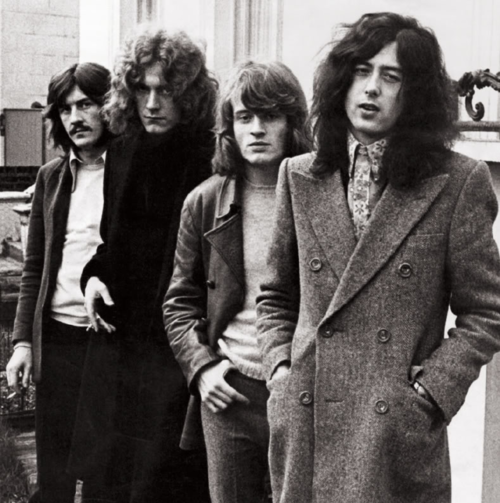 3. In My Time of Dying
"Zep at their heavyweight best as they soup up the old blues number and stretch it out to over ten minutes of powerhouse classic heavy rock. Bonham's drums threaten to burst ears, underpinned by Jones' bass and Page's marauding guitar and while I'm not the biggest fan of Plant's rock-god vocal style, he presides over proceedings masterfully here."
2. Ten Years Gone
"Ten years gone is a good attempt at making a more complex and mellow song because it shows restrain, somewhat-meaningful songwriting, and well-defined melodies and chord progressions."
1. Kashmir
"Kashmir" is one of the band's best-known songs, and one of the greatest classics in rock and roll history. With its cadenced tempo, reminiscent of the heartbeat, it shows the enormous talent of Page and Plant as composers, seeking new sounds for Zeppelin in the Orient."