Sticky Fingers Songs Ranked
Sticky Fingers is the ninth British and eleventh American studio album by the English rock band the Rolling Stones, released on 23 April 1971 on their new, and own, label Rolling Stones Records after previously having been contracted by Decca Records and London Records in the UK and US since 1963. It is Mick Taylor's second full-length appearance on a Rolling Stones album (after the live album Get Yer Ya-Ya's Out!) without contributions from guitarist and founder Brian Jones, who died two years earlier. The original cover artwork, conceived by Andy Warhol and photographed and designed by members of his art collective, The Factory, showed a picture of a man in tight jeans, and had a working zipper that opened to reveal underwear fabric. The cover was expensive to produce and damaged the vinyl record, so later re-issues featured just the outer photograph of the jeans. The album is inducted in the Grammy Hall of Fame and included in Rolling Stone magazine's 500 Greatest Albums of All Time list. Here are all of Sticky Fingers' songs ranked.
Don't miss out on the TIMELESS Rolling Stones music below! Click to experience the power of Mick Jagger and Keith Richards!
10. You Gotta Move
"You Gotta Move" is a fine blues number, well-performed (particularly Keith), and it doesn't overstay its welcome. But let's be honest, does anyone remember it? How does it go? From the top of my head, I have no idea. Both Bleed and Exile go further with their blues songs."
9. Sister Morphine
"Sister Morphine" doesn't quite justify its length (the build-up is a tad too slow) but does its job in the end. It's bleak, almost horrifying ('why does the doctor have no face?'), and I'd call it their darkest song if it wasn't for the fact that here we're talking about the same guys who came up with "Paint It, Black". For particularly brilliant stuff, pay attention to those disorienting, scary piano echoes popping up every now and then in the background."
8. I Got the Blues
"I Got the Blues" is the weakest cut, but there's the Hammond solo which sounds as stellar as a keyboard has ever sounded. The big problem is that Jagger's balladry in waltz time is too mundane to get much of anywhere. I would have reduced it to half its length and removed all of the brasses except for the final bit."
See more: Rolling Stones Albums Ranked
7. Dead Flowers
"Dead Flowers" is one of their few attempts at country, and I like it very much: it's not a complex song, but they kept an iconic chorus for it (beautifully harmonized between Jagger and Richards) with fairly poignant lyrics. They also seem to be… making fun of Americans? Or just taking the US as kitsch? Cool enough."
6. Bitch
"Bitch" is another of the aggressive rock 'n' roll cuts and it doesn't quite get to the point of being a "Brown Sugar". It is good nonetheless because all the ingredients are there and they pump the enthusiasm up. Big guitar-doubled-with-bass riff, sassy brasses doing stuff that isn't totally predictable, and another guitar in the left channel soloing non-stop. Watts' drums are at their most square ever, and yet they still sound awesome. Jagger doesn't have a great hook at hand but I still love his attitude of implicitly recognizing things are so fucked up there's no point in thinking anymore, so he just gets to end the song going 'Hey! Hey! Hey! Hey!'."
5. Sway
"I think it's very appropriate for such a lustful song like "Brown Sugar" to be followed by a wistful one like "Sway". "Sway" sounds like it almost could be a ballad, but they keep the distortion up throughout. The tempo is actually very relaxed, and that chorus – which they sing together as a band because, hear me out, unity is important – sends you decades back into the sixties (Jagger was a genius when it came to coming up with generational mantras, and this is another). Notice how they even manage to give room for some strings near the end and how they don't frame their presence like it's a big deal. It's like 'yeah, we also got a string ensemble, in case you care'. Oh, yes. I care. I do care."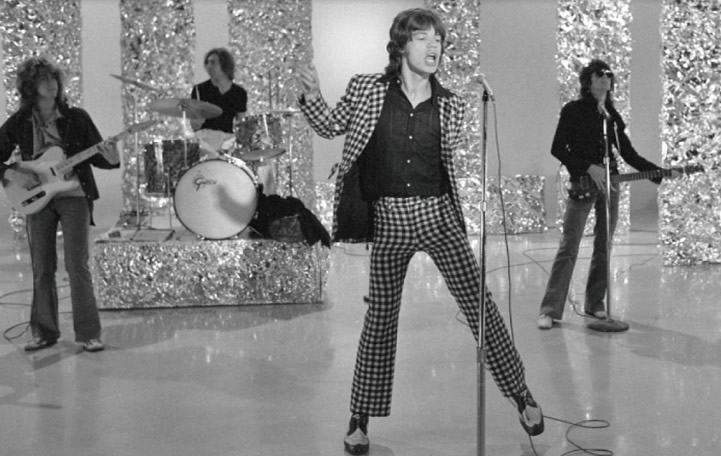 4. Moonlight Mile
"Jagger's falsetto in the verses of the closer "Moonlight Mile" may annoy you a bit, but let the track play and you'll find a lush, delightful song to watch the night sky along with. The strings stumble around with grace while the piano paints the milky way in impressionist fashion (it also sounds like Television's "Guiding Light" but way ahead of schedule). And Charlie Watts, that's the greatest star of the show, plays around with the toms of his drumset. Goddamn is this song a closing track. You could not put an end to such a dirty album with more class that it is shown here. Underrated!"
3. Can't You Hear Me Knocking
"Can't You Hear Me Knocking" is an ambitious one, but at the same time it is early evidence of the death of the '60s. See, its self-aware sprawl isn't as ambitious as those more casual masterpieces from Beggars Banquet or Let It Bleed, which were able to keep the songy-ness in spite of the weirdness. "Can't You Hear Me Knocking" amounts to a long jam and not much else (although the stuff it does amount to is good). I like the exotic rhythmic section that Watts and Dijon take the opportunity to play together. I like the confident sound of the saxophone. I like the organ simply because I'm a sucker for it. I guess that sums it up."
2. Wild Horses
"Wild Horses" is one of their classic ballads, and this time they leave the noisy playing aside for a second just to show that they can handle that 'anthemic folk' sound that was so popular at the time. To tell the truth, Jagger's faux-soul during the verses kinda irks me, almost like he knows he doesn't have a melody at hand so he just struts around emoting in some sort of annoying way, but once that chorus comes in… it's like those little complaints don't matter much, do they?"
1. Brown Sugar
"Brown Sugar" is excellent. The whole thing. It's The Stones' most unashamed display of talents when it comes to making hedonistic, invigorating music. Unlike with most of the aggressive rockers from Exile, the production here is impeccable: you can hear the instruments almost in a three-dimensional studio space, crystal clear and at the precise volume necessary for the brasses to hit you right in the face (with an arrangement that sounds like a re-write of Aftermath's "Flight 505", while also being an improvement) or for the cowbell to be always audible. Hell, if you pay close attention you will also hear some castanets there, and as soon as you notice them you'll realize how essential they were all along. Unstoppable, "Brown Sugar" is rock music at its most immediate."