Stone Temple Pilots Songs Ranked
Stone Temple Pilots is the seventh studio album by American rock band Stone Temple Pilots, released on March 16, 2018, through Rhino. It is the band's first with lead singer Jeff Gutt, who joined the band in 2017. It is also their second eponymous album and first release since the death of original vocalist Scott Weiland and second vocalist Chester Bennington, both of whom are remembered in the liner notes. The first single from the album, "Meadow", was released on November 15, 2017. A second single, "Roll Me Under", was released on January 31, 2018, to announce the album's release and the band's 2018 tour. A third single from the album, "The Art of Letting Go", was released on February 22, 2018, and a fourth single, "Never Enough", was released on March 8, 2018. Here are all of Stone Temple Pilots' songs ranked.
Don't miss out on the TIMELESS Stone Temple Pilots albums below! Click to experience grunge at its finest.
11. Guilty
"Scott Weiland may be gone but the new singer does the band justice and brings it. It's difficult stepping into Scott's big shoes but someone has to do it. So you have to give the new singer credit along with the DeLeo brothers."
10. Just a Little Lie
""Just A Little Lie" is the first throwback to the Core/Purple era they've ever done, and it's spot-on. Jeff Gutt makes his debut as the newist vocalist for Stone Temple Pilots and I find him to be a very worthy replacement."
9. Six Eight
"Weiland's vocals were obviously a major part of the band's sound, so a sound-alike (Gutt) was a wise move. For me though, it's about the DeLeo's and Kretz. I've always thought STP was ridiculously underrated as a band."
See more: Stone Temple Pilots Albums Ranked
8. Finest Hour
"This CD is a very solid effort for their first album with new singer Jeff Gutt. Not an easy task to replace the great Scott Weiland. He sounds like him on some songs but still keeps his own identity. "
7. Thought She'd Be Mine
 "Thought She'd Be Mine" is absolutely stunning and even includes a dreamy, psychadelic closing that we haven't seen since No. 4. It almost has a Doobie Brothers feel and might possibly be my favorite track on the album."
6. Reds & Blues
"Reds and Blues" is a touching, slightly melancholic, country-tinged closer. The whole thing is breathtaking. We'll never have another Weiland, but Jeff Gutt stepped up to the plate and scored an absolute home run with the DeLeos and Kretz."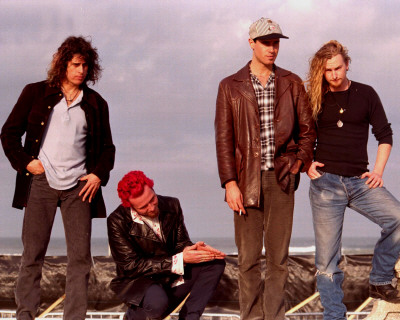 5. Middle of Nowhere
"If you squint your ears, you can almost hear Scott, it's like they wrote the songs for him, and he just isn't here to sing them for us. I love this CD, it's been on repeat in my car since this showed up on the 3/16. I'm one of the people that saw them looking for a singer and said "No on can replace Scott" which is true to a point, because he's irreplaceable, but Jeff has paid tribute to Scott pretty well."
See more: Stone Temple Pilots Songs Ranked
4. Never Enough
"My favorite track on the album is Never enough! I really love Dean's guitars to Robert's jazzy bass lines that cut really well through the Eric's drums. "
3. Roll Me Under
"There's no replacing a Scott Weiland, but Jeff Gutt is a great singer and brings just the right feel and technique to a great collection of songs. It's hard to imagine how they could have picked a better singer for STP. This album has now been in solid rotation for me for weeks and I'm still finding new things to appreciate."
2. The Art of Letting Go
"The Art of Letting Go will be popular with fans of the tunes Plush or Creep, but feels like a nod to those most familiar with STP's biggest radio successes."
1. Meadow
"If you've listened to "Meadow", then you've already heard the newest iteration of Stone Temple Pilots' mission statement. That's the most energy and personality this album has to offer."