British Steel Songs Ranked
British Steel is the sixth studio album by English heavy metal band Judas Priest, released on 14 April 1980 by Columbia Records. It was the band's first album to feature Dave Holland on drums. British Steel saw the band reprise the commercial sound they had established on Killing Machine. This time, they abandoned some of the dark lyrical themes which had been prominent on their previous releases, but some of it still remains. In a June 2017 appearance on Sirius radio podcast "Rolling Stone Music Now," Rob Halford said the band may have been inspired by AC/DC on some tracks after supporting them on a European tour in 1979. British Steel was recorded in December 1979 at Tittenhurst Park, home of former Beatle Ringo Starr, after a false start at Startling Studios, also located on the grounds of Tittenhurst Park, due to the band preferring Starr's house to the recording studio itself. Digital sampling was not yet widely available at the time of recording, so the band used analog recording of smashing milk bottles to be included in "Breaking the Law", as well as various sounds in "Metal Gods" produced by billiard cues and trays of cutlery. It is the first Judas Priest album to feature drummer Dave Holland, and it was released in the UK at a discount price of £3.99, with the advertisements in the music press bearing the legend "British Steal". The songs "Breaking the Law", "United", and "Living After Midnight" were released as singles. Here are all of British Steel songs ranked.
Don't miss out on the heavy metal music Judas Priest! Click and enjoy the influential heavy metal band!
9. You Don't Have to Be Old to Be Wise
"I don't have much to say about "You Don't Have to Be Old to Be Wise" except that it's another good song with an irresistible rhythm. There is some great twin guitar work by Tipton and Downing."
8. United
"United" is the obvious radio friendly track on the album. It's a metal anthem for Britain with some cheesy lyrics. Surprisingly, though, it still manages to get you pumped and invested, as least for me. It's sincere in the good way: not in the overly, uptight serious way but in the way Linus from "Peanuts" would describe it. It certainly helps that the instrumentation sounds great as usual."
7. Grinder
"Grinder" is another pure heavy metal song with crunching guitarwork and some violent-sounding lyrics. It's actually about leading your own way, living to the tune of your own drum, but it's easy to see it as just a violent song."
See more: Judas Priest Albums Ranked
6. Steeler
"We end the album with "Steeler," an uptempo song with more great guitar riffs and fills. The guitarwork is actually the centerpoint of this song, with Tipton and Downing embellishing upon each other and dueling each other. It ends on a satisfying chord and fades out."
5. The Rage
"The Rage" shows you how to start a song off right (after "Breaking the Law" that is). It starts with a strange, reggae-like guitar strumming which drops into a loud, meaty, crunchy guitar riff. Halford comes in with an intense, yet controlled, attack on the first lyrics "From a fireball we came crossed sea and mountain." His vocals are pushed a little bit on this song. Not technically that is, just from an attack standpoint. Definitely one of the highlights of the album."
See more: Judas Priest Songs Ranked
4. Living After Midnight
"Living After Midnight" is another radio friendly song, but that less to do with a less meaty sound and more to do with just being a great, catchy song. The main guitar riff on this track is another irresistible one. The lyrics on this are the closest Priest gets to hard rock territory on the album, describing partying all night and coming alive when the sun goes down. Luckily the instrumentation stays true to heavy metal. Their choice to start the song with the chorus works really well, making a very memorable song.
3. Metal Gods
"Metal Gods" is the third track on my release, which has become a fan favorite for several reasons. First is the trudging, march-like rhythm. Second is the lyrics that described giant robots "marching in the streets." The combination of the lyrics and the rhythm conjures up images of these robots immediately. The last reason is more for those with the know-how. Many of the sound effects were used with objects found in the house they recorded in (which was Ringo Starr's house at the time and John and Yoko's before that)."
2. Rapid Fire
"Rapid Fire" (the first track on some releases) which sums itself up pretty well with just that title. It's a fast, hard-hitter with some lightning speed guitarwork. This is another pure heavy metal song with Halford reaching into the high range of his voice at the end."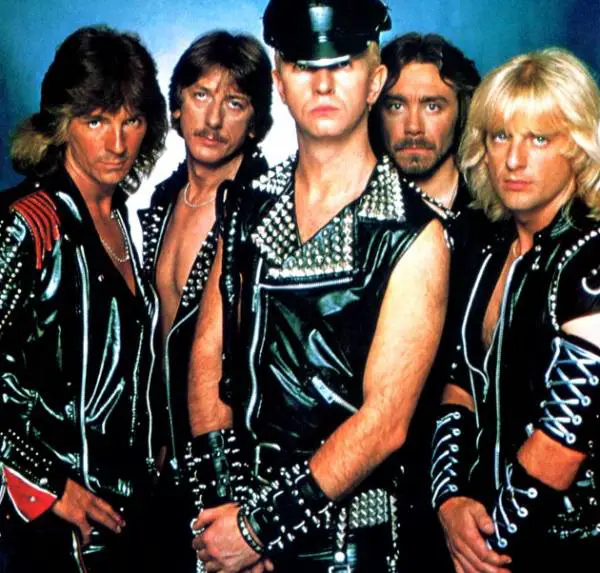 1. Breaking the Law
"If you own the US release you start this album off right: with "Breaking the Law," the quintessential Judas Priest song. It takes the local area around the British Steel factories and gives them a voice; a whole demographic of alienated youth that have nothing worth living for and nothing worth looking forward to. In turn they put some "action in [their] life" by breaking the law. It's got one of the all-time greatest guitar riffs in my opinion, a riff you can't help but at least bob your had at. Halford is said to have seen police guards at concerts ironically getting really into the song. Points to you if you get through the song without singing the chorus at least once. It's the perfect heavy metal song and possibly my favorite Judas Priest song."