Dirty Deeds Done Dirt Cheap Songs Ranked
Dirty Deeds Done Dirt Cheap is the third studio album by Australian hard rock band AC/DC. It was the band's third LP released in Australia and second in Europe in 1976 but was not released in the United States until 1981, more than one year after lead singer Bon Scott's death. Dirty Deeds Done Dirt Cheap has been certified 6x platinum both in Australia and in the US, selling at least six million copies, becoming the third-highest-selling album by AC/DC in the US after Highway to Hell (7x platinum) and Back in Black (22x platinum). Allmusic gives the album five out of five stars and proclaims "it captured the seething malevolence of Bon Scott…encouraged by the maniacal riffs of Angus and Malcolm Young" and that there was a "real sense of danger to this record." Here are all of the Dirty Deeds Done Dirt Cheap songs ranked.
Don't miss out on the TIMELESS AC/DC music below! Click to experience the raw energy of Blues Rock!
9. Ride On
"This song is also another one of AC/DC's more experimental pieces. Still quite long, it's also very slow and shows the band at perhaps their most vulnerable. The band never going above being slightly loud, even the bravado and charisma of Bon and Angus is subdued and we are shown a sensitive and poetic side to the band, thatdidn't compromise their reputation as a hard and heavy rock and roll band."
8. Love at First Feel
"An ode to having sex with underage girls. It's dirty…misogynist…and basically advocating an illegal act. But that's AC/DC. The song features a nice thumping rhythm section, and the band seems to fit into a Berry-esque groove (ironic considering Berry's own past concerning underage girls) but the song seems to lack something of a fire and passion."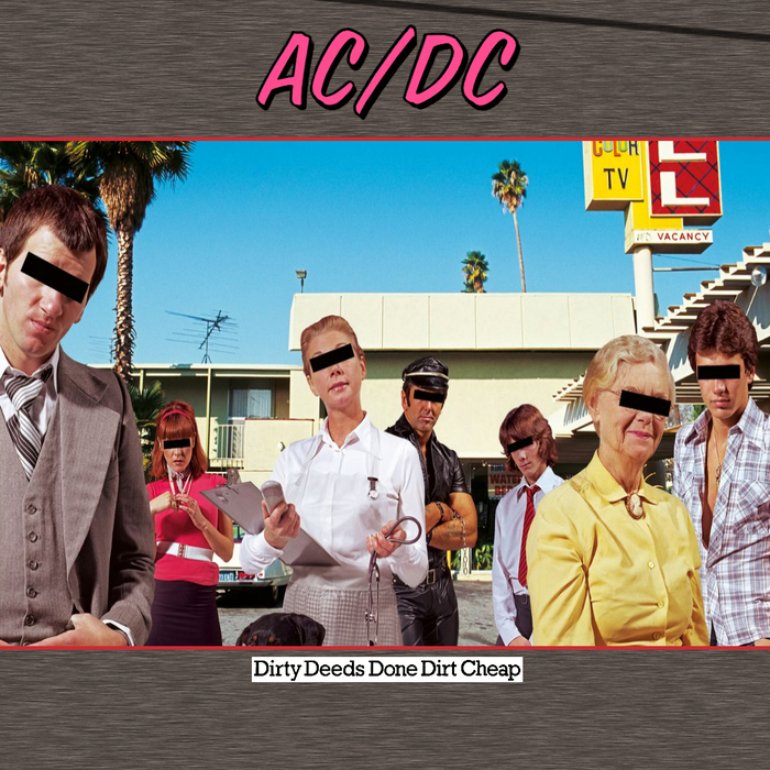 7. R.I.P (Rock in Peace)
"One of the band's best examples of their rock and roll roots, and possibly one of their closest brushes with punk (at the time being in it's earliest of infancies.) Bon spits the lyrics out at a furious pace filled with passion and adrenaline."
See more: AC/DC Albums Ranked
7. Squealer
"The album's closer is lyrically similar to Love At First Feel, detailing early sexual experiences. This captures the band at perhaps their most sexually open. Melodically however, it's very different to Love At First Feel, doing away with the rock and roll pastiche and getting closer to the band's more contemporary hard rock sound. One of my criticisms for the song is the guitar solo. Whilst good, it seems almost lifted from Dirty Deeds. However, this doesn't stop Squealer from being a good ending to a great album."
6. There's Gonna Be Some Rockin'
"Another piece of Berry-influenced rock and roll, it's not as menacing as most of AC/DC's other material of the era, but it's still AC/DC at heart. The band boasting about their sound and success, you'd be forgiven for thinking it's a cover of some old rock and roll number, but that's how true it is to it's influences it is."
5. Ain't No Fun (Waiting Round to Be a Millionaire)
"At nearly seven minutes, this is AC/DC's longest song. This is the song's main failing point. AC/DC is more of a band suited to three-minute songs rather than seven-minutes. The arpeggios also seem to be something more common during Brian Johnson's time with the band, and this suggests growth, although this seems to be an experiment not often indulged with for several years. The song does have a faster part that seems more typical of the band's time with Scott. Some of Bon's spoken vocal parts are just darn funny. I just can't help but think that, had this song been shorter it'd been better."
4. Big Balls
"While AC/DC are renowned for their low-brow sexual humour, this is further then even they usually dared to go. A large piece of tawdry, transparent double-entendres. The band clearly turns the high-class environment of a "society gala" into a big shouting piece of filthy humour. Bless their little hearts"
See more: AC/DC Songs Ranked
3. Jailbreak
"It pisses me off to this day that "Jailbreak" was left off the US version of Dirty Deeds Done Dirt Cheap. It would've been a five star album with the song, but as it is without it, a four. Awesome freaking song, it eventually got released in the US on the Jailbreak '84 EP."
2. Problem Child
"This, along with Bad Boy Boogie, is considered to be diminutive Angus' theme tune. Basically revelling in the boasts of a youngster's tough attitude, it's both loudly aggressive, and slightly intimidating building in aggression during the verses. Leaving no doubt of AC/DC's take-no-nonsense street-cred."
1. Dirty Deeds Done Dirt Cheap
"The album kicks off with it's title track. As dirty as the name suggests, it's about a company of sorts specialising in organised murders and other "dirty deeds" The backing vocals helping to give the song a rough and tough atmosphere. Which in the end, is a core ethos of the AC/DC sound, particularly in the Scott Years."