The Razors Edge Songs Ranked
The Razors Edge is the twelfth studio album by Australian hard rock band AC/DC released on 21 September 1990. It was the band's eleventh internationally released studio album and the twelfth to be released in Australia. It was a major comeback for the band, featuring the hits "Thunderstruck" and "Are You Ready", which reached #5 and #16 respectively on Billboard's Mainstream Rock Tracks Chart, and "Moneytalks", which peaked at #23 on the Billboard Hot 100. The album reached #2 on the US Billboard 200 and #4 in the UK, a smash commercial success that returned the band to the popularity of its glory years of the late 1970s and early 1980s. The album has been certified 5x platinum (5 million copies sold) in the US, and was re-released in 2003 as part of the AC/DC Remasters series. Here are all of The Razors Edge songs ranked.
Don't miss out on the TIMELESS AC/DC music below! Click to experience the raw energy of Blues Rock!
12. Goodbye & Good Riddance to Bad Luck
"Good song, with a pretty good vibe, but it gets a little annoying at the end. Not a bad song by any means. This is decent but it seems more like filler. It's about a man who's bad luck takes a turn."
11. Let's Make It
"Let's make it" has a nice riff from Malcolm on rhythm guitar and good melodic singing by Brian…more melodic than is usual for him. Good pace and sound. Another sweet tune."
10. If You Dare
"If you dare: has a noticeable bass guitar (unusual for the band) and the song sounds a little bit like an Aerosmith song, with its boogie riff. The backing vocalists chanting is good too."
9. Shot of Love
"Brian's voice may not be as strong as it used to be, but Angus' guitar has never been stronger. I recommend this album to any AC/DC fan who is willing to accept Brian Johnson eventhough he wasn't the original vocalist."
See more: AC/DC Albums Ranked
8. Got You by the Balls
"For proof positive that Angus and Malcolm Young are kings of hard rock riffery, you needn't look any further than the stomping "Got You By The Balls"–the main riff is uncanny: deceptively simple and absolutely bone-crunching."
7. Rock Your Heart Out
"Awesome track. It gets you pumped up and excited because thats what ACDC does. Great riff and chorus. The title says it all, thats what its about.."
6. Mistress for Christmas
"Like I said, this album doesn't really have any bad songs on it…okay, some people may find "Mistress for Christmas" not pretty, but then again, others may like its playfulness. It utilises 'jingle bells' as found in Christmas songs."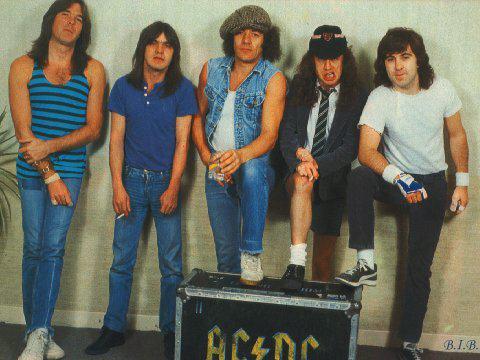 5. Are You Ready
"Another decent track. It gets into the rythm fairly quick and its definitely not a throwaway track. Are you readyis a good, rowdy pub-rock song with a strong chant by the backing vocalist of the band."
See more: AC/DC Songs Ranked
4. Fire Your Guns
"One of ACDC's greatest songs ever. Kick ass rythm and a super high paced song the whole way through. "Fire Your Guns" is one of those thrilling fast-paced AC/DC gems that really gets the blood flowing."
3. The Razors Edge
"The razors edge for me, this song breaks the mould, to a certain extent. It doesn't have the typical AC/DC sound. It's quite moody…adventurously so. Reminded me a bit of, say, Metallica via Black Sabbath, or Aerosmith's song "Living on the edge".
2. Moneytalks
"This song just does something to me, it just makes me want to get up and lift a car. The chorus is definetely one of their best. It's about a man whos trying to impress a woman by buying her anything she wants."
1. Thunderstruck
"Thunderstruck combines the best elements of AC/DC…really cool lead guitar, laddish backing vocals and growling lead singing by Brian Johnson, who seems to be channeling ex lead-singer Bon Scott (who tragically died while still in the band)."