God Hates Us All Songs Ranked
God Hates Us All is the ninth studio album by American thrash metal band Slayer, released on September 11, 2001 by American Recordings. It was recorded over three months at The Warehouse Studio in Vancouver, and includes the Grammy Award-nominated song "Disciple". Guitarist Kerry King wrote the majority of its lyrics, taking a different approach from earlier recordings by exploring topics such as religion, murder, revenge, and self-control. The band experimented, recording most of the album in C♯ tuning, with three songs in drop B and two others with seven-string guitars in B♭. The album's release was delayed due to its explicit cover artwork, which led to alternative slip covers in some retail outlets, difficulties during mixing, and a change of distributor for the band's label. Despite this, God Hates Us All received positive reviews from critics and peaked at number 28 on the Billboard 200. By 2009, it had sold over 319,000 copies in the United States. Here are all of God Hates Us All songs ranked.
Don't miss out on the thrash metal music of Slayer! Click to experience the kind of metal that only they can pull off!
13. Cast Down
"Just a very cool song. I do not know why people skip it, just like Threshold, Exile, Seven Faces. This is a very experience for Jeff and Kerry, and it is one of that rare songs on God Hates Us All that have solo."
12. Seven Faces
"Seven Faces" shows off a darkness all its own, then explodes into something a bit creepy, Araya's caterwauling shriek sending shivers up one's spine. Not content with slowing down and mellowing out (thankfully!), Slayer won't let the anger and darkness go, and that's what made them great in the first place."
11. Threshold
"A short song where you get the explenation why killing inocent people is fun, Arrayas screams are pretty annoing on this one. This isn't one of my favorite songs on the cd. I still like it, but there are better on the cd. A little to slow."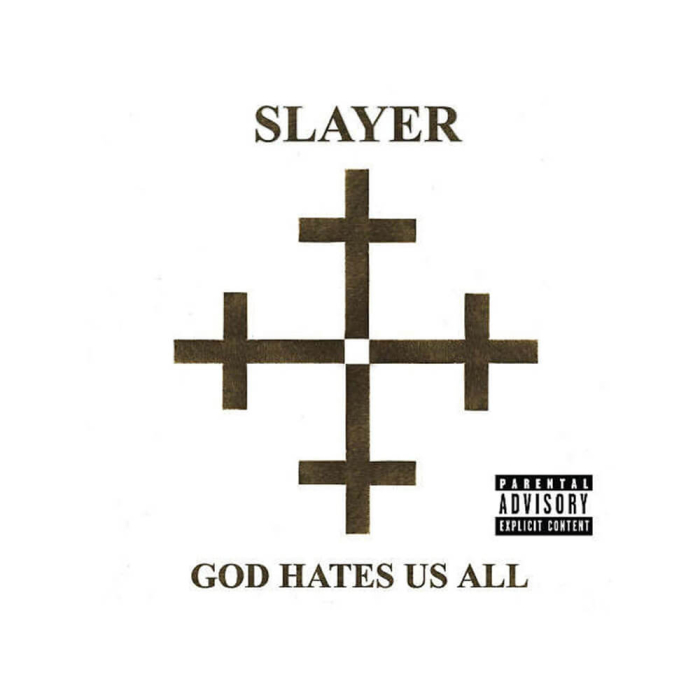 10. Darkness of Christ
""Darkness of Christ" is a throwaway that had potential. Slayer had been working on their musical changes and was coming up with innovative and interesting hooks, and while this album has some of that, it's either executed poorly or not taken to their best conclusions."
See more: Slayer Albums Ranked
9. War Zone
"War Zone" has some Lombardo-esque drumming for about six seconds. I grew up listening to Slayer and its great to see they are still able to rock harder than any other band in the world."
8. New Faith
"The track 'New Faith' is my personal favorite – it deals with the ignorance of organized religion: "welcome to the horror of the revelation/tell me what you think of your savior now/I reject all the biblical views of the truth/dismiss it as the folklore of the times/I won't be force-fed prophecies by the book of untruth for the weakest minds/I keep the bible in a pool of blood so that none of it's lies can effect me!" The music also holds some roots in punk much like 'Stain of Mind' off DIABOLUS IN MUSICA."
7. Exile
"This song catches you from the first chord. Listen to the lyrics and I swear you will not want to be in the studio with these maniacs. Not bad but it just feels like youvé heard it before.. "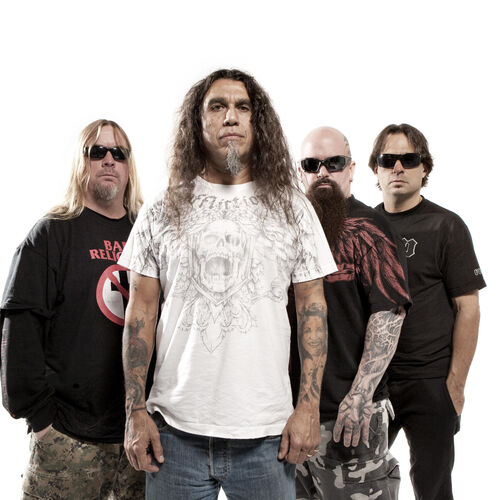 See more: Slayer Songs Ranked
6. Deviance
"In the beginning of this song there is a really wierd sound bite, but it turns into a really good song. The syncopated drums in this song really help the darkness of this song. The clean chorusguitar sound and Arrayas dark voice is a perfect combination and the lyrics are creepy."
5. Payback
"Wow, this one is fast. It's good that they have tried different tempos this time, it is a smart move. Sadly, this is one of the only things they have experimented with. More Ultra brutal vocals and lyrics and unmelodic guitars! Could have been good if they just had dared a little more."
4. God Send Death
"This one is really good! A classic track with monser riffs. This record's first half is strong, powerfull and good. Too bad that many of the songs later on lowers the overall feeling. Even though the title may fool you, the lyrics are great. It deals with Homicidical priests and religious fools who claim to reprecent god and claim to have the right to punish "sinners". The only sad thing is that later on the album Arraya will tell you how he has the power and will to kill. Is he religious or what?"
3. Here Comes the Pain
"This is my second favorite track on the record. It is one of those great mosh anthems that are on par with "Raining Blood" and "Self Bias Resistor" by Fear Factory. There is a great guitar solo in this song. Absolutely sonic."
2. Bloodline
"Surprisingly a great track eventhough its slow. The great lyrics make up for the lack of guitar solos from the masters of disasters Kerry and Jeff. The only 'hit' from the record is 'Bloodline' which is actually from a movie soundtrack which escapes my memory at this time."
1. Disciple
"This song is on par with "Chemical Warfare" or "Angel of Death." The line "God Hates us All!!!!" is roared from Tom throughout the song. Some great guitar work by Kerry and Jeff."