Heaven and Hell Songs Ranked
Heaven and Hell is the ninth studio album by English rock band Black Sabbath, released on 25 April 1980. It is the first Black Sabbath album to feature vocalist Ronnie James Dio, who replaced original vocalist Ozzy Osbourne in 1979. Produced by Martin Birch, the album was a commercial success, particularly in the United States, where it reached number 28 on the Billboard 200 chart and was certified platinum for 1 million sales. In the band's native country, it sold well enough to be certified silver by the British Phonographic Industry in April 1982. The initial sessions for what became Heaven and Hell began with Ozzy Osbourne following the conclusion of Black Sabbath's Never Say Die! Tour. Here are all of Heaven and Hell's songs ranked.
Don't miss out on the TIMELESS Black Sabbath music below! Click to experience the PIONEERS of heavy metal!
8. Walk Away
"Walk away has an intro buzzing, with grinding guitars. Similar to "Whatever you want" by Status Quo, as far as the guitar sound goes. Bassy."
7. Lady Evil
"Lady Evil has a good bass, especially for the intro, which is similar to ABBA's "Gimme! Gimme! Gimme! (A Man After Midnight)". Lyrically, it's a Brothers Grimm fairytale."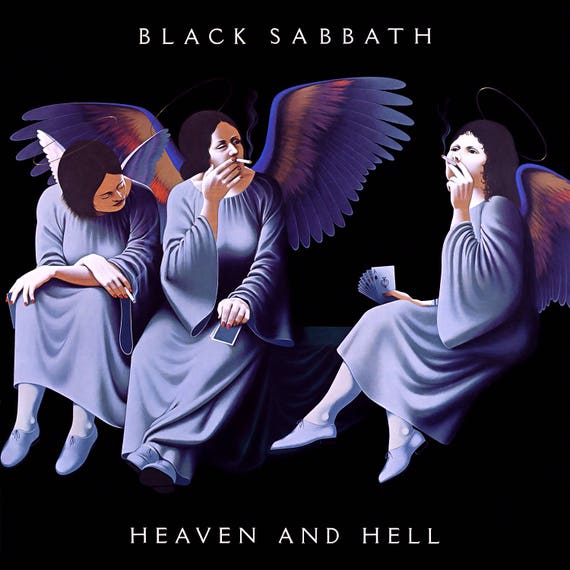 See more: Black Sabbath Albums Ranked
6. Wishing Well
"Every song is awesome and the title track is a metal classic. Just don't get it expecting to hear stuff similar to the Ozzy songs. This feels like a whole new band. A reinvigorated band."
5. Lonely is the Word
"Lonely is the word has a buzzing intro with an interesting texture to the guitars and soundscape. Bassy track. Pity that the intro riff is not central to this song. Outro synth riff is familiar."
4. Die Young
"Die young – spacey synth intro. Bluesy lead guitar then rock. Bassy, with a driving rhythm and solo-ing. Has a slow bit with the piano, then keyboard later on, for a bit."
See more: Black Sabbath Songs Ranked
3. Children of the Sea
"Children of the sea is pretty, with steel string accoustic guitar bookends. Johnny Farnham type vocals with a pretty chorus. Middle of the song is rock with a decent riff. Bass is noticeable and nice."
2. Neon Knights
"Neon knights has a chugga chugga rhythm with some Status Quo type riffs. Fantasy theme to the lyrics and power metal type vocals, which are fast. Vocal melody is poppy."
1. Heaven and Hell
"Heaven and Hell – good bass and drums with a delicate accoustic guitar outro. Expansive riff. Dio sounds like family friendly Australian pop/rock singer John Farnham here, and in earlier songs on this album."