Hell Awaits is the second studio album by American thrash metal band Slayer, released in March 1985 by Metal Blade Records. The band's 1983 debut Show No Mercy became Metal Blade Records' highest-selling release, and as a result, producer Brian Slagel desired to release a second Slayer album. To that end, Slagel financed a recording budget (Show No Mercy was paid for by band members) and recruited several experienced producers to help in the studio. The lyrical themes on Hell Awaits include hell and Satan, as with their debut; the intro of the title track played backwards reveals the repeated phrase "join us". Musically, the album features the band's most progressive and diverse work compared to their previous releases, and according to Kerry King, he and Jeff Hanneman were very into Mercyful Fate at the time, which then led to the longer and more progressive songs. Defined as "influential to future extreme metal acts", the most popular songs from Hell Awaits were re-recorded by various underground metal bands and have appeared on several tribute albums. Here are all of Hell Awaits songs ranked.
Don't miss out on the thrash metal music of Slayer! Click to experience the kind of metal that only they can pull off!
7. Hardening of the Arteries
"Thrashy/throbby intro. Some cavernous beats later…good and slow. I liked the drums after that part too, as well as the guitar playing that went with it. Like the closing drum rhythm. You can make out the bass. Track has a long fade to silence."
6. Praise of Death
"High tempo riffing. Bassy track…later there is actually a not bad mini-solo on it. Some uninspiring slow tempo beats but things improve when some colour is added to the beat…eventually and fortunately. It should be said that there are some interesting textures to the drum sound. Screeching solo on the lead guitar."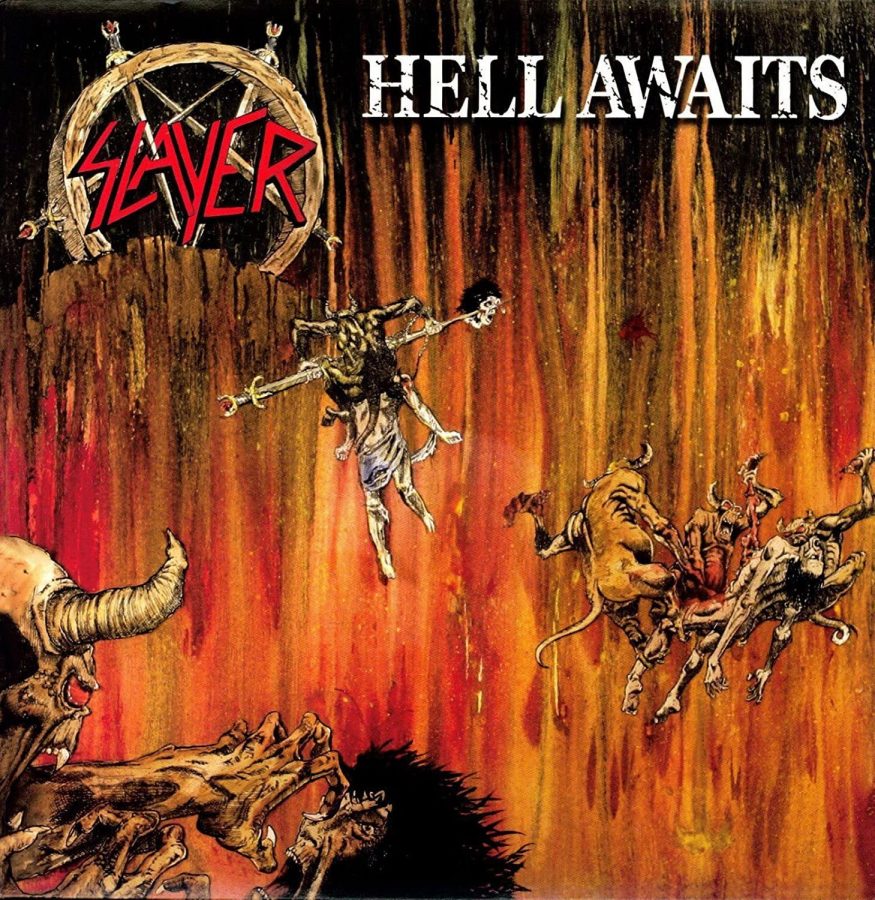 See more: Slayer Albums Ranked
5. Crypts of Eternity
"Interesting intro with spacey guitar and piano like bass notes…I like the vibe of this part. Has thrashy guitar 'baton changes', e.g. 0:54+. Another track with a "Barracuda" vibe to it, e.g. 3:38+. Interesting lead guitar later, e.g. 3:54+. Ghost train ride kind of lyrics…sung at a moderate tempo. Like the busy drum outro."
4. Kill Again
"Riffing, don't mind the drums early on…ricocheting sound like that of a schoolboy twanging a ruler on a desk. Has martial beats too. The guitar rhythm at 0:52+ reminded me of The Divinyls' "Hey little boy" (pop-rock song), but maybe that kind of rhythm has a much longer history to it. You can make out the bass. Lyrical themes are heavy."
See more: Slayer Songs Ranked
3. Necrophiliac
"Maybe an Iron Maiden like intro as far as the guitar goes. Thrashy early on with the synched bass notes and drum beats throbbing. The riff, I think, at the start has a perhaps Black Sabbath like melody progression, which I liked…starts around the time the singing starts too, I think. Slightly "Barracuda" (Heart) like riff at, e.g., one minute from the end of the track, on the left hand channel guitar."
2. At Dawn They Sleep
"Choppy guitar riff. Busy bass early…probably the most interesting playing on that instrument for this album. Probably the slowest tempo so far on the album, including that of the vocals. Drum outro sounds a bit like the sound of motorcycle idling loudly. Has the lyric "Blood sucking creatures of the night".
1. Hell Awaits
"Scare quotes indicate that silence pads out the run time displayed on the stereo's lcd. Very faint intro of distorted guitar and distorted, Hellish voices – perhaps backmasked to. E.g. it sounds like "say not" is uttered and may have been backmasked…but it doesn't really seem to be "Satan" backwards! So, not sure what that is all about. Like the early drum on the track…solid and clean, with some tumbling rhythms not long after. The beats are nice and simple here."