Seasons in the Abyss Songs Ranked
Seasons in the Abyss is the fifth studio album by American thrash metal band Slayer, released on October 9, 1990, through Def American Records. Recording sessions began in March 1990 at Hit City West and Hollywood Sound, and ended in June 1990 at The Record Plant in Los Angeles, California. It was the band's last album to feature their full original lineup with drummer Dave Lombardo until his return on the band's 2006 album Christ Illusion. Seasons in the Abyss' musical style has been compared by critics to the band's previous two albums, South of Heaven (1988) and Reign in Blood (1986). Upon its release, Seasons in the Abyss received a generally positive reception and peaked at number 40 on the US Billboard 200. It was later certified gold in the United States and Canada. By 2017, it had sold over 813,000 copies in the United States since Nielsen Sound Scan inception. Here are all of Seasons in the Abyss songs ranked.
Don't miss out on the thrash metal music of Slayer! Click to experience the kind of metal that only they can pull off!
10. Temptation
"Temptation" which is yet another super catchy and faster number that boasts a slew of fast, aggressive, and savage, buzzsaw riffing, thick, heavy bass lines, and heavy, pounding drums throughout, and I also dig King's solo right at the 1:26 mark which also includes some killer, fast, pounding, double bass drums during the solo which of course just rips and shreds like an angry beast. Araya's vocals in this song are also fantastic as well too."
9. Born of Fire
"Born of Fire" which is another fast and brutal thrasher that is highlighted by yet more brutally aggressive, and fiery, violent, full throttle riffing, and savage, aggressive, and brutal, rapid-fast drumming, and mean, aggressive, and furious vocals, and awesome lyrics throughout, and yes, more killer solos are also featured too, including a wicked and fiery, shredding solo right at the song's end as well.
8. Hallowed Point
"Hallowed Point" is a rapid-fast sprinter that gets the second half of the album right back on a fast and furious note boasting a violent and vicious barrage of aggressive, lightning-quick, and chaos induced, thrashing riffage, and deadly, hammering, and thrashing, heavy duty drumming, and energetic, aggressive, and furious vocals abound, plus the song is also highlighted by an addicting and aggressively raging and heavy hitting chorus, and King and Hanneman both shred their way with more deliciously melodic, yet fiery, chaotic, and face-ripping solo flights to boot as well."
See more: Slayer Albums Ranked
7. Blood Red
"Blood Red" meanwhile is a more shorter and slower/mid-paced number, but it's still great and catchy as it features more terrific and catchy lyrics and awesome vocals from Araya throughout, along with some awesome, chunky, grinding riffing with some very catchy drum beats backing them, and some awesome soloing throughout as well"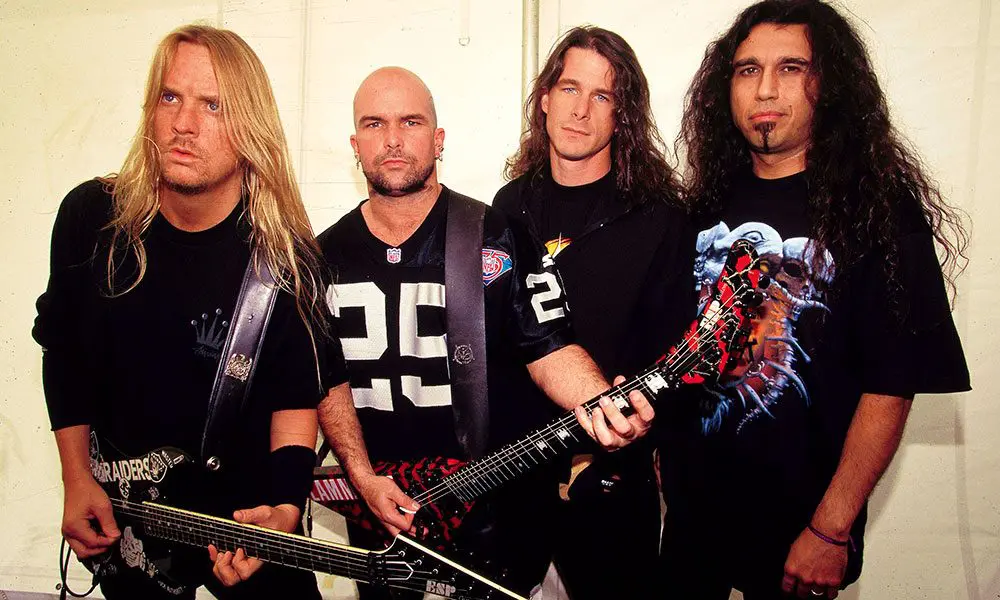 6. Spirit in Black
"Spirit in Black" which is another one of my favorites here and another terrific thrasher that is anchored by yet more awesomely fast, shredding, pounding riffs, great energetic, pounding drums, killer vocals and an awesome chorus to boot, as well as lots of awesome time changes especially around the 2:30 mark when the song features even more faster, blazing, ripping, speeding riffs and lightning fast, neck-breaking drums, plus the song is also highlighted by yet more killer solos as well. Another awesome tune, I love it."
5. Expendable Youth
"Expendable Youth" is another killer mid-tempo crusher that features some very interesting lyrics that deal with drug wars and violence on the streets, and Tom's vocals on this track are just solid throughout, and also includes a catchy, and massive, pounding rhythm throughout, and solid riffs, and a pair of killer solos from the Hanneman and King tandem as well, plus I also love the chorus in this track too, it is just killer."
See more: Slayer Songs Ranked
4. Skeletons of Society
"Skeletons of Society" elsewhere is yet another slower/mid-paced bonecrusher of a song that is just super heavy and super catchy throughout, filled with heavy, chugging, and grooving guitars, plus some more excellent, winding, wailing, and melodic solos are included, as well as some awesome, super heavy, bass riffs being flawlessly backed by a steady, yet very catchy, thundering, and heavy pounding drum beat throughout, and of course Araya's vocals are just simply top notch throughout this song, and let's not forget about the chorus which of course is just super catchy and excellent to sing along to."
3. War Ensemble
"I just love how the song starts off very slow, very haunting, and very melodic, and it just builds and builds straight into a real mean, pulverizing, thrashing onslaught of fast, energetic, charging, and galloping riffs, thick, heavy bass, and heavy, meaty, pummeling, driving drums that charge away like a stampede of raging bulls, and then Tom comes in with his chanting-like, melodic sung vocals, singing the opening verse: "Razor's edge outline the dead/Incisions in my head/Anticipation the stimulation/To kill the exhilaration". The chorus in this song here is just absolutely brilliant and top notch, especially that "Close your eyes" part which is just downright catchy, in fact, the entire chorus is just insanely catchy. "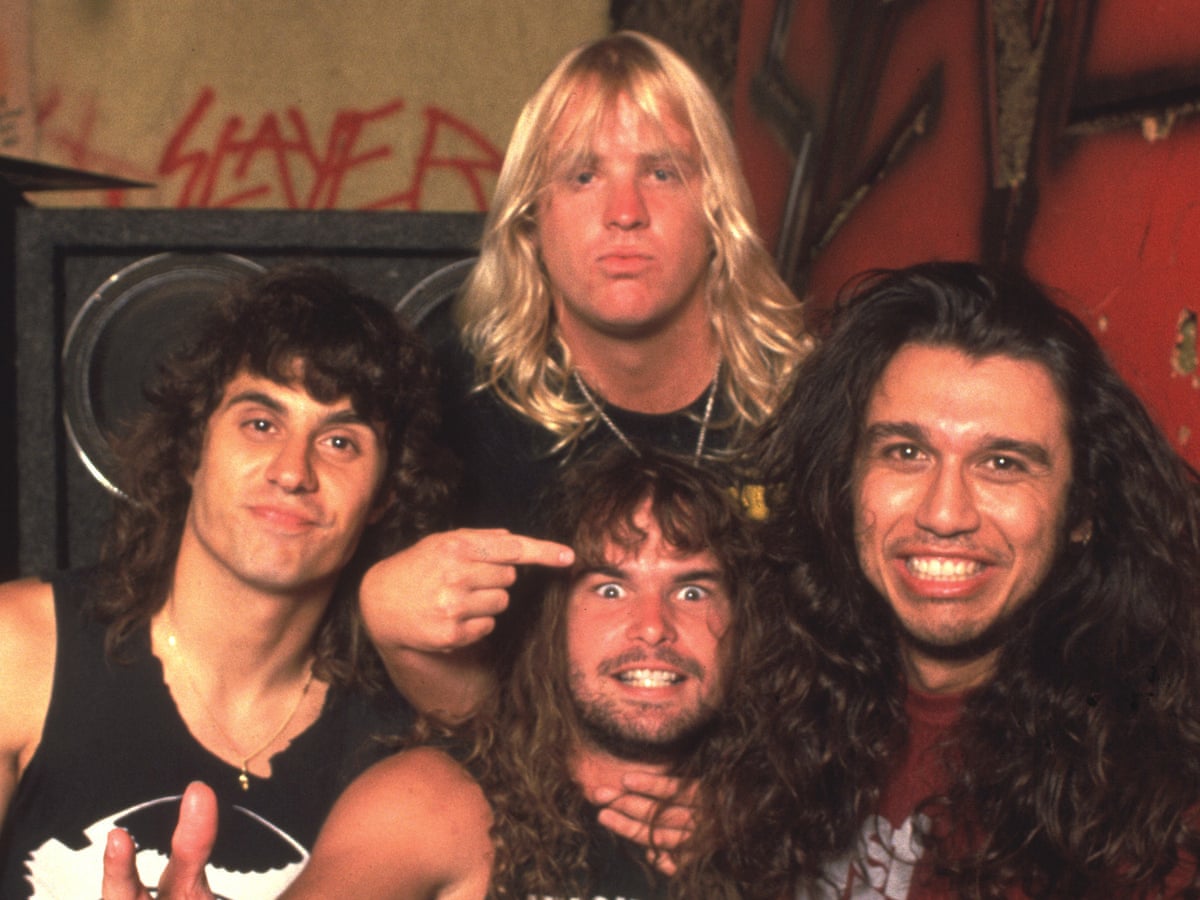 2. Dead Skin Mask
"ne of my favorites of course, the ever so chilling and brilliant "Dead Skin Mask" which lyrically tells about notorious serial killer Ed Gein. Believe me, this song is as brilliant as brilliant truly gets. The opening, chugging, creepy, yet melodic riff at the beginning of the song (with Tom's spoken word introduction being included) is without question one of the most haunting, sinister, mesmerizing, and evil sounding riffs ever to be constructed in any metal song as far as I'm concerned. "
1. Seasons in the Abyss
"The lyrics are deliberately open-ended so one can read into it any way they like though there is an emphasis on insanity, death and of imagery possibly depicting a lobotomy. The music starts with a slow dirge then goes to atmospheric darkness. And, just when the guitar sounds a bit less dark then it all just kicks in. The solos and rhythm leads are perfect! It is a perfect closer to a perfect album that Slayer has failed to reach in regard to its excellence ever since."