Jonas Brothers Songs Ranked
The Jonas Brothers are an American pop-rock band. Formed in 2005, they gained popularity from their appearances on the Disney Channel television network. They consist of three brothers: Kevin Jonas, Joe Jonas, and Nick Jonas. Raised in Wyckoff, New Jersey, the Jonas Brothers moved to Little Falls, New Jersey, in 2005, where they wrote their first record that made its Hollywood Records release. In the summer of 2008, they starred in the Disney Channel Original MovieCamp Rock and its sequel, Camp Rock 2: The Final Jam. They also starred as Kevin, Joe, and Nick Lucas from the band, JONAS, in their own Disney Channel series Jonas, which was rebranded as Jonas L.A. after the first season and canceled after the second. The band has released five albums: It's About Time (2006), Jonas Brothers (2007), A Little Bit Longer (2008), Lines, Vines and Trying Times (2009), and Happiness Begins (2019). They have sold over 17 million albums worldwide as of 2013. Six years following their split, the group reunited with the release of "Sucker" on March 1, 2019. The song became the 34th song in history to debut at number one on the Billboard Hot 100 and became the Jonas Brothers' first number-one single on the chart. Their fifth studio album, Happiness Begins, was released on June 7, 2019, topping the US Billboard 200. Here are all of the Jonas Brothers' songs ranked.
Don't miss out the music of Jonas Brothers. Click below and listen to the songs of these famous brothers!
20. L.A. Baby (Where Dreams are Made Of) (Jonas L.A., 2010)
"So many wonderful songs on this CD! I think i've just about worn my CD out, I've played it so much. Most JB fans will know 'Feelin' Alive' and 'LA Baby' because the JB performed them on their Camp Rock 2 tour in 2010. Some other great songs are: 'Critical', 'Hey You', 'Things Will Never Be The Same', 'Summer Rain', 'Invisible', 'Chillin' In The Summertime', and 'Set This Party off'. If your a JB fan, this is a must have! It is some of their best music yet."
19. Underdog (It's About Time, 2006)
"This song is not only catchy and great it also has meaningful lyrics and its one of the first song they wrote. I wish they do more songs like that.'
18. Hello Beautiful (Jonas Brothers, 2007)
"This song almost makes me cry when I listen to it. Listen to how gorgeous Joe's and Nick's voices sound. Sometimes I'll just put this song on repeat on my iPod at night and fall asleep to it; it's just so beautiful"
17. Hold On (Jonas Brothers, 2007)
"Truly rocking man… And the lyrics are inspiring too… And I m listening to this song for many years but it is as new as it was before… This song saved my life. Literally. I'm not Jonatic, but I have to say thank you for saving me from depression."
See more: Jonas Brothers Albums Ranked
16. Black Keys (Lines, Vines and Trying Times, 2009)
"Such a beautiful song, so much meaning, so moving melody and perfect voices. Long journey it has taken me and such good memories it brings to mind. Oh the black keys…"
15. Inseparable (Jonas Brothers, 2007)
"I love JB. This song is by far THE best song they've ever done. It's so different to their more poppy tunes. This was the song that got me into them in the first place!"
14. Sorry (A Little Bit Longer, 2008)
"The lyrics in this song are very well-written. The melody is beautiful too. This song has perfect music, mind-blowing vocals from Joe and Nick.. I'm madly in love with this song."
13. World War III (Lines, Vines and Trying Times, 2009)
"This song is one of the best song I've ever listened to. I never knew Nick Jonas was so talented. It's a shame he doesn't write songs like this anymore. I guess writing bubblegum pop is the only way to succeed in this business now."
12. Paranoid (Lines, Vines and Trying Times, 2009)
"This song is just so poppy. Whenever I hear it just wants to get up and dance. It's so amazing! I love the video and the song! It's really great work by these teenage people… "
11. Cool (Happiness Begins, 2019)
"When I bought this song, I was an uncool nobody. I spent my days wallowing in self pity and wishing I could be something awesome. But the second I heard this song, I was teleported into a beach with all of these awesome 80s dancers and a guy playing his metal detector like a guitar and I drove this Ferrari and rode a couple great white sharks and for the first time in my life I'm COOL."
10. Year 3000 (It's About Time, 2006)
"This song makes my day the best ever. The Jonas Brothers music has alway's been here for me because their lyrics truly inspires everyone around the world and it helps me through the worst and best situations (: I am a junior and I still love them and I still can say that the Jonas Brothers still make me happy and I will always love them."
9. S.O.S. (Jonas Brothers, 2007)
"This song gives me joy every time I hear it. I had many memories of this song. If I listen to this song, it reminds me my friends. I really thank Jonas brothers for singing such a good song for me."
8. Sucker (Happiness Begins, 2019)
"This was the first Jonas Brother song I EVER listened to. All That, a Nickelodeon show, had the Jonas Brothers as their FIRST musical guest for their remake, and they ROCKED! I see why this song is in the top ten. It HAS to be."
7. Fly with Me (Lines, Vines and Trying Times, 2009)
"When I think of that song and it makes me whoever I wanted to be is like. Every part of me makes me feel and it is the way I was telling my mom about my solo like around the world and it makes to be flying about and so that song just made my day perfect"
See more: The Guess Who Albums Ranked
6. Play My Music (Camp Rock, 2008)
"This song changed my life… I played for the local band competition and rocked the BALLS off the crowd! This song is for the true lovers of music and they have sung it as the true lovers of music… Great"
5. Before the Storm (Lines, Vines and Trying Times, 2009)
"I think the song is obviously about a couple who are looking back to before they got in a big fight (the storm) and now they're saying "If it's over, then tell me and I can move on, but if it's not, we'll never be the same as we were before the fight" Relationships are never the same after your first big fight, and I think that's what Nick means by "I'll never hold her like I did before the storm" He obviously doesn't want to lose what they had, and she just wants to know what's up."
4. A Little Bit Longer (A Little Bit Longer, 2008)
"I was very excited when this song came out. Not only because it was personal and special to Nick, but because it showed that they can write about things other than girls and their relationships. I get teary eyed each and every time I listen to this song as well as the speech Nick gives when he performs it live."
3. Lovebug (A Little Bit Longer, 2008)
"One of the best musical creations you have ever heard in your life. Best song. The words are adorable and the music video is so sweet! Such a sugary-sweet song, Joe and Nick's voice is great!"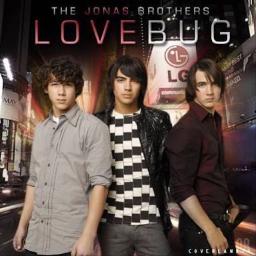 2. Burnin' Up (A Little Bit Longer, 2008)
"This song is amazing, it is one of my favorites, I love the rhythm and the lyrics do make sense. I love the sound of the instruments. Who can hate this song? You can't help but love this song! Hearing this song will get you ears burning!"
1. When You Look Me in the Eyes (Jonas Brothers, 2007)
"And this one made me cry every night and it really to believe if I was looking at yours eyes but it's like my life was falling apart and or makes me very, very much very desperate by seeing. People's eyes and I got see your eyes to that's the is about right but I love It much more"