L7 is an American rock band founded in Los Angeles, California, first active from 1985 to 2001 and re-formed in 2014. Their longest-standing lineup consists of Suzi Gardner (vocals, guitar), Donita Sparks (vocals, guitar), Dee Plakas (drums, vocals), and Jennifer Finch (bass, vocals). L7 has released seven studio albums and has toured widely in the US, Europe, Japan, Australia, and South America. "Pretend We're Dead" was heavily played on US alternative radio and entered the top 10 on the Billboard Modern Rock chart in 1992. Recognized for being simultaneously subversive and infused with humor, L7 is known for consistently delivering spirited live performances with physical, ferocious sets. Due to their sound and image, L7 is often associated with the grunge movement of the late 1980s and early 1990s; As an all-female band, L7 formed Rock for Choice in 1991 and have, at times, also been linked to riot grrrl, although they preceded and are outliers of both the grunge and riot grrrl movements. The band's name, L7, derives from a slang term for square and was deliberately chosen as a gender-neutral sign. A documentary film about the band, L7: Pretend We're Dead, premiered in 2016. Here are all of L7's songs ranked.
Don't miss out on the TIMELESS L7 music below! Click to experience the forefront of the GRUNGE movement!
8. Everglade (Bricks Are Heavy, 1992)
"Featuring a cool black 'n' white sleeve illustration by Chris "Coop" Cooper, L7's balls-out "Everglade" was pulled from the _Bricks Are Heavy_ disc for release as a single in 1992. The alt-rollin' "Everglade" packs a dense groove, and punk attitude just as the grunge scene was taking hold. Produced by Butch Vig, "Everglade" is Joan Jett approved, with the twelve-inch single from the L.A. grrrls filled-out with the non-LP "Freak Magnet" and "Scrap".
7. Broomstick (Smell the Magic, 1990)
"Easily L7's best work, it epitomises the genre, the SubPop golden era, the whole amazing 90's grunge, punk rock era, fuzzed out guitars , wah wah peddles and most importantly brilliant song writing. Donita has such a unique voice and scream, but Suzi and Jennifer are no slouches vocally either and take lead vocals on some tracks making L7 all the more versatile and musically enthralling."
6. Andres (Hungry for Stink, 1994)
"This song is about a guy named andres, a friend of a band… they felt resposible for some mistake, and they were sorry, and andres accepted their apology after this song."
5. Fast and Frightening (Smell the Magic, 1990)
"If you like grunge, and you are knowledgeable, this album cannot be missing in your collection. Of the bands little known to many, L7 is a synonym for the crude sound of grunge, metal and punk converge to make us vibrate."
See more: L7 Albums Ranked
4. Wargasm (Bricks Are Heavy, 1992)
"Kicking off with the driving riff in "Wargasm", L7 know how to rock. I remember hearing about L7 here and there when i was growing up, but never thought anything more about them."
3. Dispatch From Mar-a-Lago (Dispatch From Mar-a-Lago, 2017)
"L7 has always been a fav of mine. I consider this album to be one of the best of the 90's in it's category. And what category would it be considered? Not knowing is what makes it great. The album is perfect, from start to finish."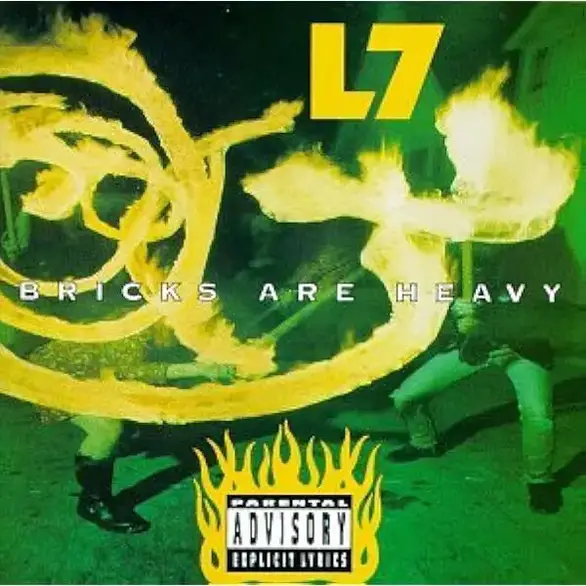 2. Shitlist (Bricks Are Heavy, 1992)
"This is the one song from L7 that caught my attention. Unapologetic and forthright. Accurately portrays the dominating attitudes of the 90's. This is an excellent album. The music is loud and proud and Rocks from beginning to end."
1. Pretend We're Dead (Bricks Are Heavy, 1992)
"This is basically a pop track with a lot of nice guitars. Just imagine them using this in the movie Josie and the Pussycats. It is not an absurd concept. It has a monster hook, brilliant structure and cool music. This is one the radio's should have loved in 1992."