Meshuggah is a Swedish extreme metal band formed in Umeå in 1987. The band's current lineup consists of lead vocalist Jens Kidman, lead guitarist Fredrik Thordendal, drummer Tomas Haake, rhythm guitarist Mårten Hagström, and bassist Dick Lövgren. Since its formation, the band has released eight studio albums, six EPs, and eight music videos. Their latest studio album, The Violent Sleep of Reason, was released on 7 October 2016. In 2006 and 2009, Meshuggah was nominated for two Swedish Grammis Awards for their albums Catch Thirtythree and obZen, respectively. In 2018, the band was nominated for a Grammy Award for their song "Clockworks" under the "Best Metal Performance" category.[2] The band has performed in various international festivals, including Ozzfest and Download, and embarked on the ob Zen world tour from 2008 to 2010, and also the "Ophidian Trek". Here are all of Meshuggah's songs ranked.
Relive the music of Meshuggah. Click below and enjoy true avant-garde metal songs!
20. Soul Burn (Destroy Erase Improve, 1995)
"All great elements of Meshuggah. VERY dynamic song. Technical mellow passages, awesome fills, eerie whispered vocals, heavy riffs, absolutely brutal shout vocals, amazing solo, absolutely brutal rhythmically dissonant riff in the second half. Isn't repetitive like some of their newer stuff, just absolutely amazing journey in such a short song"
19. Pravus (obZen, 2008)
"This song really sums up the more evil side of oBzen. It's also got this really menacing element to it that Meshuggah often do but never really achieve to such a stage as Pravus does. Really lives up to its name as it is such a demonic-sounding song. One of their best easily."
18. Elastic (Chaosphere, 1998)
"I think what the lyrics are describing is all that's left when you take away everything that makes a human human. The mind, emotions, soul, thoughts…"
17. Sane (Chaosphere, 1998)
"I think that this song is about humans and their subconscious desire for power over others. The belief in personal superiority is a genetic trait which would definitely be continued to the next generation. There is no difference between sanity and insanity because all anyone ever knows is 'me'"
See more: Meshuggah Albums Ranked
16. Do Not Look Down (Koloss, 2012)
"Great song really catchy riffs seems easy but very complex like many Meshuggah songs but has enough metal for a fan of heaver music to get into."
15. Sickening (Contradictions Collapse, 1991)
"Just my opinion, but I love how prominent the bass is in Meshuggah's work. So few bands do that and even fewer are a more dynamic sound because of it. They're bass riffs and licks actually bring something else to the music rather than just back it up."
14. Dancers to a Discordant System (obZen, 2008)
"This is a sweet song to listen too when your working out it's incredible the way he explodes I've never heard him do the death growls before this song and its easily the best next to bleed and future breed machine."
13. Break Those Bones Whose Sinews Gave It Motion (Koloss, 2012)
"The flow is mesmerizing. The beat sounds basic at first, but then good luck figuring out the pattern. All aspects of this song are perfect. This is one of my most favorite songs by Meshuggah, great sound and intense!"
12. Clockworks (The Violent Sleep of Reason, 2016)
"It's kind of refreshing to hear drums sounding as natural as that kind of music allows to. I've become so tired of all these over produced, over processed and trigged to death drumkit lately. Meshuggah really brought back some life to that whole "clinical scene" with this album."
11. ObZen (ObZen, 2008)
"Personally this was one of the first songs that I heard off off the album obZen along with Lethargica I even had to get the whole album it was definitely an experience. But obZen Live off of the ophidian trek sounds a bit heavier in terms of vocals and guitar and the lyrics are say numbers about society and it's corruption."
10. Corridor of Chameleons (Chaosphere, 1998)
"I'm a huge Meshuggah fan, and I think this song represents everything that's so devastatingly awesome about them. The super-thrash intro, the insanely heavy groove of the main outro riff, then the pummeling weight of that breakdown…"
9. I Am Colossus (Koloss, 2012)
"The song is about our greed and consumerist society. We always want more and are never satisfied. We need more to keep up our lifestyles and the 'comforts we get used to'. It's something that we have made up ourselves and have fallen victim to.(Neither exists in physical form, but they are motivations that we 'conjure'- that are 'insatiable')…"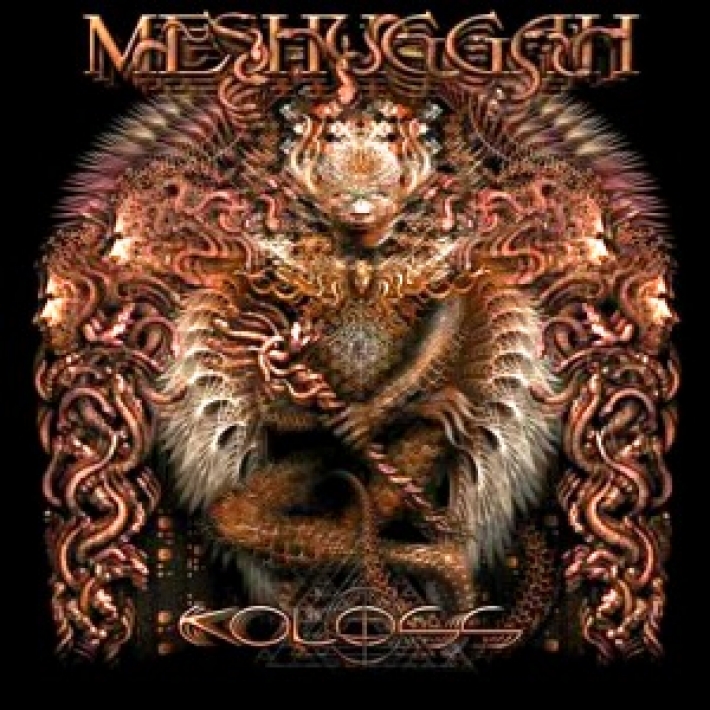 8. I (I,2004)
"In my opinion, I is the best of all Meshuggah's songs. Firstly, because it is a masterpiece of techniques, secondly it seems to send you in another dimension, composed by rage and impetuous violence! Special mention to the drummer who plays in an excellent way."
7. Straws Pulled at Random (Nothing, 2002)
"The second half, which is mostly instrumental, is probably the best thing Meshuggah has ever written. So heavy, yet so melodic and intensely emotional."
See more: Sepultura Albums Ranked
6. Demiurge (Koloss, 2012)
"Demiurge is most addictive song I've ever heard. And god knows I've heard many songs before it! Just let the music taking control of your head."
5. Combustion (obZen, 2008)
"The opening song of the 'obZen' album surely gave Meshuggah the credit they deserve after their 'Catch Thirty-Three' experimentation. The intro is unbelievably heavy until it just explodes when Tomas Haake hits the hi-hats."
4. Rational Gaze (Nothing, 2002)
"The song that introduced me to Meshuggah. GROOVY and BENDY: the song pushes you around, disorients you and the changes between the sections literally make you want to go insane."
3. New Millennium/Cyanide Christ (Chaosphere, 1998)
"Some of the most evil and horrifying lyrics ever. The guitar is so disjointed as well. It's supposed to sound like anything but harmony."
2. Future Breed Machine (Destroy Erase Improve, 1995)
"This song is awesome. Takes you to a distant land filled up with headbangers in black attire… The intro sounds like the breathing of a demon. Horns up the mighty Meshuggah. Keep making us crazy. It's heavier, more furious, and technical. Hear the intro bit and the transition with the reverbing riff, now it's time for a rampage!"
1. Bleed (obZen, 2008)
"I am not afraid to admit this is their best. It's what got me into both old and new meshuggah, it has the best riffs and composition, and a lovely solo by Frederik. Amazing guitar work, brilliant vocals, and ridiculous drum work all come together to create this masterpiece of a song.