Miranda Lambert Albums Ranked
Miranda Leigh Lambert (born November 10, 1983) is an American country music singer and songwriter. She started out in early 2001 when she released her self-titled debut album independently. In 2003, she finished in third place on the television program Nashville Star, a singing competition that aired on the USA Network. Outside her solo career, she is a member of the Pistol Annies formed in 2011 alongside Ashley Monroe and Angaleena Presley. Lambert has been honored by the Grammy Awards, the Academy of Country Music Awards, and the Country Music Association Awards. Lambert has been honored with more Academy of Country Music Awards than any artist in history. In 2021, she announced her upcoming collaborative record with fellow singer-songwriters Jon Randall and Jack Ingram, The Marfa Tapes, which was released on May 7, 2021, to vast critical acclaim, given its departure from Lambert's usual sound and its acoustic, stripped-back feel. Here are all of Miranda Lambert's albums ranked.
Don't miss out on the music of Miranda Lambert. Click below and listen to the songs that a lot of people love!
8. Miranda Lambert (2001)
"Really, this is nice and charming, but nothing to get much worked up about, just a young girl singing some classic Country music. Only big fans of Miranda should get this. It's a bit ironic that the major label productions would be more personal and authentically produced, but it's just the truth."
7. Kerosene (2005)
"Amazing album. This is one that you can listen from start to finish and get into every song. She writes most of her own songs and it's evident from start to finish that she is a polished song writer. She is an amazing singer as well. This is one of my all time favorite albums."
6. Wildcard (2019)
"Miranda Lambert has to be one the most talented people in music; not just country, but ALL music. Every damn song on this album is phenomenal. Every. Damn. One. Not "just OK," not "good," but freakin' EXCELLENT. In my opinion, Miranda has never put out a bad album, but I am just blown away by how perfect, well-written, well thought out, fun, feeling, and delightful this album is."
See more: John Hartford Albums Ranked
5. Four The Record (2011)
"All the songs are great, but I particularly love "All Kinds of Kinds" (the message), "Fine Tune" (you have to listen to believe it), "Fastest Girl in Town" (bad girl's anthem), "Mama's Broken Heart"(fiery), "Dear Diamond" (hardcore country), "Same Old You" (sassy), "Easy Living" (Hank would be proud of this one), "Over You"(moving) and "Better in the Long Run" (soulful). But my absolute favorite song is "Oklahoma Sky" because every time I play the song, I feel like I am on air."
4. Platinum (2014)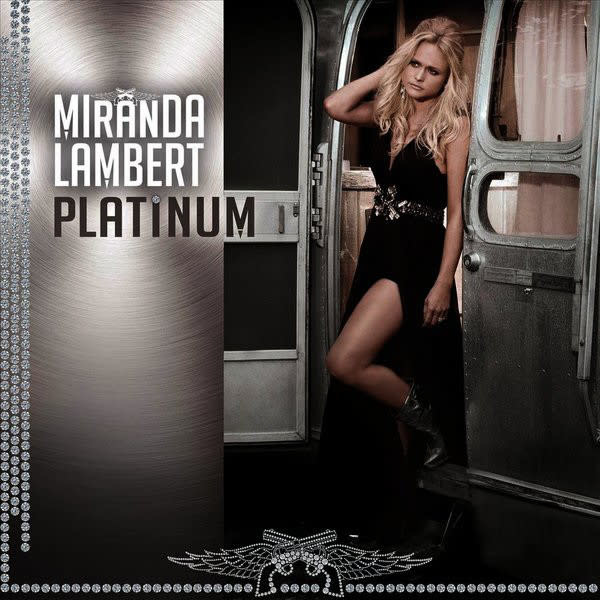 "This album is a good mix of contemporary country and "country" country, therefore I think it would appeal to a wide array of audiences. There are several upbeat, fast paced songs, intertwined with some that are slower and more low key, but none that just drag on- I thoroughly enjoy each and every song on this album."
See more: Lucinda Williams Albums Ranked
3. Revolution (2009)
"Miranda Lambert's sound is not out of the Nashville "cookie cutter" machine. Her songs have more of a traditional structure and her phrasing and presentation are refreshing. Not since the Dixie Chicks first couple of albums have I heard a female vocalist in the country genre step out of the herd. I was impressed enough to buy her two previous recordings, both of which confirm my first impression. The girl is good. The best new female country vocalist to date. Long may she sail."
2. The Weight Of These Wings (2016)
"Miranda Lambert surprises fans with so many good songs. I can't stop listening to this double album. Worth every penny. She is soulful and honest at once after her life is disrupted. It is a reflective response with all her being even a little subdued but a creatively seeking outlet. The songs are real and it's only listening through the whole album over and over to it do some songs tell a story. You won't be disappointed. You will reach for it until it is in your conscience. She is a true talent. Her voice is quite pleasing."
1. Crazy Ex-Girlfriend (2007)
"Miranda Lambert's "Crazy Ex-Girlfriend" is an exceptional sophomore release and refreshing change from much of the county music that is on the radio today. Most of the album has the same feel as her debut album,  Kerosene  and Lambert's vocal range can be described as a female Hank Williams Sr. mixed with some Loretta Lynn."