On the Beach Songs Ranked
On the Beach is the fifth studio album by Canadian-American musician Neil Young, released by Reprise Records in July 1974. A record of folk rock music, the album features self-reflective narratives by Young, exploring themes such as anger, nihilism, and cautious optimism. On the Beach is the second of the so-called "Ditch Trilogy" of albums that Young recorded following the huge success of 1972's Harvest. By the time the full scope of that album's success became apparent, Young wanted nothing to do with it. Looking back on it just five years later, he wrote in the liner notes to the Decade box set that the experience "put me in the middle of the road. Traveling there soon became a bore, so I headed for the ditch. A rougher ride but I saw more interesting people there." Here are all of On the Beach's songs ranked.
Listen to the timeless songs of this Canadian-born singer. Click below and experience Neil Young's music.
8. Vampire Blues
"Vampire Blues" is the only song with "blues" in the title that actually sounds anything like a conventional blues tune. It's here in the middle of the album that we're riding right back in the `Tonight's the Night' ditch. Neil sings "good times are comin, I hear it everywhere I go/good times are comin, but they sure comin slow." "Vampire Blues" also boasts a solo in which Neil plays the same note about 40 times in a row and makes it sound brilliant."
7. For the Turnstiles
"For the Turnstiles" follows, and at first seems like a complete curveball. It starts out with Neil accompanying himself on banjo, singing and playing as if this were `Tonight's the Night.' "For the Turnstiles" could only be described as sounding like a couple of Appalacian rednecks, a fourth of a bottle deep into some strong moonshine, sitting on a back porch and haphazardly strumming away their troubles."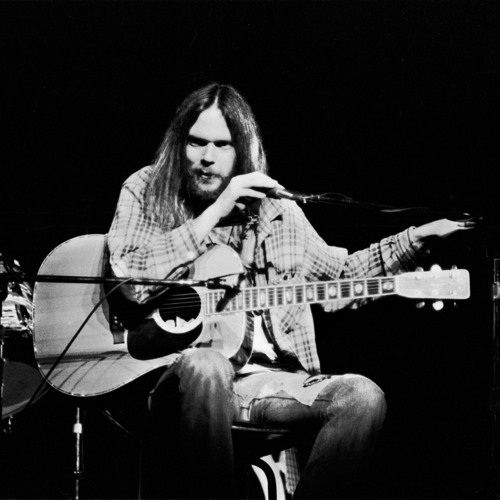 See more: Neil Young Albums Ranked
6. Ambulance Blues
Rusty is again in fine form on the epic acoustic folk ballad "Ambulance Blues", adding improvised fiddle to Neil's classic acoustic guitar and harmonica combo. The nine minute song covers practically everything under the sun. The opening is about Neil's "old folky days" in Canada where he played in clubs such as the Riverboat, which was an actual riverboat named Isabella. He seems to make it clear that he's nearly over his ditch period when he sings"
5. Revolution Blues
"Revolution Blues" takes the mood from slightly depressing to downright creepy. This is where the influence of country fiddler Rusty Kershaw can first really be heard (Rusty was brought along for the sessions thanks to Ben Keith, who thought he would be perfect. His main contribution might be making "mudslides" – a mixture of marijuana and honey fried in a pan – throughout the recording and keeping Neil and everyone high as a kite)."
4. Motion Pictures
"Rusty Kershaw finally enters the scene on "Motion Pictures (for Carrie)." His slide guitar accompaniment completely makes the song, so it should come as a shock that it was completely improvised. According to the story, Rusty had never heard the song before. His only request was that he sit real close to Neil while playing, so as to "feel the vibe." Lyrically, Neil again takes a few lines to put his detractors in their place:"
See more: Neil Young Songs Ranked
3. See the Sky About to Rain
"See the Sky About to Rain" brings the mood down a notch. Its lonesome organ and Neil's forlorn vocal perfectly suit each other and Ben Keith`s slide guitar fills are very country-ish and offset all the song`s imagery. The lyrics really don't tell a logical story, but instead can be characterized as brilliantly vague metaphors that combine with the mood of the music to create vivid images and emotions."
2. On the Beach
"On the Beach" is a song like none other in Neil's career. The apocalyptic tone is not unlike the tone Bob Dylan would adopt much, much later for such epics as "Ain't Talkin" and "Highlands" where, ironically, Bob mentions listening to Neil Young. With lines like "the world is turnin, I hope it don't turn away" and "I need a crowd of people, but I can't face them day to day/though my problems are meaningless, that don`t make them go away" it's clear that the surface brightness of "Walk On" hasn't completely obliterated the cloud over Neil's head. Graham Nash, generally considered the squarest member of CSNY, contributes haunting Wurlitzer piano."
1. Walk On
"Walk On", from the second you hear the catchy opening riff for the first time, sounds like it belongs on a `Greatest Hits' disc, it's so instantly a classic. It's also so happily mellow with it's light-hearted guitar leads and hopeful lyrics such as "I remember the good old days/stayed up all night getting crazed/then the money was not so good/but we still did the best we could" and the chorus "oooh baby that's hard to change/I can't tell them how to feel/some get stoned, some get strange/sooner or later it all gets real/walk on…"