Persistence of Time Songs Ranked
Persistence of Time is the fifth studio album by the American thrash metal band Anthrax. It was released on August 21, 1990 through Megaforce Worldwide/Island Records and was nominated in 1991 for a Grammy Award in the Best Metal Performance category. The album included the singles, "Got the Time" (a Joe Jackson cover) and "In My World" (which was performed by the band on the Married… with Children episode, "My Dinner with Anthrax"). Persistence of Time was the last full Anthrax album to feature vocalist Joey Belladonna until 2011's Worship Music. Anthrax returned to the studio in the fall of 1989 with Mark Dodson (who produced the previous album, State of Euphoria) to start work on their fifth album. Recording of the album was difficult, with a large structure fire causing the band to lose more than $100,000 worth of gear and their rehearsal studio on January 24, 1990. Following this disaster, the band moved to a different studio in late February of that year to finish work on the album. Here are all of the Persistence of Time songs ranked.
Don't miss out on Anthrax music below! Click to experience one of the kings of heavy metal!
11. Intro to Reality
 "Intro to Reality" which is an awesomely epic 3 minute plus instrumental build up to the album's following cut "Belly of the Beast". "Intro to Reality" starts off with some opening dialogue from "The Twilight Zone" episode "Deaths-Head Revisited", and then the song adopts some slow, haunting, melodic guitars, and then the drums come into play halfway, and then the song gets more and more heavier at the moment and keep building on until finally bleeding right into "Belly of the Beast"
10. Gridlock
"Gridlock" is a fast, high octane thrasher that keeps the momentum coming as the song boasts yet another blistering assault of seething, fiery, high octane riffing, ripping, pounding double bass drums, and fierce, aggressive yet melodic vocal delivery, and another fiery, ripping, shredding solo to boot too."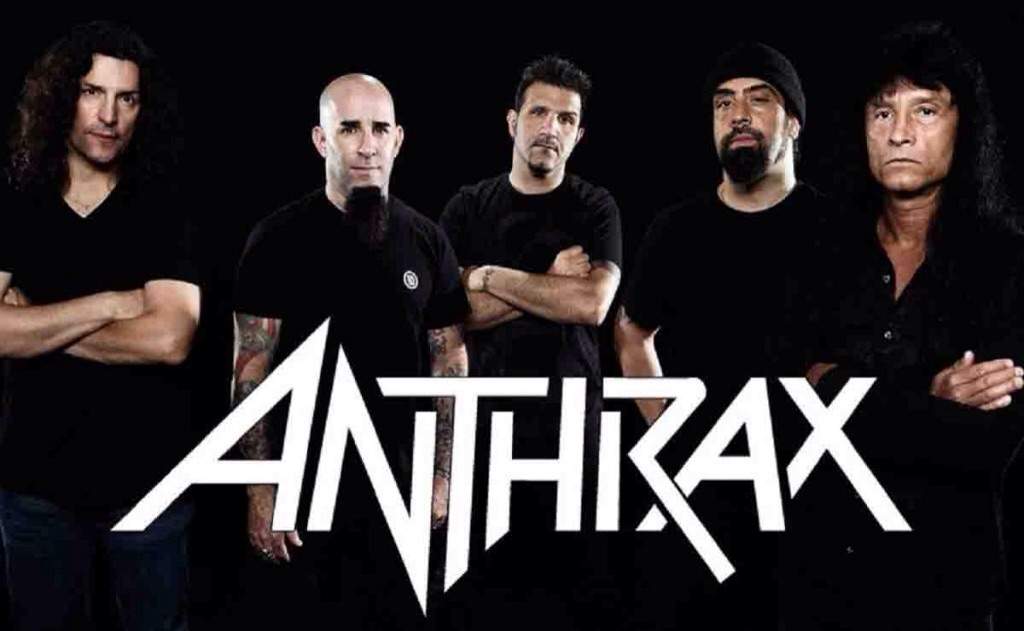 9. Discharge
"The album finally closes things out with the savagely blistering, blazing, straight-up thrasher "Discharge" which borderlines on a frantic, straight-up thrash attack locked and loaded with super fast thrash riffage, frantic double bass drumming, grumbling bass lines, and powerful vocals throughout, and we're also treated with yet another wickedly awesome solo, and a furiously rampaging chorus that is guaranteed to get them circle pits going like crazy. Such an excellent way to close things out."
See more: Anthrax Album Ranked
8. One Man Stands
"One Man Stands" is yet another thrashing masterpiece of a song here that lyrically deals with the Teanimen Square Massacre, and believe me, the lyrics are really moving and amazing here. This song is also highlighted by thunderously heavy, crushing, thrashy riffing, and hefty, stomping beats, and a phenomenal chorus that even you can't even to sing-a-long to."
7. H8 Red
"H8 Red" which is another awesome thrashy and thought provoking number that lyrically deals with racial hatred and general animosity, and is anchored by heavy, chuggy, thrashing riffage, heavy, upbeat drumming with some ripping double bass fills included, but once again it is Belladonna's incredible melodic vocals that just work absolute wonders throughout this song especially during the chorus which of course is fantastic as well. "
6. In My World
"In My World" which is another memorable highlight that is highlighted by gloomy, yet surging, energetic, hard hitting riffs, and heavy, thumping, pounding beats, and the song's chorus is also surprisingly melodic and catchy, plus this song is also highlighted by yet another wickedly awesome, screaming, shredding solo from Spitz, and is also his best solo on the whole album, as well as more of Belladonna's dark and angry, yet melodic vocal deliveries too."
5. Blood
"Blood" is another awesomely catchy headbanger that is anchored by a monster, heavy throbbing rhythm, along with great chugging, thrashy riffs, heavily pounding bass lines, and fast, stomping drum beats, and is also highlighted by excellent thought provoking lyrics and more of Belladonna's amazing vocal deliveries including some catchy and creepy shouts of "Brother on, brother on, brother on", as well as another outstanding, memorable chorus, plus another amazing soloing to boot as well. Definitely another one of my favorites songs here."
See more: Anthrax Songs Ranked
4. Got the Time
"Joe Jackson's "Got the Time" in which Frank Bello's bass playing truly shines as he delivers an addicting, punchy bass line intro, as well as an awesome, thumping bass solo later on around the 1:46 mark. The song also features fast, surging, punky riffing, and energetic, thumping drums, awesome, energetic vocals, and an addicting sing-a-long chorus to top it off. Everything about this track is just pure energy, I love it."
3. Time
"The opening track "Time" is a dynamic and blistering thrasher, and is also one of my favorite Anthrax songs as well, that begins with the sound of a ticking clock which soon quickly builds into a ferocious onslaught of raging, menacing, rapid fire riffing and drumming lead of course by Belladonna's angrily sneering yet melodic vocals as he spits and spews out every lyric throughout with such heart and passion, and the song's chorus is just pure headbanging bliss, and the song is also highlighted by a wickedly scathing, blistering guitar solo courtesy of Spitz, and the song also concludes on a blistering note as well."
2. Belly of the Beast
 "Belly of the Beast" which is an incredibly amazing, bass-heavy, melodic thrash rocker that is highlighted by a tight, chugging, rhythm, along with tasty, chugging riff work, ear-ringing bass lines, and excellent drumming throughout all lead once again by Belladonna's always vocals. The song's lyrics are also very top notch, as as the song's memorable chorus, and there's also another great Spitz solo thrown in as well too."
1. Keep It In the Family
"Keep it in the Family" which is another one of the band's best known songs and it also my absolute favorite song on here as well. Beginning with a slow and menacingly heavy, crunchy, and grinding opening riff, and steady, yet loud, pounding bass and drums, the song later then builds into a fast, catchy, and upbeat headbanger."