Selling England By The Pound Songs Ranked
Selling England by the Pound is the fifth studio album by the English progressive rock band Genesis, released in October 1973 on Charisma Records. It reached No. 3 in the UK and No. 70 in the U.S. A single from the album, "I Know What I Like (In Your Wardrobe)", was released in February 1974 and became the band's first top 30 hit in the UK. Critics and the band have given mixed opinions of the album, though guitarist Steve Hackett has said it is his favourite Genesis record. The album has continued to sell and has reached Gold certification by the British Phonographic Industry and the Recording Industry Association of America. It was remastered for CD in 1994 and 2007. Several of the album tracks became fan favourites and featured as a regular part of the band's live setlist into the 1980s. Here are all of Selling England By The Pound songs ranked.
Don't miss out on the TIMELESS Genesis music below! Click to experience the greatest style transcending act of all time!
8. Aisle of Plenty
"Clever! They transitioned from The Cinema Show into an solemn acoustic guitar playing the intro melody from "Dancing With the Moonlit Night" for emotional impact. This tune has a more haunting synth tone than the 1st track though. At the very end a peaceful chaos with several people talking/singing over cluttered drums takes over. Smart way to end a smart album."
7. After the Ordeal
"Nice little instrumental conclusion to track 5. Baroque style with a lot of piano and nylon string guitar, and later some flutes and synthesizers."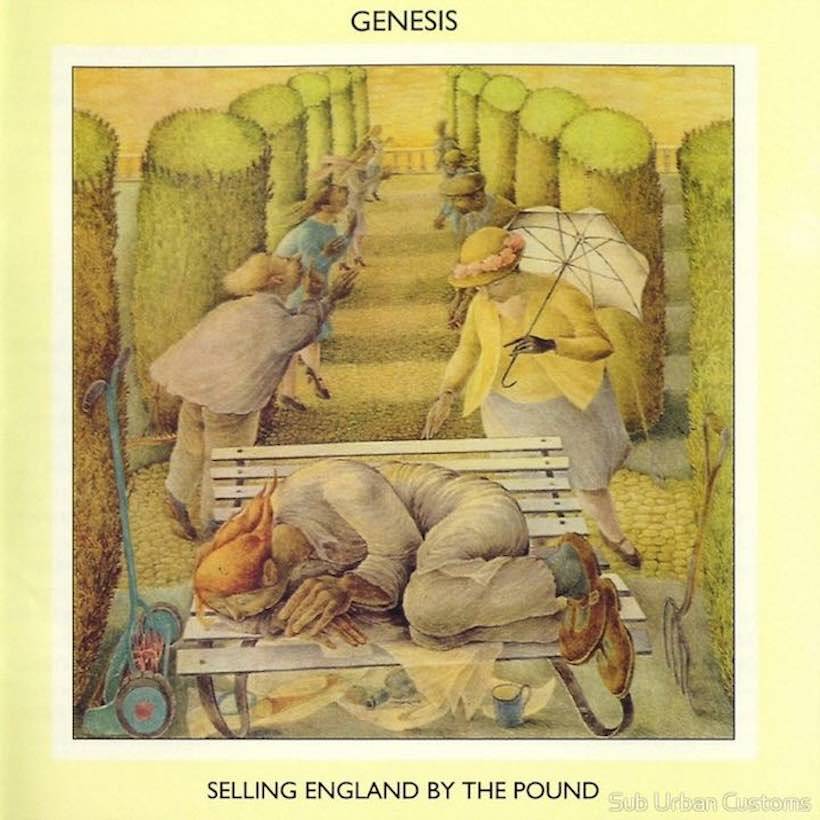 6. I Know What I Like (In Your Wardrobe)
"Hilarious and also very interestingly arranged pop tune. Phil Collins' drumming sounds surprisingly african-inflected. Were it not for the bizarre vocals, I'd mistake it for the Talking Heads, whom it likely influenced. It was their first hit, and rightly so."
See more: Genesis Albums Ranked
5. More Fool Me
"Phil Collins' first released song, and it's a beauty. Total sincerity in music form. I have no idea how many months he spent hunched over a guitar, honing this song after going through a breakup before showing it to his stunned bandmates. It's only a short folk song, but an immaculate one."
4. The Battle of Epping Forest
"And here the magic runs out. The lyrical concept is pretty interesting, but for the first time on the album Gabriel's vocals wear VERY thin over 11 minutes. The instrumentation tries to compensate for the poor melodies and is almost as big a disaster as the vocals. Nobody listens to this band for instrumental chops. They listen for well-constructed orchestral pop songs because that's where there strengths lie. Hearing them attempt pseudo-improvisational self-indulgence is excruciating."
See more: Genesis Songs Ranked
3. The Cinema Show
"There are some very pretty passages in here, but parts of this epic (the fourth one on the album!) suffer from being airy and a bit underwritten, padded with excessive arpeggios and atmospheric synths that don't go anywhere. It's not a bad song, but at 11 minutes, it doesn't entirely justify it's length. Some passages are really beautiful though, a shame they didn't edit the song a bit better or write more memorable melodies."
2. Dancing with the Moonlit Knight
"They pull off the transition from bombastic balladry to fast-paced hard rock very well. Gabriel's voice is perfect for the British humorisms featured throughout the whole album but most heavily on this track. It's not perfect" Perhaps the outro is a bit long, and some of the keyboards near the end are in slightly poor taste, but the overall effect of the track is incredible."
1. Firth of Fifth
"Another epic, this time built heavily around piano. The pace here actually SLOWS DOWN during several parts as the song goes along until it's absolutely glacial, but perfectly executed. Hackett's guitar solo plays about one note every 4 seconds, but the minimal-maximalism creates a beautiful, almost post-rock like climax to the song."