The Weavers Albums Ranked
The Weavers were an American folk music quartet based out of the Greenwich Village area in New York City. They sang traditional folk songs from around the world, as well as blues, gospel music, children's songs, labor songs, and American ballads, and sold millions of records at the height of their popularity. Their style inspired the commercial "folk boom" that followed them in the 1950s and 1960s, including such performers as The Kingston Trio, Peter, Paul, and Mary, The Rooftop Singers, The Seekers, Joan Baez, and Bob Dylan. Here are all of The Weavers albums ranked.
Don't miss out on the TIMELESS The Weavers music below! Click to experience the eclectic style of songs by this band.
4. The Weavers' Almanac, 1961
"The Weavers put many of today's performers to shame with their simple,(in a positive sense), direct, quality, and positive songs on this cd. This cd includes songs popular in the civil rights movement of the 1960s and the labor movement starting in the 1930s to today. Their voices, guitars, banjos combine to tell a powerful story of the sadness, struggle, and very occasional triumphs of ordinary people's lives. The Weavers were blacklisted in the USA for much of the 1950s and were unable to make a living as a result- yet they persisted and came back strong after a concert in Carnegie hall NYC."
3. The Weavers at Home, 1959
"Three dudes, a dame, and two guitars – everything they did was redolent of deep feeling, musicality, and sincerity.  Pete Seeger communicates with the zeal of an evangelical preacher and Ronnie Gilbert is a miracle of vocal splendor"
2.Traveling On With The Weavers, 1959
"Once I resigned myself to the fact that The Weavers without Pete Seeger will never be as good as they were with him I found that I could enjoy these later albums too, if not nearly as much. A nice set of tunes here, performed well with all the enthusiasm and corniness necessary to pull this sort of thing off."
1. Folk Songs Around the World, 1959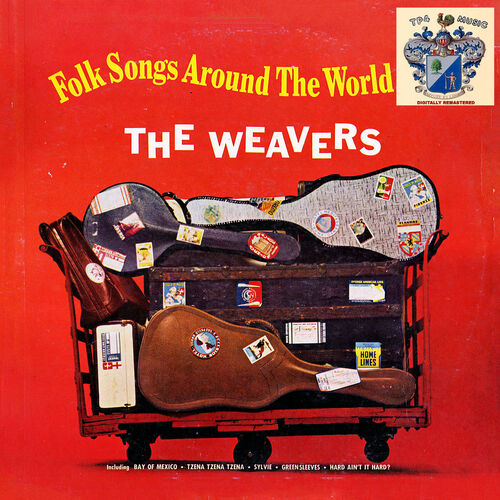 "Nothing really notable on this platter, just very routine takes on routine songs. It's all listenable and enjoyable. The album doesn't have much diversity in style, so if they were really trying to do songs from "around the world" they failed preserve the distinctive character of the songs or they just had a really narrow idea of "the world". The first song is cute because it has little excerpts of different songs as a kind of intro for the album."