Type O Negative Albums Ranked
Type O Negative was an American gothic metal band formed in Brooklyn, New York in 1989, by Peter Steele (lead vocals, bass), Kenny Hickey (guitar, co-lead vocals), Josh Silver (keyboards, backing vocals), and Sal Abruscato (drums, percussion), who was later replaced by Johnny Kelly. Their lyrical emphasis on themes of romance, depression, and death resulted in the nickname "The Drab Four" (in homage to the Beatles' "Fab Four" moniker). The band went platinum with 1993's Bloody Kisses, and gold with 1996's October Rust, and gained a fanbase through seven studio albums, two best-of compilations, and concert DVDs. Steele died on April 14, 2010, at the age of 48; some sources report the cause of death as heart failure brought on by an aortic aneurysm, while others list sepsis caused by diverticulitis. Hickey and Kelly stated in a November 2010 interview with French music magazine Rock Hard that Type O Negative had broken up following Steele's death. Here are all of the Type O Negative albums ranked.
If you want to hear true metal rock music. Click below and listen to Type O Negative's songs!
9. The Least Worst Of (2000)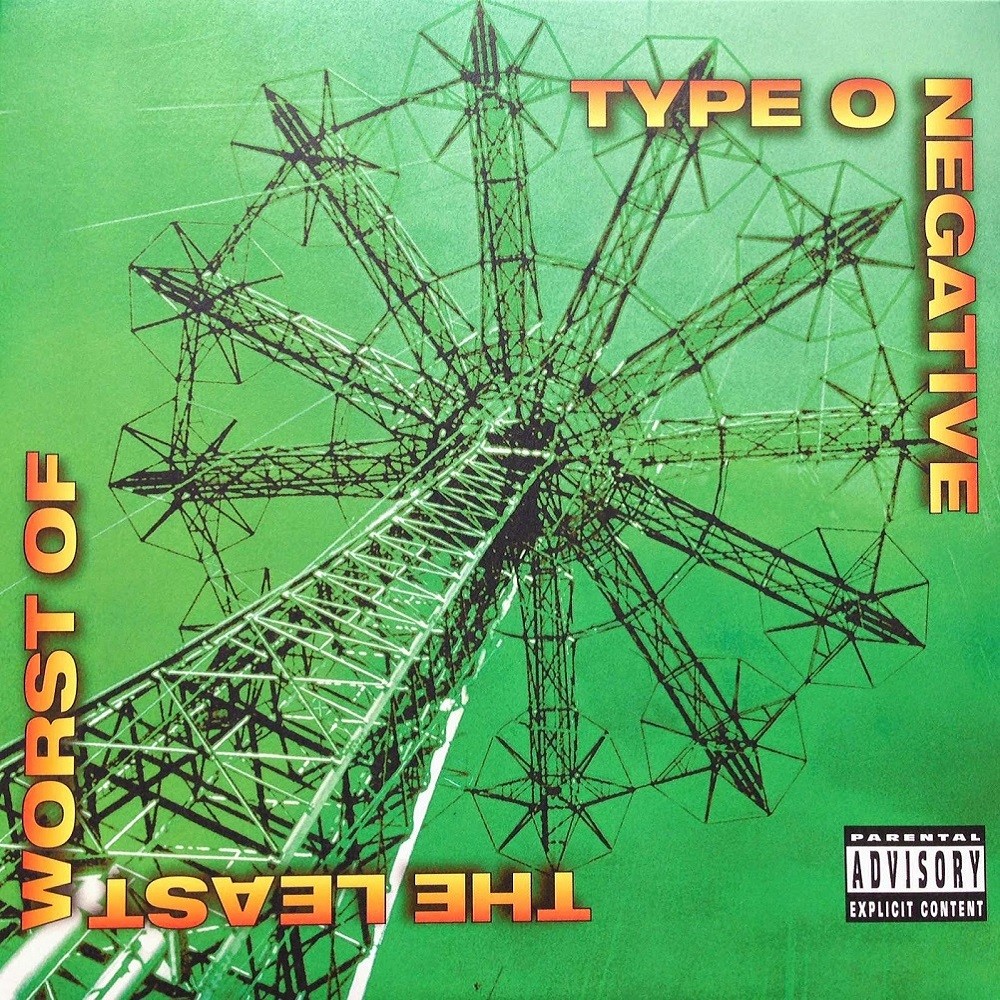 "Quite an excellent collection the boys in black & green put together here: some outtakes, some b-sides and alternate-mixes, and the "greatest hits" in edited form – perfect for sticking on your choice of mp3 player, since the edits aren't too long for Shuffle. While a Type O Negative album is best experienced in the middle of the night, with curtains drawn, candles (and maybe incense) burning, and a bottle or two of red wine, the edits are more flexible: you can play them loud in your car. You can put them on a mix disc to introduce someone to Type O. You can put them on a mix for your crappy Halloween party."
8. The Origin Of The Feces (1992)
"Type O is one of the few bands that can actually pull off this kind of "live" album, sprinkled the whole way through with Peter Steele's dark sense of humour and irony. Especially the threatening interruptions and the not so friendly banter between the Green Giant and pissed off crowd is hilarious. It all makes it easy to visualize this legendary gig at the nocturnal Brighton Beach. I would surely love to have been there! So hearing slightly alternative version of "Slow, Deep and Hard" is more of celebration than a drag, first of all as the original bursts with orverbearingly amazing and wonderfully original metal. Clearly too outrageous and mixed breed for many people. To some too slow, to others too fast or propably even shocking to those who are more fond with the band's later, softer gothic metal ala "October Rust".
7. The Best Of Type O Negative (2006)
"I often don't like "Best of"s because I don't like other people's choices sometimes, but this was a great CD! Really showcases how very good the band was and how incomparable Peter Steele's voice truly was! The best rock singer in the world in my view. Enjoy!!!"
See more: Ratt Songs Ranked
6. World Coming Down (1999)
"Perhaps the most depressing cd of alltime. Bloody Kisses put Type O Negative on the map with platinum success but World Coming down evolved there sound to another level. This is classic Gothic Metal at it's finest moment. Purely deserving a 5 star rating in the genre. White Slavery kicks it off and the doom and gloom continues to the ending track Hallow's Eve!!!"
5. Life Is Killing Me (2003)
"As we entered the golden years of Peter and Co. Things start slowing down a tiny bit, I think even Pete thought maybe I should try being a little more Optimistic for once, here is Life is Killing me as a result. More fast-paced songs that are lots more fun to bop your head to, its sounds a lot less depressive than their critically acclaimed release before this "World Coming Down" of course the depressive nature is still here, as expected such cuts include I don't wanna be me, Anesthesia, Nettie and the Title Track but to balance that out we have I like Goils a classic tongue and cheek Type O Negative song that doesn't take itself seriously whatsoever. Less than Zero, angry Inch, a cover of the off-broadway musical about a sex operation gone wrong, I gotta say that's hilariously awesome. It's pure Type O humor and I love it. Pete was definitely feeling better during this release."
4. Dead Again (2007)
"Type O Negative's unholy marriage of goth metal, doom, hardcore and black humour never ceases to engage – and amuse – me. How can you not laugh at songs like "Tripping A Blind Man"? Musically, Type O's formula hasn't changed too much since Bloody Kisses, but that doesn't make their records any less enjoyable. There are some pretty epic tracks on here, although my personal favourite is the schizophrenic "An Ode to Locksmiths".
3. Slow, Deep And Hard (1991)
"The album that started it all , an rightly titled slow deep an hard . A great hard rock album . It has a diffrent style compaired to the other type o albums . More fast an aggressive , but still show casing the long song formate that the band has become known for . The best track with out doubt is track 1 Unsuccessfully Coping With the Natural…ect . A album about tragic love , mixed with just the right amount of aggression from all directions . A well made album that stands out from the rest of them . A must have for a Type O fan"
2. Bloody Kisses (1993)
"Gothic hard core doom metal in its purest form. Beautuful melodies, sludgy metal and bursts of aggressive low brow hard core melted together in a strangely enchanting package. Often all this in one song. This is still interesting to listen, because the songs go from here to there very lengthy routes, and end up in places you wouldn't expect."
1. October Rust (1996)
"I love this album, it's completly great! some people dont like it because they think Type O kinda changed, yes I will admit it is completly diffrent from the first three but come on people isn't change good? dont worry they went back to there old selves in the later album.I dont like one song on this album "Die with me" I dont know what the hell Peter Steele was on when he did this song it's really not his thing, but other than that song the rest are all fine."