Vol 3 The Subliminal Verses Songs Ranked
Vol. 3: (The Subliminal Verses) is the third studio album by American heavy metal band Slipknot. The album was released on May 25, 2004, by Roadrunner Records, and a special edition, containing a bonus disc, was released on April 12, 2005. It is the band's only album produced by Rick Rubin. Following the band's tour to promote its second album in 2001, speculation regarding the future began. Some band members had already been involved in side projects including Murderdolls, To My Surprise, and the reformation of Stone Sour. In 2003, Slipknot moved into The Mansion to work on the album. Initially, the band was unproductive; lead vocalist Corey Taylor was drinking heavily. Nevertheless, the band managed to write more than enough material for a new album. Vol. 3 is credited as Slipknot's first to incorporate more traditional, melodic song structures, guitar solos, and acoustic instruments. Here are all of Vol 3 The Subliminal Verses songs ranked.
Don't miss out on the timeless Slipknot music below! Click to experience the band at their finest!
14. The Virus of Life
"Another one that could be my favorite musically it is a great song and also lyrically it reminds me of prosthetics. Freaky song.. left me with chills when I blasted it at 1 in the morning"
13. Welcome
"This song has a sweet opening. The drumming is crazy. It has stop-start riffs with simultaneous drumming and Corey makes a screaming entrance. The beat remains staccato throughout the verses, but then there are two guitar solos (the first of which is rather wild and all-over-the-place).
12. Prelude 3.0
"Prelude 3.0" is like an intro, with just some soft strumming and a laid back drum beat, while Corey continuously drones the line "Now it's over." Really good musically. shows that the drummer can play different styles, not just the insane fast stuff. Kind of eerie in a way."
11. Danger – Keep Away
"No song could have ended the album any better. Yes it's quiet but it has some amazing vocals, keyboards, guitars, everything is here. This completes the genius of this album, I love this song."
See more: Slipknot Albums Ranked
10. Circle
"Circle" is the first ever Slipknot song to feature acoustic guitars! Corey sings melodically, making this song quite pretty and very much in vein of the Stone Sour single "Bother." A catchy drum beat finally begins around three minutes and forty seconds into the song, but it ends abruptly thereafter."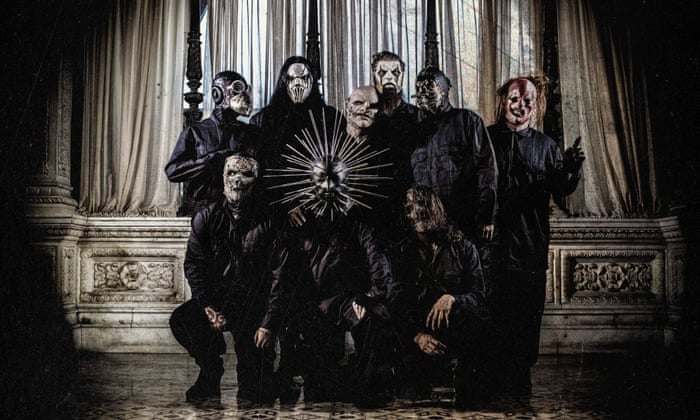 9. Three Nil
"Three Nil" gets quite loud and noisy. The guitars, drums, and vocals go all out and make pounding rhythm. This is one of the songs that should please old school fans. Dull to me at first, listening to it a second time was all it took for it to become my favorite song off the album"
8. Opium of the People
"Opium of the People" has a very weird beginning with high pitched, bubbly, beeping guitar noise. The first verse has a fast, almost vibrating (but non-dominate) riff, and this song eventually changes to a bobbing beat with punching guitars.
7. The Nameless
"The Nameless" has another choppy beat with bobbing riffs, and some DJ scratching. This song twice breaks for a brief acoustic segment; after the second time, the beat becomes more continuous and not as choppy.
See more: Slipknot Songs Ranked
6. Vermilion Pt. 2
"Vermilion Pt. 2" is the second acoustic driven ballad on here. This one has two guitars and two vocalists, making it sound not as much like "Bother." This is such an awesome song. it is all acoustic but is freaking awesome."
5. Pulse of the Maggots
"Pulse of the Maggots" was probably written just for live shows. This song, which has another pounding rhythm, is dedicated to Slipknot's fans, and has several more careening guitar solos. But, even still, this track comes across sort of sounding like filler."
4. The Blister Exists
"The Blister Exists" has a thrash flavor to it. It has good chug and churn riffs and pounding drum work. The vocals switch back and forth between yelling and spoken word, and the end of this song has drums which sort of echo "Stomp," the musical.
3. Vermilion
"Vermilion" is the second single. There's a "ding ding" sound at the beginning and end of this one, and the rest of this song's tempo is fairly slow (with no speed changes). The drums sort of drive the beat early on, even with chug and churn guitars, but another good guitar solo is included (which might be this album's best)."
2. Duality
"Duality" is the lead single. Corey described it as "Slayer meets Ministry," and I'd say that's a pretty fair comparison. After the spoken word intro, the beat kicks in and the guitars chug. Corey's low voice sings calmly, and the guitars become almost bobbing and punching (which should make this song a good headbanger). There's some clean backing vocals in the chorus, and I enjoy the subtle speed change around the 3:15 mark."
1. Before I Forget
"Before I Forget" has more good, thrashy, toe-tapping riffs. Most of this song is brief splashes of machine gun riffs, but there's a good melodic part and the big, catchy chorus makes this song fitting of being "Vol. 3″'s third single."