Where It All Begins Songs Ranked
Where It All Begins is the eleventh studio album by the Allman Brothers Band. "No One to Run With" obtained the greatest amount of album-oriented rock airplay, while "Soulshine", written by Warren Haynes, gained success as a concert and fan favorite. Gregg Allman also started to confront his substance abuse problems in the past on songs such as "All Night Train". The album sold considerably better than its predecessor, Shades of Two Worlds. In 1998, the album went Gold. Nevertheless, critical reception was weaker. This was also the last studio album the group recorded with original guitarist Dickey Betts. Producer Tom Dowd, in an effort to relieve Gregg Allman's dislike of recording in the studio, arranged for the band's full concert stage setup to be assembled in a Florida film soundstage owned by actor Burt Reynolds. This allowed the band to record all the songs for the album live as a unit instead of recording their parts individually. Here are all of Where It All Begins songs ranked. Here are all of Where It All Begins songs ranked.
Don't miss out on the TIMELESS Allman Brothers music below! Click to experience the power of Duane Allman!
10. Change My Way of Living
"The rhythm section of bassist Allen Woody and drummers Jaimoe and Butch Trucks was as proficient as ever. Tom Dowd returned to produce his sixth album for the band, which added to its stability."
9. All Night Train
"The record starts off on a high note (pun intended) with "All Night Train", Greg Allman's reflection on his drug abused past, and concludes with a warning on infidelity with the Stevie Ray Vaughnish, "Temptation Is A Gun".
8. Mean Woman Blues
"Dickey Betts gets five…he usually provided the countryish flavour, but here he brings the wonderful, tough "Mean Woman Blues" The sound may have been a little more mainstream than in the past, plus the improvisation was less than usual. On the positive side, it was the group's usual mixture of southern rock and blues."
See more: The Allman Brothers Albums Ranked
7. Back Where It All Begins
"Dickey Betts goes in a more rock direction than in the past. "Back Where It All Begins" clocks in at over nine minutes, which gives ample time for both Betts and Haynes to weave their guitar magic both by themselves and together."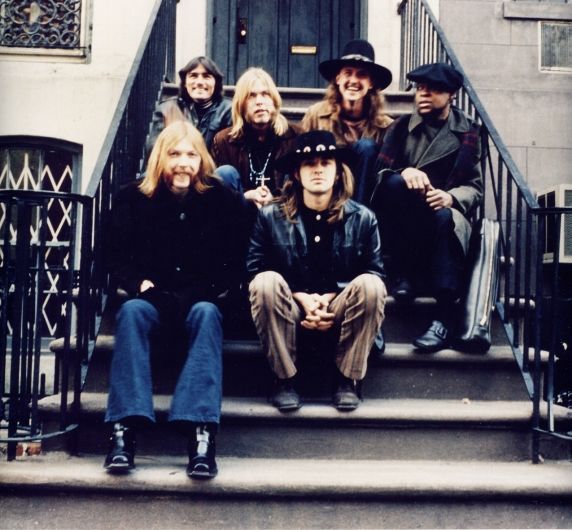 6. Everybody's Got a Mountain to Climb
"This album is far better than it has a right to be. First is the guitar pyrotechnics. There are great guitar duels and fills on this record! After 15 years, this album is no longer new. Yet it shines brightly as the last studio album with Dickey Betts. And his contributions are monumental, with the fantastic title track Where it All Begins and the also great song Everybody's Got a Mountain to Climb."
5. Soulshine
"I love this album. It is the best of the Allman Brothers' later stuff. "Soulshine" is an all-time Allmans Brothers' southern blues rock classic."
See more: The Allman Brothers Songs Ranked
4. Sailin' 'Cross the Devil's Sea
"Sailin' Cross The Devil's Sea" is an Allman, Haynes, Woody, and Jack Pearson composition and has a nice funky feel to it. It is Dickey Betts' slide guitar that provides the highlight"
3. What's Done Is Done
"What's Done is Done, a boring Allman song. But it ends nicely, with an Allman blues number. What's nice about this album is that it really sounds like a total band effort, instead of just a collection of Betts and Allman solo material."
2. All Night Train
"The rhythm section is perfect, tough yet supple, with plenty of swing…bassist Allen Woody and percussionist Marc Quinones are just wonderful, and this is the Allmans' last studio album to feature the combination of Dickey Betts and slide guitarist Warren Haynes."
1. Temptation Is a Gun
"Temptation Is A Gun," written with ex-Journey members Neal Schon and Jonathan Cain. "Temptation Is A Gun" was written by Allman, John Friga, and former Journey member Neal Schoen. It contains a wonderful and bluesy vocal by Allman.