All That You Can't Leave Behind Songs Ranked
All That You Can't Leave Behind is the tenth studio album by Irish rock band U2. It was produced by Brian Eno and Daniel Lanois, and was released on 30 October 2000 through Island Records and Interscope Records.[1] Following the band's experimentation with alternative rock and dance music in the 1990s and the mixed reception to their 1997 album, Pop, U2 returned to a sound more akin to their earlier records for All That You Can't Leave Behind. The group reunited with Eno and Lanois, who had produced three prior U2 albums together. The record was originally named "U2000", which had been a working title for their PopMart Tour. The album received positive reviews from most critics, reached number one in 32 countries, and sold over 12 million copies. The songs "Beautiful Day", "Walk On", "Elevation", and "Stuck in a Moment You Can't Get Out Of" were all successful singles. The record and its songs won seven Grammy Awards; it is the only album in history to have multiple tracks win the Grammy Award for Record of the Year: "Beautiful Day" in 2001 and "Walk On" in 2002. In 2003, the album was ranked 139th on Rolling Stone's list of "The 500 Greatest Albums of All Time", but it was re-ranked at number 280 in 2012. The supporting Elevation Tour, on which the band returned to playing arenas with a more intimate stage design, was also a critical and commercial success. All That You Can't Leave Behind was reissued in 2020 to commemorate the 20th anniversary of its original release. Here are all of All That You Can't Leave Behind songs ranked.
Don't miss out on the TIMELESS U2 music below! Click to experience the power of BONO!
12. The Ground Beneath Her Feet
"The real good lyrics in this album come from a song where the lyrics weren't even written by Bono, The Ground beneath Her Feet. That is a good song about love, but also about a macabre and submittive kind of love of hopelessness."
11. Peace on Earth
"Another beautiful song. In spite of the title, the words of the text are by no means consoling. The piece was written after yet another IRA attack that hit defenseless civilians. The text cites some of the names of the victims: Sean, Julia, Gareth, Ann and Breda are only five of the 29 victims of the Omagh massacre, in Northern Ireland, where on 15/8/1998 a car bomb exploded in the crowd."
10. Grace
"Bono explains precisely in an interview with Fabio Fazio what this song means: "Grace expresses a very big idea but which manifests itself in very simple forms. It is easier to find grace in women than in men, especially in mothers. A mother will never believe that a child could be wrong, even if you point out the problem, ask her 'What happened?' Even if it is obvious, she is able to answer "But I don't see anything!" Grace doesn't see mistakes, she finds a way to make them become positive things. I like to think of Grazia as a girl walking down the street. this I see grace! " "
9. In a Little While
"After a night spent awake (and perhaps even after having raised his elbow a little) Bono composes this very sweet and "tender" piece subsequently referred to as "gospel". It is probably dedicated to his wife, or even his eldest daughter now grown up. However, it is known that it is the last song that Joey Ramone listened to before he died. (U2 are great admirers of the Ramones, the esteem between the two bands is mutual and sincere)."
See more: U2 Albums Ranked
8. When I Look at the World
"In this piece Bono seems to be talking to Jesus about the problems of the world. The piece was one of the fastest to be recorded (perhaps even less than a day)."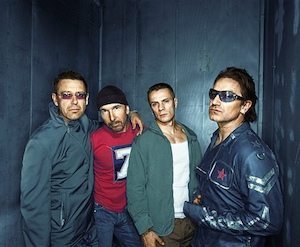 7. Wild Honey
"The light-heartedness made a song. Very light and delicate text. It's about a girl who is as sweet as she is rebellious. In the text, happy and carefree days are remembered."
6. Kite
"This song was born in the Irish hills. One day Bono had taken his girls to play outdoors with a kite which crashes right away though. So the girls went back into the house and Bono was left alone to think … and so Kite was born."
5. Stuck in a Moment You Can't Get Out Of
"Bono dedicated this song to the late friend and singer of INXS Michael Hutchence who committed suicide in 1997. It was with it Bono had spoken in the past of the absurdity of suicide. Musically we are close to the more "classic" U2."
See more: U2 Songs Ranked
4. Walk On
"Beautiful song dedicated to the Burmese leader Aung San Suu Kyi who has been fighting for years with nonviolence for the freedom of her country from the communist dictatorship. Bono himself relates: "She left the comforts of her home in Oxford where she taught, and her family, her husband and her son, and left to do the right thing for her people. And this is one of the greatest acts. of courage throughout the twentieth century."
3. New York
"Text that talks about the "Big Apple" in which Bono tries to tell all the infinite nuances of a great metropolis such as NY."
2. Elevation
"It is the most energetic rock piece ever, born from a "very cool" guitar riff (cit. The Edge). The meaning of the text is all too clear from the start … in practice it is all a double meaning. The song was used for the soundtrack of the movie "Tomb Raider".
1. Beautiful Day
"First track of the album and leading single. One of the greatest hits ever of the Irish quartet. Bono himself explains the meaning of the lyrics during an interview with Rockstar in 2000: "The song describes what happens to a person when he hits the bottom, zero, and has nothing to lose, he realizes that it is not so. It is so bad to live without the burden that relationships and possession regularly give you. It is like getting rid of a burden, and the moment you no longer have it you don't even know why you have endured it for so many years."