Dr. Feelgood Songs Ranked
Dr. Feelgood (stylized as D℞. FEELGOOD) is the fifth studio album by American heavy metal band Mötley Crüe, released on August 28, 1989. Dr. Feelgood topped the Billboard 200 chart, making it the band's only album to claim this position as of 2020. It was the first album Mötley Crüe recorded after their quest for sobriety and rehabilitation in 1989. In addition to being Mötley Crüe's best selling album, it is highly regarded by music critics and fans as the band's best studio album. This was also the band's last album to be recorded with lead singer Vince Neil until the 1997 album Generation Swine. Dr. Feelgood has sold more than 6 million copies in the U.S., and went Gold in the U.K. In various interviews, members of Mötley Crüe stated that it was their most solid album from a musical standpoint, due in no small part to their collective push for sobriety. Here are all of Dr. Feelgood's songs ranked.
Don't miss out on the TIMELESS Motley Crue music below! Click to experience Nikki Sixx, and Tommy Lee at their finest!
12. T.N.T. (Terror N' Tinseltown)
"The opener (with ER sounds and drums) is just a short lead in to the hit title track. A story of a druggie they call "Dr Feelgood," this gutsy metal anthem amazingly made the Pop charts. And deservingly so."
11. Get It for Free
"The unreleased track "Get it for free" Is good, but it seems more fit for the Girls, Girls, Girls album. It would have seemed out of place on Feelgood. It makes sense to me why it was left off. It sounds a little more like something off the "Girls" album."
10. Time for Change
"The second ballad of the album. Nikki wrote this song about the troubles he has had throughout his life. This is just at good as "Without You." The whole band sings the chorus line in this one and it's phenomenal. The chorus line goes, "Change. Now, it's Time For Change. Nothin' stays the same." This also earns a spot at the top of Motley Crue's ballads. It's definately an A+ all the way."
See more: Motley Crue Albums Ranked
9. She Goes Down
"Packed with sass, raunch and a chugging backbeat towards the end. Another really dirty hair metal anthem. Very underrated. Even if it is Motley Crue, some of the lyrics, especially "She Goes Down" are pretty dated and cheesy."
8. Sticky Sweet
"Not the strongest track on the CD by any stretch…white boy funk (Nikki does slap the bass a little bit) in a Warrant "Cherry Pie" groove (although this came out first). Top notch musicianship. Takes me back to September 1990 when I got my new bike."
7. Rattlesnake Shake
"Not to be confused with the Skid Row song of the same year. A more typical sounding uptempo hair metal anthem, but still great. Has a teeny bit of horn usage to make it unique. More latter-day L.A. glam-funk influence with a cool horn section and a nice bass break by Nikki Sixx (sobering up DEFINITELY was worth it as far as his playing goes)."
6. Slice of Your Pie
"Has a great blues influence, Steven Tyler co-arranged it. Slower, slightly bluesy hard rock with dirty lyrics. Not the best song, but far from bad. My favorite track…psychedelic intro and an homage to Steven Tyler in the credits for the drum track (likely to keep from getting sued…it does sound a helluva lot like "Rag Doll")…and the fade-out pays a solid tribute to The Beatles "I Want You (She's So Heavy)". if you're gonna rip someone off, you could do a lot worse than Lennon-McCartney."
See more: Motley Crue Songs Ranked
5. Don't Go Away Mad (Just Go Away)
"This may be the best-written song these guys ever recorded…it takes on the guise of a serious tune until the chorus kicks in…everyone's playing is as solid as it's ever been…fun song, always makes me feel good."
4. Without You
"This is the first ballad of the album. This song was written based on Tommy and Heather Locklear's relationship. The lyrics are so passionate and loving, and is definately one of the best metal ballads ever written. Vince's vocals on this album can't get any better than this. The song is definately deserves an A+."
3. Same Ol' Situation (S.O.S.)
"An excellent tune and a minor anthem. The riffs are great and the chorus line is very catchy. This is a great rocker to sing along to also. A supremely catchy, fun, anthemic minor hit. One of my favorites from them. Vince Neil recounts an, umm, 'female romance' involving two girls. No one who is even remotely a fan of hard rock should pass this song up."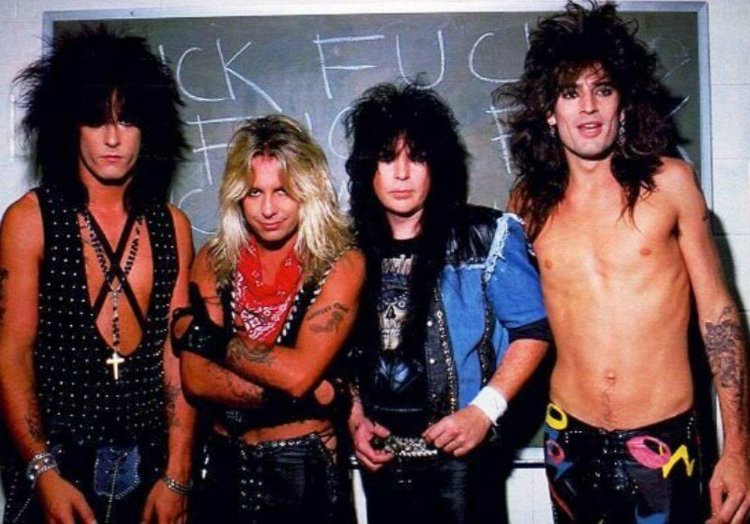 2. Dr. Feelgood
"So, to "Dr. Feelgood", then…Title track: Some seriously heavy "dropped-D" tuning (this is used a lot on this CD…Soundgarden gets most recognition for it, but The Crue had 'em beat by years) and one of Tommy Lee's best-ever drum tracks."
1. Kickstart My Heart
"THE GREATEST SONG OF THE ALBUM! Oh, my God, I have never heard a better heavy metal song than this one right here. This song is probably one of Motley Crue's best songs to date. The opening riff by Mick and Nikki is so intense and then Tommy starts banging the drums and then Vince starts screaming. The chorus line is extremely outstanding. This is without a doubt a Crue anthem and the music video to this song is awsome."