Generation Swine Songs Ranked
Generation Swine is the seventh studio album by the American heavy metal band Mötley Crüe, released on June 24, 1997. The album marks the return of lead singer Vince Neil following his last appearance on 1991's Decade of Decadence and the last to feature drummer Tommy Lee until the 2008 album Saints of Los Angeles. It is also the band's last album to be released on Elektra Records. Mötley returned to the studio intending to record a straight rock record that was more aggressive than the Mötley Crüe album. With Rock producing, they recorded material such as "The Year I Lived In a Day" and "La Dolce Vita." The band was so excited that, according to Corabi, "At the end of each day we'd walk around the studio carrying our huge cocks in our hands because the music rocked so hard." Here are all of Generation Swine's songs ranked.
Don't miss out on the TIMELESS Motley Crue music below! Click to experience Nikki Sixx, and Tommy Lee at their finest!
13. Generation Swine
"One of the best songs the band has ever done, and also one of their fastest and most aggressive. Tommy Lee's drumming on this record is outstanding. A mix of Grunge and Hair metal the title track is very anthem like, and its great"
12. Afraid
"Another Great song, with great bass opening, and lyrics, and back up music. The lead single for this record. It's a pretty standard rock song with some interesting sounds, but this album has much more than this to offer. The lyrics are great.
11. Confessions
"Primarily written by Tommy Lee, this is probably the deepest song on this album, and definitely the most emotional. The lyrics are awesome. A great song about how the band is changing their ways very great."
10. Beauty
"This was the second single from the album. It's kind of a weird tune. Sometimes I love it, sometimes I don't. It just depends on the day. The vocals are very good, but the lyrics don't compare to the rest of the album in terms of emotional depth."
See more: Motley Crue Albums Ranked
9. Brandon
"Brandon" the "sentimental" love letter for brandon lee and pamela anderson…that at first listen i thought awww it's cute he wrote a sweet song then after the second listen i though ewww what a cheeseball of a song
8. Rocketship
"I can appreciate the emotion that Nikki Sixx had when he wrote this… but I don't think it's a very good song overall. Sixx's voice is surprisingly good though… and it's much better than "Glitter".
7. Flush
"Very moody and dark. The lyrics to this are actually quite disturbing… and that added to the atmosphere created by the music creates one of the album's best tracks. A great anti suicide song with dramatic riffs."
6. Glitter
"This is the weakest song on the album, and one of the weakest the band has ever done. The remix on the "Greatest Hits" album is much better than this one. Vince's performance of the vocals, however, is very good."
See more: Motley Crue Songs Ranked
5. Find Myself
"This is a very in your face, punkish song. A great way to start of a Crue album. Really good opener, show's the drama in the band, and gets it off on a good edge, Even Nikki's Son is a musician in this song."
4. A Rat Like Me
"GREAT!!! The lyrics are full of that F-YOU attitude. This song is the closest to classic Motley Crue as this album gets. I don't know why people say this is a throw away track, Anybody Out there is the throw away, not this one, this one is also a mix of hair and grunge."
3. Shout at the Devil '97
"A good song, that was probably made so they could see what fans thought of Corabi doing there old songs, but alas Vince came back – not a bad thing, and it still sounds good but now its just filler, its good filler, but still filler. They play this one live, and its really good."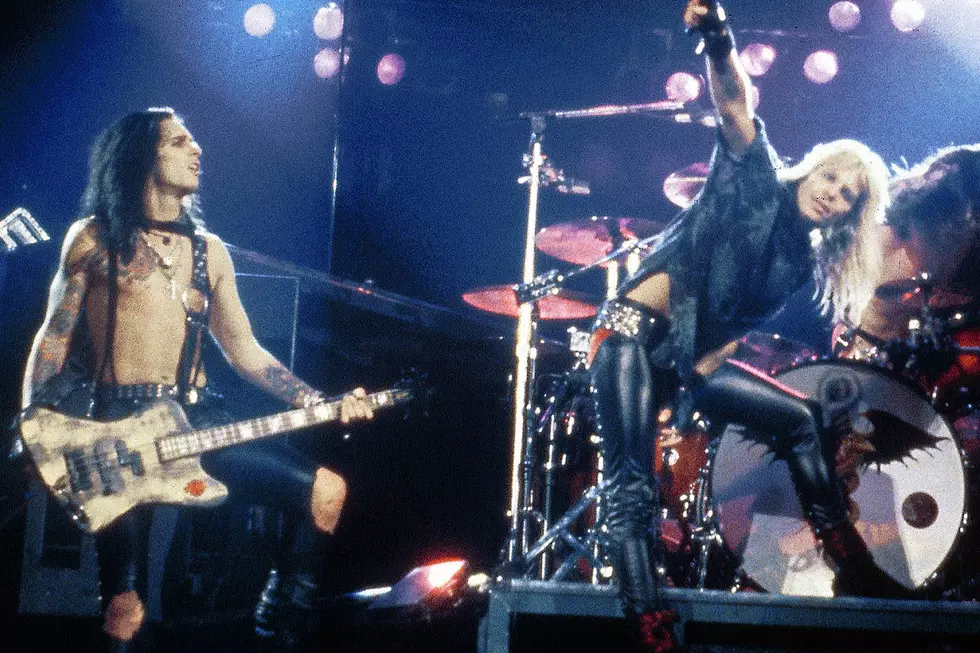 2. Anybody Out There?
"A very directionless song, and very much Punk Rock… and very short… the lyrics are lame… but the song has so much attitude and recklessness, that it's actually quite excellent!  This song started out amazing like classic crue sounding, mixed with Grunge, it was going to be great but its way too short."
1. Let Us Prey
""Let Us Prey" is a great hard rock song waiting to come out, but unfortunately is bogged down by a bunch of industrial BS. The guitar riff is great, but isn't allowed to breath. The last minute or so of the song is tremendous. But please just let Vince sing with a normal guitar sound."