In Utero is the third and final studio album by American rock band Nirvana, released on September 13, 1993, by DGC Records. Nirvana intended to depart from the more polished sound of their previous album, Nevermind (1991), with a greater range of sounds and moods. To capture a more abrasive and natural sound, they hired engineer Steve Albini to record In Utero over two weeks in February 1993 at Pachyderm Studio in Cannon Falls, Minnesota. The lyrics and album packaging incorporated medical imagery that conveyed frontman Kurt Cobain's outlook on his publicized personal life and Nirvana's newfound fame. In Utero was the final Nirvana album before the band's breakup following the suicide of Cobain in 1994. It has continued to garner praise and has been described by several publications as one of the greatest albums of all time. "Pennyroyal Tea", planned as a single before Cobain's death, was rereleased in 2014 and reached number one on the Billboard Hot Singles Sales Chart. A tribute album, In Utero, in Tribute, in Entirety, was released in 2014 for Record Store Day, featuring acts such as Thursday and Young Widows. Here are all of In Utero's songs ranked.
Don't miss out on the GRITTY Nirvana music below! Click to experience the trailblazers of Grunge!
12. Tourette's
"My least favorite unfortunately happens to be Tourette's which I do like quite a bit, but it feels much less interesting than other songs on the album, with the screaming from Kurt being done much better on Scentless Apprentice and especially Milk It."
11. Very Ape
"Kurt blasts out lyrics, Dave pounds the drums, and Krist's slamming the bass. Those two minutes are the best musical, lyrical and otherwise, minutes I've ever heard"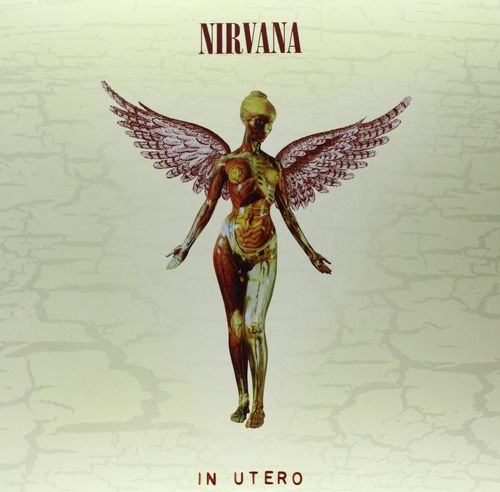 10. Milk It
"Out of the experimental, Noise Rock inspired tracks, Milk It is easily the best one. Kurt Cobain's vocals on this song are amazing, and he sounds completely tortured here. The heavy and noisy riffs complement this perfectly, and the cryptic lyrics as well as the vocal melody, and even the ending of the song, are fantastic."
9. Radio Friendly Unit Shifter
"There's the song "Radio Friendly Unit Shifter" which might as well be the song that inspired the seattle marketing of promoting this album as "harsh". not a huge deal though, it's definetely one of the noisier tracks but the intro is truly the only thing I'd say it goes as far as not being commercial, the high pitched choked up guitar notes (which is a thing that is pretty saturated in sludge) and some dissonant notes are what makes this track slightly noisier than the others"
See more: Nirvana Albums Ranked
8. Scentless Apprentice
"Scentless Apprentice, is the first noise rock inspired track on the album, and while not nearly as good as some others, is really harrowing with Kurt screaming ''go away'' in the chorus. The song also has some great verses, and some cryptic but smart lyrics addressing the album's core themes."
7. Rape Me
"Another standout moment on the album, comes in the form of Rape Me, an anti-rape song, with the message basically boiling down to the victim being strong enough to get through the traumatic expirence, with lines like ''I'm not the only one''. Cobain was actually a well known femenist, and lyrics like this really convey that in an interesting way."
6. Dumb
"I think this ties directly into Dumb and serves as a powerful conclusion and statement for the album. Kurt says, everything is a source of conflict, but it shouldn't be because we are all the same – love and respect for all living things is his final answer in a life that did nothing but push forward the beautiful idea despite the tortures of the man expressing it."
See more: MTV Unplugged in New York (Nirvana Album) Live
5. Frances Farmer Will Have Her Revenge On Seattle
"Frances Farmer Will Have Her Revenge on Seattle has one of the best instrumental bridges ever and also the part were with the feedback migth be the best uses of feed back ever its so catchy. Dumb while beeing my least favorite song on the album is still a really sweat mello song with some great cello. Very Ape is just a straigth forward noise rock banger.
4. Serve the Servants
"The album starts so strong with Serve the Servants, with its weird riff and the perfect opening line "Teenage angst has paid off well, Now, I'm bored and old" establishing the mood very well. It also has the perfect lines about his father that hits very close to home and the chours is so perfectly beautiful. "
3. Pennyroyal Tea
"Pennyroyal Tea is probably Nirvanas best acoustic song and its really great. The vocal melody is just so beautiful and it works really well with the most abrasive chours.
2. All Apologies
"I didnt actually love this song for a while but the more ive listened to it ive enjoyed it more and more. Its pretty much a straigth forward pop song (which why i was on the fence with it) but it really does create quite the weird atmosphere. Its a watery song and is the only song on the album that feels blue (rest of the album feels like a yellow and red), reminds me of Kurts intrest in seahorses and the "aqua seafoam shame" line feeds into this feeling."
1. Heart Shaped Box
"Heart-Shaped Box is, not even probably, the best song there ever is. Not only is In Utero the best Nirvana Album, it may as well be one of the best of any album. Heart Shaped Box has Excellent Lyrics and still being a heavy song."