Mother's Milk Songs Ranked
Mother's Milk is the fourth studio and video album by American rock band Red Hot Chili Peppers, released August 16, 1989, by EMI Records. After the death of founding guitarist Hillel Slovak and the subsequent departure of drummer Jack Irons, vocalist Anthony Kiedis and bassist Flea regrouped with the addition of guitarist John Frusciante and drummer Chad Smith. Frusciante's influence altered the band's sound by placing more emphasis on melody than rhythm, which had dominated the band's previous material. Returning producer Michael Beinhorn favored heavy metal guitar riffs as well as overdubbing. Frusciante perceived Beinhorn's taste as excessive, and as a result, the two constantly fought over the album's guitar sound. Here are all of Mother's Milk songs ranked.
Don't miss out on the TIMELESS Red Hot Chili Peppers music below! Click to experience the most successful alternative rock band of ALL TIME!
13. Magic Johnson
"If you thought the album couldn't get any more energised, prepare yourself because "Magic Johnson" could well give you a heart attack! The speed at which the boys sing on this song is incredible and hardly fathomable. They sing about the LA Lakers with such excitement you'd think their heads were going to explode. Anthony is particularly brilliant here."
12. Sexy Mexican Maid
" "Sexy Mexican Maid" is another great track, and a bit slower than the other songs. There always seems to be a song that portrays the strong sexuality of a woman on the band's albums, and this is this album's. It's a great song with some funky chanting in the background after the chorus."
11. Fire
"`Fire' by Jimi Hendrix, who was a major influence on the Peppers, especially John. The bands version is great, and while not better then the original like Higher Ground this is very original. The bass is turned up and it is made into a punk song. Very good and very enjoyable."
See more: Red Hot Chili Peppers Albums Ranked
10. Punk Rock Classic
"`Punk Rock Classic' is a punk song done in Chili Pepper fashion and done well. funny and fast. Uses Guns and Roses guitar solo from Child O Mime at the end. Only about a minute and thirty seconds but thats all that was needed."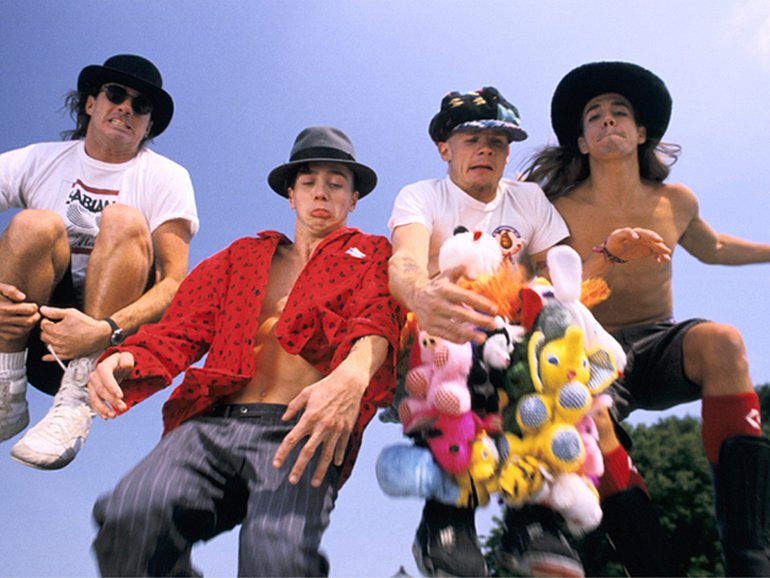 9. Taste the Pain
"`Taste The Pain' is a little slower and a little better then most of the other songs on the album. More thought went behind this song I feel and it really shows because this is a excellent song."
8. Stone Cold Bush
""Stone Cold Bush" is an absolute classic, with a crazy bass and a heavy drum section making this a strong cut. The chorus is very melodic, and the way the guitars stomp after the chorus is incredible. I also love Anthony's chanting of "Ay-ay-ay-ay-ay!" at the start of the song!"
7. Johnny, Kick a Hole In the Sky
"The album closes with "Johnny, Kick A Hole In The Sky." This song has a funky bass and some heavy guitars. The verses are really cool, and the female-sung chorus is incredibly catchy."
6. Pretty Little Ditty
"`Their total masterpiece, to me the best instrumental and song they have ever done. Once again Flea shows his skills on the trumpet and John Frusciante is great on the guitar. It has been stolen (I shouldn't say STOLEN) but used by other bands such as in Crazy Town's "Butterfly".
5. Good Time Boys
"This song has a funky bass intro that soon descends into an all-out rock anthem. The youthful exuberance is expressed in the lyrics, "Don't believe in age, travel 'round the world getting naked on the stage." The chorus is a pure chant that you just want to sing loud with your fist in the air."
See more: Red Hot Chili Peppers Songs Ranked
4. Subway to Venus
"Subway To Venus" has drums and a bass that will rip your head apart, and the trumpet cleverly seals it back together, just so you can survive the rest of the song. This song is absolutely insane and I bloody love it. "
3. Nobody Weird Like Me
"Nobody Weird Like Me" has a crazy-ass bass that will have you dancing around like a loony. This song chugs along at supersonic speed like a train, occasionally slowing down for the magnificent chorus before speeding up for the rest of the song."
2. Knock Me Down
""Knock Me Down" is a bit of a slower song, which adds variety to the album. This song was written about the death of Hillel. It carries a strong message about life, with great lyrics such as, "If you see me getting mighty, if you see me getting high, knock me down! I'm not bigger than life." The chorus is quite melodic too. This song was also a huge evolution for the band, because it brought a new melodic chord change that wasn't evident in any of the band's previous work."
1. Higher Ground
"`Higher Ground' is a Stevie Wonder cover which the band absolutely owns. I love Stevie but the boys tore this song apart and completely made it their own. Powerful vocals and a great bass line made this an instant classic not to mention the first Chili Peppers track to get real recognition. "