Rage Against The Machine Self Titled Album Songs Ranked
Rage Against the Machine is the debut studio album by American rock band Rage Against the Machine, released on November 3, 1992, by Epic Records. The band released their demo album, also called Rage Against the Machine 11 months prior which contained earlier recordings of 7 of the 12 songs found on this album. With politically-themed lyrical content, the album artwork was notable for featuring a graphic photograph of Thích Quảng Đức committing self-immolation. Rage Against the Machine was a critical success upon release with several critics noting the album's politically motivated agenda as well as Zack de la Rocha's strong vocal delivery. Rated number 24 on Rolling Stone's list of "100 Greatest Metal Albums of All Time", the album peaked at number 1 on the US Billboard Heatseekers chart and number 45 on the US Billboard 200 and has gone on to achieve triple-platinum sales certification in the US. Here are all of Rage Against The Machine Self Titled Album songs ranked.
Don't miss out on the TIMELESS Rage Against the Machine music below! Click to experience the pioneers of Rap Metal!
10. Settle for Nothing
"Settle for Nothing" was the first RATM song to feature melody. A soft Bassline starts off the song, and then it erupts into a loud scream. This song toggles that format throughout: Loud, Soft, L, S. s all great RATM songs do, this song has another great solo. Enough said… "
9. Township Rebellion
"Township Rebellion" has an awesome/weird bassline, I've never really payed attention to the drumming, and guitar sound that I can only guess as to how to even emulate it. Another technical, complex solo with many parts to it goes into making this song even better, and the lyrics are better yet: "Why can't freedom be fundamnetal, from Johannesburg to South central, on the mic yes someone should tell them to kick it to the township rebellion" "Why stand on a silent platform, fight the war, ____ the norm!". Zack is saying that african cities (i.e. Johannesburg) do not have freedom and is talking about slave rebellions (like the Stono rebellion). Zack also makes references to the American Revolutionary War."
8. Fistful of Steel
"Fistful of Steel" is an awesome song as well, probably my 2nd favorite on the disc. "FOF" starts out with an odd sounding guitar (Tom scratches the strings with his pick while rapidly moving the whammy bar) and then the guitar switches to a catchy riff, underdubbed/supported by bass- and drum-work. "FOF" has an AWESOME solo (Tom slides his guitar slide up and down on the string while flipping the toggle switch up and down rapidly to create a flippin awesome effect!)."
See more: Rage Against the Machine Albums Ranked
7. Take the Power Back
"Take the Power Back"'s track title is pretty self-explanatory" The U.S. has too much power and is abusing it, and us as Americans must "Take the Power Back"! "Bam here's the plan, Mother ____ Uncle Sam!" and the vocal interlude in the middle is amazing. (BUY THIS! and you'll see what I mean!). This song has incredible guitars that sound "anti guitar", an over-rated bassline (it's good, but it's not the best bassline RATM has like some people say it is), and outstanding double bass drumming (it's not heavy metal fast DB drumming like you're thinking, it's a simple, catchy, yet AMAZING! two-foot tap or boom boom."
6. Freedom
"Freedom" is an excellent finisher (my personal favorite, better than "Evil Empire"'s "Year of the Boomerang and a great breakdown song. this is one of RATM's heaviest songs and a personal favorite. This song was definitely made for Zack's vocals (he's got so much to say in this song he has rap fast just to make it sound in place). The intro is real heavy and fast, and The first verse is all bass, drums, and vocals until the next verse and the solo."
5. Wake Up
"Wake Up" is my favorite song tied with both of the formers. "Wake up" starts out with an awesome bassline overdubbed with a highly experimental guitar, and awesome drumming (my favorite to air drum to).Later in the song, tom creates a catchy-as-hell solo using a talkbox (that patented box that was made famous almost single handedly by Peter Frampton), followed Zack whispers "what was the price on his head" and then 5 seconds later "WHAT WAS THE PRICE ON HIS HEEEAAAADDD!!!!!" and then nothing but drums can be heard."
See more: Rage Against the Machine Songs Ranked
4. Bullet in the Head
"Bullet in the Head" is my personal favorite tied with the next 2 songs and has a funky bassline that gets my vote as the best bassline RATM has. the guitars on "BITH" are really high pitched and "anti-guitar" sounding again. The drumming is slow and then switches up to a bit faster before the solo (sort of like a drum bridge) and then when the guitars erupt at the end, Brad's drums switch up again to fast, thrashy, and perfect in this mix."
3. Bombtrack
"The opener "Bombtrack" is a song about the media and how it twists the mind and helps to influence how people view political factors. "see through the news and the views that twist reality". On the musical side, the beat/rhythm of "Bombtrack" is pretty catchy and loud as well."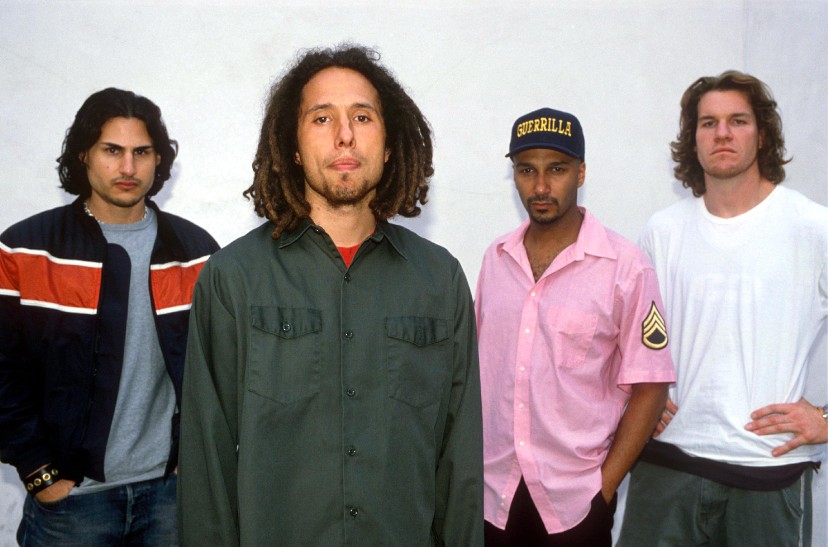 2. Know Your Enemy
"Know your Enemy" is my number one favorite song on here, tied with "Wake up" and the former. "KNE" starts off with a catchy toggle switch riff (Tom turns one pickup to 0 and the other to 10/11 (full) and uses the pickup selector to toggle between the two) and then turns into a regular guitar riff. It features a catchy, heavy bridge (part of a song before the solo) feturing Maynard james keenan from Tool on vocals, and then Zack taking over with "Know your enemy!!!!!!" and that is suceeded by an awesome yet complex, highly technical solo with many parts to it. "KNE" alleges that America touts itself as "the land of the free" yet lies and behind the rest of the world's back takes freedom away. Listen to the ending vocals: "
1. Killing in the Name
"Killing in the Name" is a good track, and is one of my favorites (beyond this album; by RATM in general) with a catchy guitar riff, a simple yet outstanding bass interlude, awesome drumming ( I like the cowbell addition myself), and a catchy end mantra of "____ YOU I WON'T DO WHAT YA TELL ME!". This is a good track, however it's got 5 lines of lyrics. slogan after slogan: "Some of those that work forces" :those that died are justified for wearing thee badge and the chosen white", etc. The lyrics allege that some officers of the Police Force and the government in general are racist and are members of the KKK. This song goes beyond that topic, however, and becomes a great rebellion track towards the end, becoming loud. this song also has a GREAT solo."