Return to Forever Songs Ranked
Return to Forever is the eighteenth studio album by German rock band Scorpions. It was released in Europe on 20 February 2015.[1] The album marks the final release of the band to feature the Unbreakable-era lineup with longtime drummer James Kottak leaving the band in September 2016, who was replaced by former Motörhead drummer Mikkey Dee. In late 2011, the band started throwing ideas for further side projects. They had in mind two ideas. One was to release a film made from over 900 hours of footage from concerts different festivals, concerts on Moscow's Red Square, concerts in the Amazon rainforest, in front of Pyramids and Russian tour in 2002 and the other one was to release bonus track an album from unreleased songs, mainly from the period when their albums were released on vinyl which had the possibility to fit only eight or nine songs. Here are all of the Return to Forever songs ranked.
Don't miss out on the music of Scorpions. Click below and listen to one of the Greatest Artists of Hard Rock.
12. All for One
"I like this song as the melody and chorus grabs you and refuses to let go. Great mid tempo track. Softer and gentle than their previous works. It seems an album published by Frontiers Records, just melodic or AOR rock with some drops of classic rock."
11. Rollin' Home
"Probably the most left field track the Scorpions have done since anything on the Eye to Eye album. Very poppy, very catchy and won't leave your head in a hurry. I really like this track."
10. Gypsy Life
"The third power ballad and also better than House of Cards and on par with Eye of the Storm. A great power ballad, but not as good as the previously mentioned past epics."
9. Hard Rockin' the Place
"Glorious guitar riffs featuring some talk box work with a driving rocking beat. Very good track and the title is indicative of what you can expect from this track. This sounds like something from the Unbreakable era."
See more: Scorpions Albums Ranked
8. Catch Your Luck And Play
"Another really good mid tempo song. This one has a great sing along chorus and melody with a cracker of a guitar solo."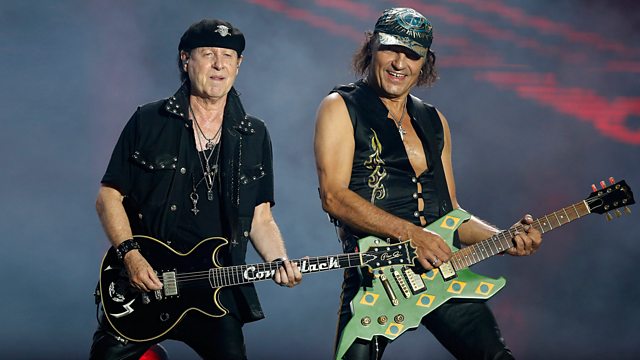 7. Rock My Car
"Musically this song is fantastic and rocks, but I LOATHE the inane lyrics and the chorus alone makes me want to skip this track every time I hear the album."
6. The Scratch
"A mid tempo track with a slightly comedic twist. I like it. This is a very good album if you like rock anthems and great guitar playing. I find myself playing House of Cards and Gypsy Life over and over. I'm a huge Led Zep fan and judge music by how many times I want to play songs."
5. Rock 'n' Roll Band
"Love this track. Possibly one of the best Scorpions tracks post 1990. Up tempo, rocking and sizzling number. I loved this song the first time I heard it performed acoustically on MTV Unplugged."
See more: Scorpions Songs Ranked
4. Eye Of The Storm
"The second power ballad and a better effort than House of Cards. I find the chorus extremely catchy and can easily see this performed live with an abundance of mobile phones swaying in the air from the crowd."
3. Going Out With A Bang
"Great rocking opener, although a longer more pronounced guitar solo. Being a rock fan and guitar player, generally the first things that draw me into a song are the catchiness of the guitar riffs, melodies, guitar solos followed by the actual lyrics."
2. We Built This House
"The single but not my personal favourite track. I think the moaning on the chorus is a little generic and a better chorus could have been written."
1. House Of Cards
"The first power ballad and a pretty good effort. Klaus is still in great voice after 45 years of singing. A good ballad, but no where close to the epics of the past (Send Me an Angel, Still Loving You, Lady Starlight, When the Smoke is Going Down)"