Spirit Of The Wild Songs Ranked
Spirit of the Wild is the eleventh studio album by American hard rock musician Ted Nugent. The album was released in May 1995 by Atlantic Records. It was produced by Mike Lutz from the Brownsville Station rock band, and engineered by Jim Vitti and Mike Lutz. This album marked the return of Nugent's original sound of hard rock instead of the pop metal style of his '80s solo work, as well as the brief return of vocalist Derek St. Holmes. "Spirit of the Wild" is the theme song for Ted Nugent's hunting TV show Spirit of the Wild. The sixth track "Fred Bear" is a tribute to the bowman Fred Bear. Here are all of Spirit Of The Wild songs ranked.
Don't miss out on the music of Ted Nugent below! Click to enjoy the songs of solo career!
12. Just Do It Like This
"I've always found Ted Nugent the Character one of the most entertaining things to come out of Detroit, that very entertaining place. I haven't really been a fan of Ted Nugent the musician since the early Amboy Dukes. Just too raucous, too damn loud."
11. Fred Bear
"Fred Bear" is a song I'd heard about for years but had never actually heard. I must admit it's moving, but still disappointing. First, it's more about Ted than Fred. Second, the lyrics are embarrassing. "There I was, back in the wild again/I felt right at home, where I belonged." Sheesh."
10. Spirit of the Wild
"Spirit of the Wild is one of the greats by the motor city mad man it has every thing great vocals great guitar solos great songs. Like fred bear heart and soul and kiss my ass is probably the best song the cd. Spirit of the wild is a must have for all nuge fans"
9. Lovejacker
"I like Lovejacker..its kinda too soft but its jus a nice song.. all of these songs rock. if u name any song on here ill give u areason its good. . So if I were you, get this album by the most underrated guitarist Ted Nugent!!!!!"
See more: Ted Nugent Albums Ranked
8. Heart & Soul
"This album marks the return to familiar waters (like a salmon going upstream) for Ted Nugent…good music! We lost Ted there for a decade or so but SPIRIT OF THE WILD sets things right. Ted Nugent is an American music treasure and this album may help remind folks that ole Terrible Ted is still alive and kicking (and licking if the mood is right I'm sure). "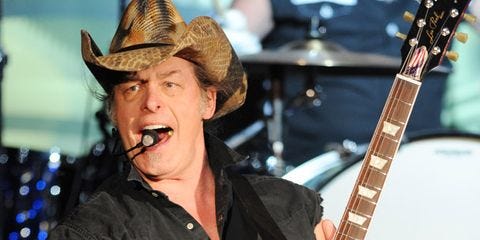 7. Tooth, Fang & Claw
"The songs have a theme that will remind the listener of the Amboy Dukes days, hunting, dominance, guns and the outdoors. The music is fresh and crisp, Ted's guitar work just keeps getting better."
6. Kiss My Ass
"The Ted Offensive takes on the clueless with the three-minute "Kiss My Ass". Calling out the likes of the United Nations, Yassir Arafet, Jesse Jackson and Anti-handgun activists, Nugent tells it like it fucking is."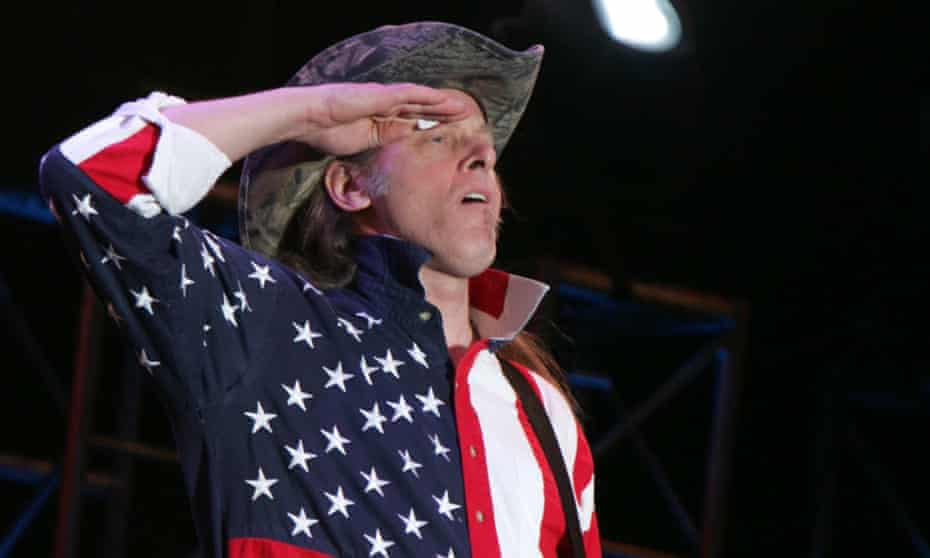 5. I Shoot Back
"Another great song is, the underrated, I shoot back. It sounds so perfect for an album like spirit, it has a good hunting feel. also, listen to the powerful Thighracious, the politically CORRECT kiss my ass, and just do it like this."
See more: Ted Nugent Songs Ranked
4. Hot or Cold
"Ted's finest collection since his 70's work. Standouts include Fred Bar. If you like great guitar rock (especially in an era where most players don't have good guitar leads), buy this one."
3. Wrong Side of Town
"The Nuge is a hunter par excellence, and doesn't mind telling you that. He isn't a killer, he is a hunter. This album is one big celebration of "Here's what I do, take it or leave it" to me! Enjoy a feast of Nugent the stalker, the friend, the musician!"
2. Primitive Man
"I think this is his best since 'scream dream' because of those songs. Still the other songs are decent enough imo to make owning this one a must for hard rock fans. Ted still wears the head dress on the cover in concert too by the way. The sound here is well recorded."
1. Thighraceous
"It is a shame when people can't look past older rockers age. Nugent who put out some real crap in the 80's, came back with an album every bit as good as his classic material. Songs like Fred Bear are classic Nuge. This might be my favorite Nugent album since Free For All."