There is Nothing Left to Lose Songs Ranked
There Is Nothing Left to Lose is the third studio album by American rock band Foo Fighters, released on November 2, 1999, through Roswell and RCA Records. It marked the first appearance of drummer Taylor Hawkins, and is often seen as a departure from the band's previous work, showcasing a softer, more experimental sound. Dave Grohl has stated that the album was "totally based on the melody" and that it might be "[his] favorite album that [they've] ever done." There Is Nothing Left to Lose is Foo Fighters' first album to be entirely released and marketed by RCA Records since their departure from Capitol Records after releasing of The Colour and the Shape two years earlier. Their two previous studio albums, originally distributed by Capitol, were since then distributed by RCA. Here are all of There is Nothing Left to Lose songs ranked.
Don't miss out on the TIMELESS Foo Fighters music below! Click to experience Dave Grohl at his finest!
11. Headwires
"Headwires is one of my favourite songs on this album, and while it seems an inoffesnive album track, it hasd a lovely momentum and builds up pace to the chorus, whichh I REALLY like. I don't know what it is about 'better than a bullet being fired, tangled in your headwires, now' but it just lights me up inside."
10. Live-In Skin
"Back to more in your face music. This is a great one to play loud. Good lyrics on this on too. Live-In Skin is a pretty heavy song that has a ton of emotion. Definitely a good track. Not one that immedately grabbed me but I warmed up to it overtime. I like the "turn the outside into the inside" lines and I think I heard Typer Hawkins there."
9. Ain't It the Life
"Ain't it the Life is an almost whimsical piece of americana, a laid back road song designed for summer-turning-into-autumn laid back strumming the guitar in the back garden as the leaves start to fall. Nice."
See more: Foo Fighters Albums Ranked
8. Gimme Stitches
"Gimme Stitches is a song that sort of flies under the radar. Has a great beat to it and the build up is satisfying to the onset of the song. Lyrics are endearing. I really enjoy the chorus on this song."
7. M.I.A.
"MIA is a fun closer, with the motif 'you won't find me, I'm going MIA, tonight Im leaving going MIA, getting lost in you again is better than being dumb…' being memorable and nice."
6. Next Year
"Next Year comes second to Learn to Fly in the saccharine pop stakes, but it's still so well played, arranged and so sweetly sung that you can't dislike it, even if you wanted to."
See more: Foo Fighters Songs Ranked
5. Generator
"Generator is a memorable tune, from it's fuzzy riff through the rising driving chorus 'Im your generator, Im your generator…' it pleases on every level. Different, but cool sounding at the beginning, and keeps a midtempo beat."
4. Aurora
"Aurora is a beutiful song, draped in chorus and reverb, and you can't argue with the playing or the heartwarming tone in Grohl's voice. This is the albums first "ballad". More sensitive lyrics and more relaxing."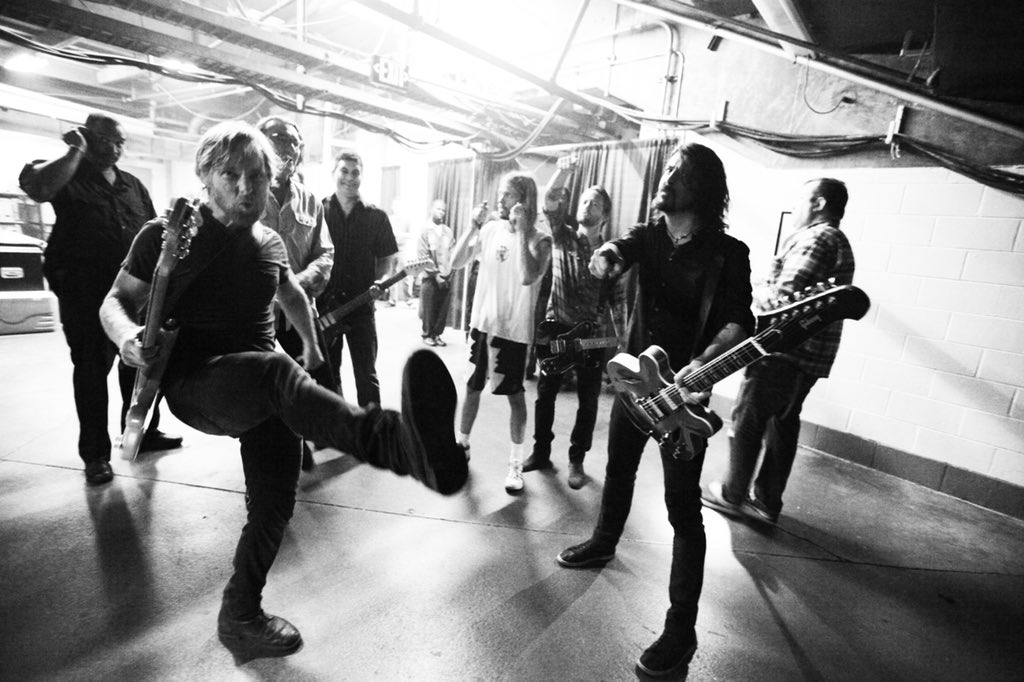 3. Breakout
"Breakout could have been by Green Day, or the Offspring as it's a quite simple piece of build and release pop-punk, but the Foos bring their superior musicianship and songwrioting nous to make it a memorable, arena bouncing anthem far beyond the purview of such lesser, more limited bands."
2. Stacked Actors
"Stacked Actors has a huge riff (bigger live than on record) and while it backs off into an almost lounge-like verse ('mirror mirror, you're coming in clear…') it builds up to the closest thing Grohl has ever come to a vitriolic outburst in the chorus ('stack dead actors, stacked to the rafters, line up the bastards, all I want is the truth/and we cry when they all die blond…') – brilliant opener, producted to the point of sweetness, but for some reason it WORKS."
1. Learn to Fly
"Learn to Fly is, was and remains the single most saccharine, AOR mainstream radio-friendly unit shifter Grohl has ever penned, acceptable to mums, dads, little sisters and schoolteachers. But let's not hold that against it – it is a well written, well played song for all its pop credentials, and I keep finding myself singing it. Apart from anything else it is smothered in the Foss and Grohls customary charm. Nothing wrong here."