Thirty Seconds to Mars Songs Ranked
Thirty Seconds to Mars (commonly stylized as 30 Seconds to Mars) is an American rock band from Los Angeles, California, formed in 1998. The band consists of brothers Jared Leto (lead vocals, guitar, bass, keyboards) and Shannon Leto (drums, percussion). During the course of its existence, it has undergone various line-up changes. As of September 2014, the band had sold over 15 million albums worldwide. Thirty Seconds to Mars has consistently enjoyed sold-out tours and numerous headlining festival slots. The band is noted for its energetic live performances and for fusing elements from a wide variety of genres, through its use of philosophical and spiritual lyrics, concept albums, and experimental music. Thirty Seconds to Mars has received several awards and accolades throughout its career, including a Guinness World Record, and has been included in the Kerrang! list of best artists of the 2000s. Here are all of the Thirty Seconds to Mars songs ranked.
Don't miss out on the TIMELESS Thirty Seconds to Mars music below! Click to experience the band at their finest!
20. End of All Days (Love, Lust, Faith and Dreams, 2013)
"This is the most truthful song about life. Great piano and use of synths. Lyrics and timbre are amazing. Jared really gets his God damn point across. Best singing I've heard him do live or studio!"
19. 100 Suns (This Is War, 2009)
"You can see true singing ability in this song and his voice takes you somewhere when you listen to it. Sad that it's only two minutes. Its an inspirational & a rationally spiritual piece of art…"
18. R-Evolve (A Beautiful Lie, 2005)
"To me, it's about those precious moments where your worldview is shaken and the world seems to literally stop. You experience something physically, emotionally, or spiritually stunning or traumatic that causes you to rethink everything about the world and your place in it. And it makes you feel like you're finally alive – like life finally has meaning."
17. Welcome to the Universe (30 Seconds to Mars, 2002)
"This song really does kick some major ass, I love how epic the chorus is, it makes you feel so powerful and almighty. It's as if you are god and are really welcoming someone into YOUR Universe. EPIC!"
See more: Thirty Seconds to Mars Albums Ranked
16. Echelon (30 Seconds to Mars, 2002)
"If you re not aware of what is called chills in your spines then give this song a try and I m sure you will not regret it. For me this is, was and ever will be one of the most masterpiece song of all time."
15. Vox Populi (This Is War, 2009)
"It has such an inspirational feel with the upbeat tempo and battle cry chorus. Jared belts it out, Tomo accents on guitar, and Shannon does his thing. This is 30 Seconds to Mars at their best."
14. Capricorn (A Brand New Name) (30 Seconds to Mars, 2002)
"I think the song is about somebody who has had a troubled past, at least there are many parts of this persons past that they would like to disappear from and the best way to do that is to just leave without any connection to this persons past before it gets the best of him as it almost did when this person reflects about becoming unclear and almost gone."
13. Up In the Air (Love, Lust, Faith and Dreams, 2013)
"The subliming effect of bass with electric is off the charts. Unparalleled lyrics and vocal. I don't know how and why this song gives me that feeling like it means something important or something. I love it."
12. Do or Die (Forget the World, 2014)
"This song is so motivating. It's really about living your life to the fullest and enjoying the memories you've made. It's a really amazing song and the lyrics are genius, it's so fun to sing along to as well."
11. City of Angels (Love, Lust, Faith and Dreams, 2013)
"It's about finding your dreams and hope and that one place where you feel surrounded by magic and the people around you will never be your enemies, they'll only be your closest friends and it's about re-discovery and re-discovering yourself or even just discovering yourself, and I think that's incredibly powerful."
10. Night of the Hunter (This Is War, 2009)
"Aside from the awesome uniqueness of the beat, the lyrics in this song are one of the best I've ever heard in one or their songs. They're really vague, but they get you thinking. Listen if you haven't, also Jared's vocals are great in this song too"
9. Edge of the Earth (30 Seconds to Mars, 2002)
"The pure aggression in the voice of Jared Leto combined with the heavy guitar and powerful drums make this the most awesome 30 Seconds to Mars song ever!"
8. Hurricane (MTV Unplugged: 30 Seconds to Mars, 2011)
"I listen to this song every time I feel down, I listen to it over and over again. The sound is amazing, the lyrics are just so freaking good & Jared's voice is so damn beautiful.. Thirty seconds to mars is just the best band for me, no doubt. They changed my life, they mean everything to me!"
7. A Beautiful Lie (A Beautiful Lie, 2005)
"A Beautiful Lie was the first song I listened to when I got to know the band. It's like the music is hypnotizing. The good type of hypnosis. I woke up with an ambition to stand up for what I believe in."
See more: Machine Head Albums Ranked
6. Attack (A Beautiful Lie, 2005)
"This was a hard one because I'm split between "Hurricane" and "This is War" if it wasn't for "Attack. " However, I've known "Attack" since I was a child, and I will always remember how much I'd listen to it when I was frustrated with life."
5. From Yesterday (A Beautiful Lie, 2005)
"This song is so beastly! The guitar starts off nice and slow then evolves into some angry beast and Jared Leto's epic screams start to kick in. This song is so versatile, the best song from this band along with The Kill."
4. This Is War (This Is War, 2009)
"This song is so inspiring, it's about fighting for what you believe and the changes people are willing to fight for! The vocals by Jared in this song are incredible, and the emotion he puts in for every lyric is so touching. This is, without doubt, their best song both lyrically and musically. Once you listen to it, you won't be able to stop until you know the song off by heart!"
3. Kings and Queens (This Is War, 2009)
"One of the greatest songs in the history of music. It is timeless, ardent, and inspirational. The electrifying beat is worthy, and matched only by its charismatic cry for revolution. That is, the revolution to not become slaves to the thorns of doubt and deterrent, but to rise up and break free of the shackles, and transcend the confines of our own imagination."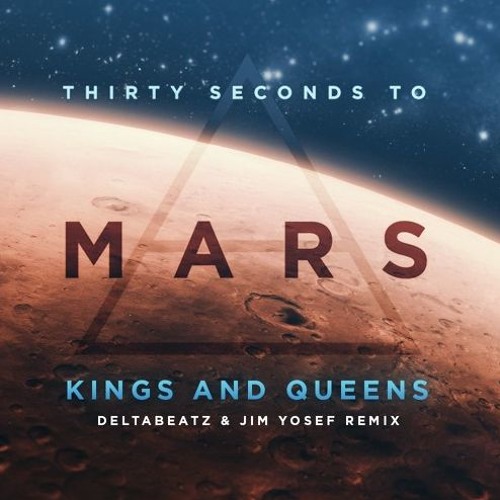 2. Closer to the Edge (This Is War, 2009)
"AMAZING song, powerful voice from Jared and the instruments are just incredible! You can really hear the emotion in his voice, a song that can appeal to the masses! "
1. The Kill (A Beautiful Lie, 2005)
"This song has been my favorite song since it came out you will never get sick of it, it is absolutely amazing… I have never gone one day without listening to it, I never have and never will… I'm a crazy thirty seconds to mars fan, it is the best song I have ever heard in my life if you haven't heard the kill you are insane to not want to listen to it"