Mud On The Tires Songs Ranked
Mud on the Tires is the third studio album by American country music artist Brad Paisley. Released in 2003 on Arista Nashville, it produced four hit singles on the Billboard Hot Country Singles & Tracks (now Hot Country Songs) charts: the Top Five hits "Celebrity", "Little Moments" and "Whiskey Lullaby", as well as the Number One title track. The album itself has been certified 2× Platinum by the RIAA, while "Whiskey Lullaby" and the title-track have been certified as gold singles. The album produced four singles for Paisley. First was "Celebrity", which peaked at number 3 on the country charts. Following it were the number 2 "Little Moments", and then the number 3 "Whiskey Lullaby" in 2004. This latter song, a duet with Alison Krauss, was her first Top 40 country hit since her guest vocal on Kenny Rogers' Number One hit "Buy Me a Rose" in 2000. "Whiskey Lullaby" was later covered by Jon Randall, who co-wrote it, on his 2005 album Walking Among the Living. The title track was the fourth and final release from this album. In February 2005, this song became Paisley's fourth Number One hit. Here are all of Mud On The Tires songs ranked.
Don't miss out on the unique voice of Brad Paisley! Click below and experience country music at its finest!
10. The Cigar Song
"This song was certainly unusual. It tells the story of a guy who takes out an insurance policy on a box of Cuban cigars and then cashes in on it after he smokes them all. Cute."
9. Ain't Nothin' Like
"This song is so Alan Jackson, you can't help but check the lyric sheet to see if he had a co-write. It is a cheerful, "aww shucks" kind of song that you will be singing along to before you know it."
8. Famous People
"Hilarious! This fun song is a great look at fame from the eyes of a small town kind of guy.  "Famous People," which is an unnecessary rehash of the exact same theme, and signals the album's sideways slide during its second half."
See more: Brad Paisley Albums Ranked
7. The Best Thing That I Had Goin'
"Money isn't everything." That's the message behind this tune. I love shuffle beat and the rolling banjo throughout the song. From my perspective, the cream of the crop in country music comes from Paisley, and if you like country music in any form, or if you have more discriminating tastes, or even if you aren't particularly a fan of country music, you're certain to find plenty of hits worth listening to several times on this CD."
6. Spaghetti Western Swing
"Paisley introduces the modern country fan to real legends like George Jones, Little Jimmie Dickens and Bill Anderson as they sit in on the "Spaghetti Western" song. I love Jimmy Dickens. George Jones and him are hilarious in this half spoken word, half instrumental tune. Definitely a fun tune to tap your foot to."
5. Is It Raining at Your House
"A very well written song. I love the idea and Brad carries it off well. It's refreshing to hear an artist who knows who he is. Paisley doesn't evolve – doesn't find himself, doesn't create or follow trends. All he does is write & perform great music."
See more: Brad Paisley Songs Ranked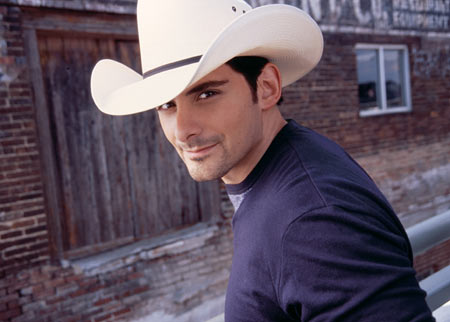 4. Mud on the Tires
"This was a great opener. The opening of the song is simple and clean with just an acoustic guitar and Brad singing. Then the chorus comes in with a great melody and country shuffle beat that gets you tapping your foot instantly."
3. Celebrity
"Celebrity" takes a stab at Hollywood's latest "get famous quick" fad. Brad's first single off the album. The whole concept is great, especially for those of us that are less than impressed with the current reality TV trend."
2. Little Moments
"I love this song. As I said to my wife, "This is the funniest romantic song I have ever heard." This song demonstrates one of my favorite aspects about Brad's music: He does not just write songs about new love or lost love. He often writes songs about the day to day of being in love."
1. Whiskey Lullaby
"This is my absolute favorite song on the entire album. The lyrics and melody of this song are outstanding. You will simply find yourself transfixed the first time you listen to this song. Alison Krauss' voice blends with Brad's wonderfully."